Interviews & Reports
The Art of wood and lacquer highlighted with decorative metal fittings - Iwayado Tansu furniture (3)
Translation: Tomoe Ukida, reviewed by Mariko Maekawa
---
Interview report 3
Challenges to a contemporary lifestyle - Iwayado Tansu Seisan Kyoudou Kumiai (Iwayado Tansu productive cooperative)
Date of visit: October 8, 2010
---
The last report of Iwayado Tansu furniture covers an interview with Mr. Junichi Uchida, the chief of Iwayado Tansu Seisan Kyoudou Kumiai (Iwayado Tansu productive cooperative), about the history, the recent trend of the industry and how to respond to the market. He told us in detail about challenges the industry faces and their effort to acquire new customers.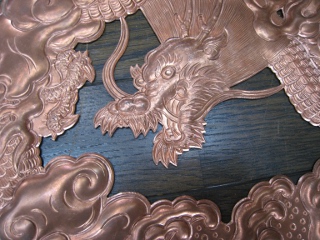 Elaborately engraved dragon of handmade metal fittings (copper product) (provided by Choukin kougei Kikuhiro)
Origins of Iwayado Tansu:
The origins of Iwayado Tansu are uncertain, but it is said to have been brought from Kyoto when Fujiwara Kiyohira ruled Hiraizumi (present Hiraizumi Town, Iwate Prefecture). An early form of Iwayado Tansu looked like large boxes, later called Nagamochi in Japanese, rather than the present chests of drawers. A lot of people in the Tohoku region were suffered from starvation by the Tenmei famine in the 1770s, the middle of the Edo period. As a result, the local government decided to encourage people to produce box-shaped furniture including large chests and chests of drawers to brake away from the rice-dependent economy. The current shape of Iwayado Tansu was made after the middle of the Edo period, and robust chests of drawers used wood, lacquer and metal fittings were invented as replacements of safes. Originally, woods of cedar and zelkova seem to have been used as materials. In recent years, as people began to make chests of paulownia from Iwate Prefecture, a pattern of paulownia wood also appeared on many metal ornaments.
Changes in the production system of Iwayado Tansu:
At its peak (no detailed record before 1920s exists), fifty to sixty household-based factories produced Iwayado Tansu, and the production process was divided into parts of woodwork, lacquering, and metal fittings. The division of labor increased productivity and worked well to ensure workers as they efficiently learned the necessary skills.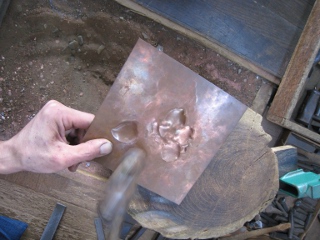 A professional metal-carver is embossing a design from the reverse side of the sheet. (provided by Choukin kougei Kikuhiro)
However, the division of labor became difficult to adjust production as the amount of products decreased. Woodwork and lacquering were integrated, and one craftworker took charge of more than one process. This system enabled the production of chests with a smaller number of workers, and the companies were able to cope with small production. But creating metal fittings require a special technique, so they are still made by professional craftworkers. At least five years of experience is required to make even simple metal fittings, and ten years for elaborate ones. Now there is only one company which specializes in producing metal fittings, and only three craftworkers make them. (Fujisato Woodcraft exceptionally deals with the whole process in their own company including the production of metal fittings.)
We had about 150 craftworkers involved in the production of Iwayado Tansu at its peak but now have only about 65 workers in total. Currently many young people have been working, so we do not have a successor problem. Craftworker applicants are coming from all parts of Japan. We hire them for positions which became vacant, and the number of applications from people in their twenties and thirties has been increasing. We try to reduce the amount of work of experienced workers and assign more to young workers to train successors.
Sales of Iwayado Tansu:
The sales amount peaked in 1997, and after that, it has been declining. There are two possible reasons for the decrease in sales.

Prices and housing conditions: Due to the changes in the economic environment, expensive Iwayado Tansu is getting difficult to sell. Chests of drawers between 100,000 yen to 1,000,000 yen (1,000 US dollars to 10,000 US dollars) are usually purchased for decoration purposes, not for practical use. Iwayado Tansu gives way to modern furniture from overseas, and recent housing conditions spur this tendency. Iwayado Tansu is high-priced because it is handmade and requires a lot of work to have a scarcity value, and only domestic lumber is used.


A small market: There are restrictions on the development of market, consequently we need to increase choices for the sales method.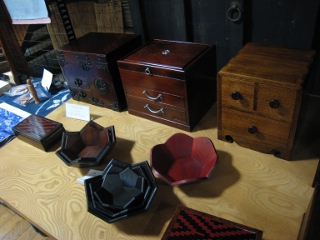 Products in which skills for Iwayado Tansu are used. Even drawers of small chests slide in and out easily. (provided by Fujisato Mokkojo)
Development of new products:
There are regulations on the Tansu sales, so we cannot develop the market on our own. As we can independently sell products other than the Tansu furniture, we are putting a lot of effort into the development of new products. We have asked young designers to develop fancy goods and souvenirs, but they did not sell as well as we expected. Now we are developing about 40 goods, mainly souvenirs. We hope that Hiraizumi will be listed as a World Heritage site next year. We would like to sell them to foreign tourists as souvenirs of Iwate. (Note: Hiraizumi had not yet been listed as a World Heritage site in 2010 when the interview was held.) However, we are worried that prices of souvenirs are lower than those of chests and that souvenirs are just woodworks which have nothing to do with skills for the chests.
Raw materials:
Woods of paulownia, zelkova, and cedar are used as raw materials, and all grew in Japan. We purchase cedar and zelkova from the Kanto region (including Tochigi Prefecture) and paulownia from Iwate Prefecture and the Hokuriku region. We used to buy raw wood but now buy lumber. Recently, zelkova is getting hard to obtain. We will probably use solid cedar wood more often in the future but do not use foreign raw wood. It's a general rule to use materials from the region for traditional handicrafts.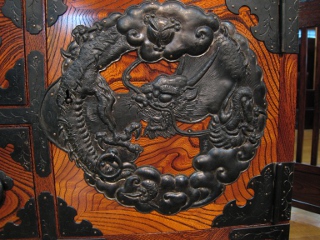 Metal fittings attached to finished furniture (ironwork) (provided by Fujisato Mokkojo)
Metal fittings:
There are two types of metal fittings for the chests, one with chasing and the other with casting. Today, 90 percent of products have cast metal fittings. Only 10 percent of them have chased metal fittings.
A future issue:
People really have fewer occasions to use chests. New apartments and houses have built-in closets instead of chests of drawers. As chests take up much space, they do not suit present housing conditions. We think that we need to develop products so that the skills of Iwayado Tansu are used for built-in furniture in an apartment or new house, and we are actually developing them.
After the interview:
I was relieved to hear that there were many craftworker applicants for Iwayado Tansu and that they did not have a successor problem, but there is deep concern about the industrial growth as the traditional chest market itself is shrinking. Now, consumers are getting tired of mass consumption and come to value using high-quality goods for a long time I believe that development of market and products which match modern living environments is extremely important.