Interviews & Reports
The Art of wood and lacquer highlighted with decorative metal fittings - Iwayado Tansu furniture (1)
Translation: Tomoe Ukida, reviewed by Marina Izumi
Iwayado Tansu is robust furniture which is said to have been used as a safe or staircase in a merchant or private house. Even a piece of Iwayado Tansu in a Japanese-style room as well as Western-style room changes the atmosphere of the room sophisticated.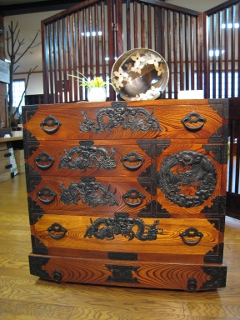 Even a piece of Iwayado Tansu furniture changes the atmosphere of the room sophisticated. (Fujisato woodcraft showroom)
In recent years, not only traditional furniture with robust designs but also modern furniture with light designs, utilizing the technique of making the chest of drawers, is created while maintaining its high quality in every product.
We interviewed two companies and one union involved in the production and sales of Iwayado Tansu in Oshu city, Iwate prefecture. Today, we bring you our first report of the interview.
What is Iwayado Tansu?
The history of Iwayado Tansu furniture is believed to date back to around the 12th century. The products of that time are thought to have looked like large chests called Nagamochi in Japanese, instead of the present chests of drawers.
In the late 18th century, the middle of the Edo period, Iwaki Muramasa, the lord of Iwayado Castle, decided to move away from a rice-dependent economy. He had his people study on the production and lacquer painting of drawers to make the wheeled furniture so that they could carry out valuables kept inside drawers in case of fire. Two types of metal fittings characterizing Iwayado Tansu, one with casting and the other with chasing, were invented, and drawers which have practical keys and decorative metal fittings started to be produced.
Related link:
Iwayado Tansu Seisan Kyoudou Kumiai (Iwayado Tansu productive cooperative)
---
Interview report 1
Hammering sound breathes life into metal sheets - Choukin kougei Kikuhuro (Chasing craft Kikuhuro)
Date of visit: October 11, 2010
---
Choukin kougei Kikuhuro is the only company among those involved in production of Iwayado Tansu furniture, in which three craftworkers specialize in making engraved metal fittings. For the interview, we visited their workshop where two pupils work. As we got closer, the high-pitched sound of hammer welcomed us.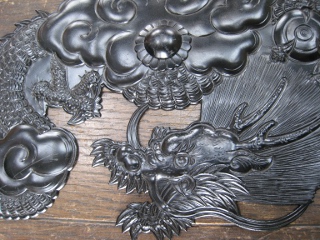 Meticulously engraved dragon of handmade metal ornament (ironwork)
―How long have you been making metal fittings?
Mr. Oikawa (hereinafter honorifics omitted): I've been working here for thirteen years and was certified as a traditional craftworker this year.
Mr. Oda (hereinafter honorifics omitted): I've worked for twelve years and will get the qualification soon.
Note: To be certified as a traditional craftworker, minimum twelve years of working experience is required.
―How did you start this chasing work?
Oikawa: I'm from this area and knew this job since I was a child, so I was interested in it.
Oda: I'm from Kanto region and wanted to be a craftworker. When I was a university student, I met chasing and decided to become a pupil after dropping out of school.
―(The interviewer sees a toolbox full of gravers.) You have so many carving tools.

Oikawa: There is no craftworker who specializes in making tools, so we make our own tools one by one.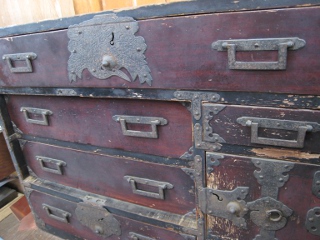 Iwayado Tansu furniture made in the Edo period. Metal fittings are flat.
―(The interviewer sees a chest of drawers in the workshop.) This chest looks very old.
Oikawa: It was made in the late Edo period (early 19th century). You see, metal fittings are flat, not three-dimensional as they are today. Metal fittings used to be like these before.
Oda: You can lock the drawers, and the structure of the key is handmade even now.
―Just engraved metal fittings are so beautiful as it is. Do you make anything other than metal fittings for the chests of drawers?
Oda: We also make metal ornaments for Buddhist altar fittings.
Oikawa: Sometimes we make products for souvenirs, but the prices tend to get higher than other souvenirs... (He showed framed metal ornaments.)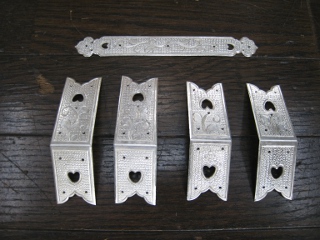 Silver metal ornaments for Buddhist altar fittings
―What materials are engraved metal fittings made of?
Oda: Materials such as iron, copper, very rarely brass, and silver are used. Our company makes handmade metal fittings only, but some iron fittings are cast using the technique of the traditional Nanbu Tekki ironware.
―How do you design metal fittings?
Oda: We have traditional designs such as lions, dragons, and peonies, and we still use them.
―How do you make engraved metal fittings?
Oda: First, put a pattern bearing a design on a metal sheet, and engrave the surface of the sheet along with the pattern including fine lines with a graver. Then, emboss the design by hammering the parts inside lines from the reverse side of the sheet. If (When) it's not done well, sometimes we do that all over again. Finally, cut along the outline with a cutting-out graver or a power saw, and smooth the surface with a file.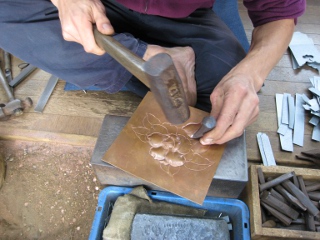 The outline is being engraved.
―I guess that you have had many difficulties to make such elaborately engraved metal fittings.
Oda: At first, I was only allowed to engrave the inconspicuous edge of the metal fitting. After doing that many times, I started to engrave other parts step by step to master delicate carving.
After the interview:
Right after we left their workshop, the hammering sound started again. It was like real magic to see a peony flower blooms and a dragon animatedly flies on a metal sheet just by hammering little by little. Engraved metal fittings alone are elaborate and beautiful enough to be recognized as works of art. We hope that their skills will be used not only for the furniture but also for many other purposes and handed down to the next generation.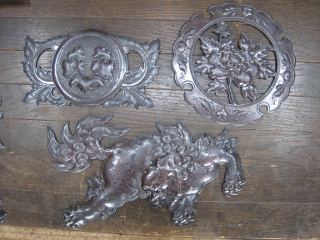 Finished metal ornaments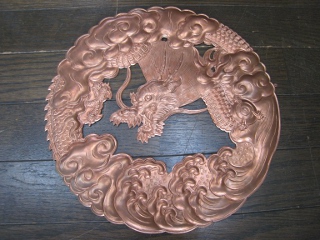 Copper dragon