Interviews & Reports
Soft, and Gorgeous Whiteness- The Himeji white tanned leather craft
Translation: Naotake Kakehi, reviewed by Chan Yitin
The Himeji white leather crafts, one of the specialities of Himeji, Hyogo Prefecture, produces white tanned leather which is too light to make you believe it is an actual leather-made product. Besides, the leather would be even more shinning and showing fabulous whiteness by the exposure to the sunlight.
JTCO had an interview in Tokyo with Mr. Teruo Mizuta, chairman of Castle Leather Co. who has been long engaged in crafting the Himeji white leather products. Here is his story.
---
Date of interview: September 18th, 2010
Place of the interview: Ginza, Tokyo
---
About Himeji white tanned leather / Himeji white tanned leather crafts
"Himeji White Tanned Leather" (Hime Leather) is produced from cow leather by a traditional production method named "Hon-Nameshi". "Hon-Nameshi" came from Asian continent thousand years ago. In this traditional method, craftsmen work on the Hime Leather by bare hand and foot with salt, rapeseeds oil and water from the local river in Himeji City.
During the age of provincial wars, the white tanned leather was commonly applied in producing armors and harnesses. Since mid-Edo era, white tanned leather became a common material for making some leather-craft accessories such as cigarette case.
Nowadays, the white tanned leather would be rubbed to create grains, embossed with different kinds of pattern, coloured by paint and then finished by covering the grains with lacquer. The finished leather is hardly stained despite its whiteness and easy to care for, and so light and supple to make ideal leather accessories for daily use.
Castle Leather Co. produces a wide variety of leather crafts including bags, book-cover, glasses' cases, purses, as well as key-cases.
Himekawa Crafts are available at:
WA-YOU-EN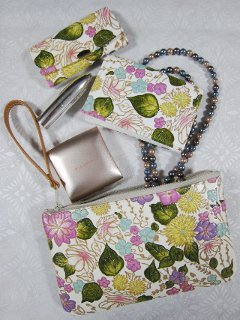 Gorgeous Patterns stand out against the white leather
―Would you please tell me your story how you start Himeji leather craft work.
Mr. Mizuta (hereafter, honorifics omitted)
I was born as the first son of my farm family in Kinosaki, (current place is Toyohashi City, Hyogo Prefecture). I thought it would be difficult to earn sufficiently by farm business, so I first started working as an auto mechanic at a car maintenance factory. I had been working hard at the factory and got promoted to the highest position. then, I left and ran my own maintenance factory. At that time, I encountered Himeji leather craft.
I am the third owner of the company. Actually I don't have any blood connection with the second owner, but I was asked to run the business because the previous owner had no successors. I was really impressed and totally fascinated by the amazing features of Himeji leather crafts since I first saw them, so I determined to change my career and moved to Himeji with my family at the age of 30.
―How many people are working in your factory?
Mizuta:
In my factory, I and my two sons as well as several coloring staffs are working. When one of my sons was almost to graduate from his high school, my company fell into a harsh situation. That was when he decided to join the factory at the age of 18, saying " I can give up my college education if I could support dad by joining the factory." I felt very grateful. Recently, my grand-children came into our workplace and watch my work, wondering what their grand-pa is doing. I feel them adorable, but at the same time I want to keep them away because those machines are dangerous for them.
―What is the most challenging part in the procedures?
Mizuta:
Currently, our company has been designated as the only producer for Hyogo Prefecture traditional handicraft. The main concern is that how to secure the source of the leather and the chemicals used in the manufacturing process. Once upon, the production of one of the chemicals, which works like the foundation for dying, was decided to be discontinued. We immediately asked the Hyogo prefectural leather laboratory to do the research in order to find any substitutes.. Because of the low market demand of the materials for producing white tanned leather, I believe that securing the materials source would always be our main concern.
―Would you tell me about channels for sales?
Mizuta:
The most of our products are sold wholesale to local shops with which we have a direct tie. Department stores may occupy 10 % of our distribution channel, and our products are available via Internet as well. At past, the Himeji crafts appeared in the nation-wide informational newspaper, "SANKEI LIVING SHIMBUN." Since then, our products are known across the country and we succeeded in enlarging our sales channels nationwide.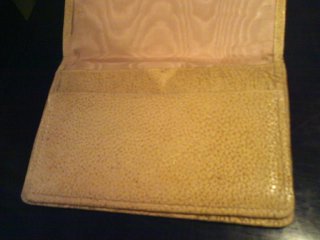 Characteristic fine grain created by "hon-nameshi"
―(Pointing Mr.Mizuta's Himeji-leather hip pouch) You have a quit nice bag, would you mind showing me that?
Mizuta:
Sure. Even though we are making "traditional" products, people won't buy unless it is useful in their daily life. We can't stay with Edo-era cigarette cases forever. When I attend an exhibition at a department store, I see some customers who kindly give me useful opinions regarding what I should make. (Mr.Mizuta takes out a notebook from the inside pocket.) That is why I always bring this notebook with me. I never fail to record such customers' opinions and ideas popped in my head.
Also, I want to show you this card case that I have used for more than 30 years. This is made from the leather tanned by Mr.Morimoto, one of the traditional tanners, which we call "hon-nameshi" craftsmen. On the surface of this leather case, you can see quite fine leather grain. Such fine grain is the feature of "hon-nameshi." You'll never get them without "hon-nameshi" process.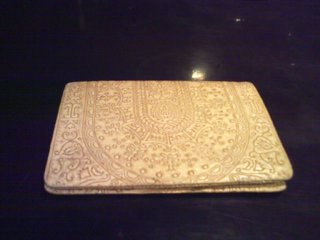 Unbeliebable durability: Business card holder used more than 30 years. Hardly damaged after all these years.
Sometimes, some customers show me his/her leather belongings that I made. It has been made over 10 years. I feel very happy when I know that my customers take good care of my products for such a long time.
―What do you pay attention to during the production?
Mizuta:
First of all, I keep in my mind to make reliable products. In the past, we had a trouble caused by some ingredients changes in the chemical that our factoryhad always purchased. That change actually influenced and degraded the quality of our products Then we received a complaint from one of our customers. .I was shocked and asked my son "What did you do to our products?" He said "Nothing at all." Both of us just didn't recognize that there were some changes in the ingredients.
My deceased father told me before he died , "Son, you are doing your job in the right way, aren't you? You ought to be an honest person." He also taught me that I would need long years to earn people's trusts which I could lose in a moment. I never forget his words.
After the interview:
Mr.Mizuta turned seventy this year. Still, his each word embraces his aspire for Himeji-leather-artifacts, contains his sincere attitude toward the job and holds his lively curiosity to new products. I greatly appreciated that I was fulfilled with strength by his words. After the exhibition at Tokyo, Mr.Mizuta and his son's family plan to make a leisure trip to Hokkaido.After that, he is planning to build a log-house with his family at his hometown, Kinosaki. He looks so excited!
His insistence and sincere attitude toward his job can be felt not only by his family, but also the customers who are using his products. I do recommend everyone y to feel the softness texture by holding the Himeji-leather-crafts in hands,