Interviews & Reports
The Art of wood and lacquer highlighted with decorative metal fittings - Iwayado Tansu furniture (2)
Translation: Tomoe Ukida, reviewed by Naotake Kakehi
---
Interview report 2
Putting dreams into a new tradition - Fujisato Woodcraft
Date of visit: October 9-10, 2010
---

Fujisato Woodcraft is the only company that deals the whole making process of Iwayado Tansu from wood processing to lacquering to metal carving, which is usually done in separate companies. This time, we interviewed Mr. Koichi Oikawa, the representative director, who is certified as a traditional craftworker in all the three fields of wood processing, lacquering, and metal carving.

Contemporary artist directory, the book in which Mr. Oikawa found Mr. Keiju Nakano, a sculptor

―When did you start this career?
My father was a cabinet maker, and I was born as his first son. I went up to Tokyo at the age of 15, and at first I became a pupil of an Edo style cabinet maker and worked there for three years. It's said that we have to practice for at least five to six years to make salable cabinets, but the shelf I made was sold just after a six-month training, so my master was very pleased with that. But as I read art books and went around museums on my days off, I became more interested in sculpture and really wanted to do that. So I visited Mr. Keiju Nakano, a sculptor, who I found in a book named Contemporary artist directory, and I was allowed to learn sculpture as a live-in pupil.

This is Contemporary artist directory in which I found my master. I still keep it for memory.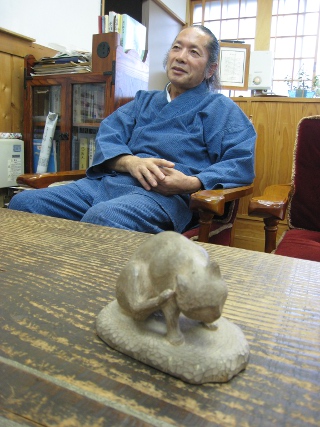 A wooden cat Mr. Oikawa carved in his early days and Mr. Oikawa

―How was the study of sculpture?
I liked sculpture very much, so I tried to save money to study in Italy and wanted to be a sculptor. This is a wooden cat I carved in my early days. It is modeled after a relaxed cat often seen in my neighborhood. It was displayed at an art exhibition.

After that, I had to go back to my hometown for family reasons and gave up hope of being a sculptor. Even though I didn't become a sculptor, the study of sculpture helped me a lot make metal fittings for chests. Many of metal ornaments for Iwayado Tansu had been flat before, but I made them three-dimensional like relief. I put my thought that I wanted to be a sculptor into metal ornaments.


―How was your work after returning to your hometown?
Craftworkers at that time didn't have their workshops and worked in clients' houses. When they got big works, sometimes they stayed over there and worked.

The other day, I had an opportunity to see a chest that I made when I first started to work in my hometown. I made it more than 50 years ago... That was the furniture for wedding that I made while staying at the client's house. When I attended a golden wedding party held by the city, I met the couple for the first time. They told me that they've kept the chest carefully and asked me to change the metal fittings to new ones. I was deeply moved. I changed the metal fittings only and returned the chest to the couple after cleaning so that they can use it for a long time.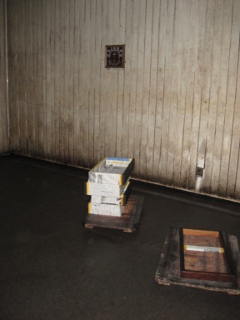 The room is kept at the optimum humidity and temperature for drying lacquer

―How is Iwayado Tansu made?
Lumber made of single wood instead of composite wood is used as material to make "traditional crafts" which are designated by the Ministry of Economy, Trade and Industry. Crafts made of plywood are not recognized as ministry-designated traditional crafts. Zelkova wood is used for the surface of the chests where hardness is required, and woods of Japanese cedar and paulownia are soft and easily scratched, so they are used for the interior.

The basic size is called 4 shaku which is 4 feet wide and 3 feet long, and the chest has a single swing door. It takes about five to six full days to make wooden parts and two hours a day to rub lacquer into lumber, ten days in total by repeating it five to six times. To make handmade metal fittings, we need ten days to two weeks even if we work all day. If the whole process is done by one craftworker, it will be finished in a month. In the case of the division of labor, it will be done in about ten days at the earliest.

We sometimes use lacquer from Joboji, Iwate prefecture, but it's very expensive. So in many cases, we use lacquer from China. After lacquering, the chest is slowly dried in a drying room. The humidity and temperature of the room are kept at 80% and 25℃ respectively, which are the optimum conditions for drying lacquer.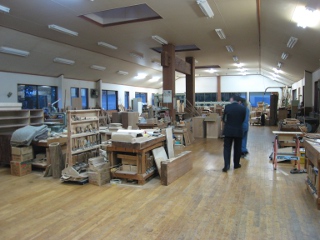 A large woodworking shop with modern facilities

―(The interviewer sees a workplace for woodworking) You have a large shop with modern facilities. How many craftworkers do you have now?
Seventeen people work including my two sons and me. We also have female craftworkers.


―(The interviewer sees works in the showroom) Not only traditional chests but also modern ones with simple design are displayed.
We have customers who always buy new chests when we make them. It's important to keep trying new things and also fun to think over what kind of works I shall make next.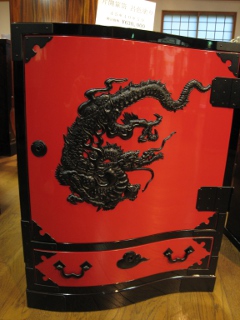 A red-lacquered chest has a beautiful and gentle curve

―What is the origin of the company name "Fujisato Woodcraft"?
I'm originally from Fujisato which is deep in the mountains though it's in the same Esashi ward as here. After the war when goods were scarce, I had to walk for hours just to buy a pair of boots. I opened the first workshop there. Now I have the present workshop here, but I still use the same name not to forget my roots and original intention.


After the interview:
President Oikawa took time to talk about himself while he remembered difficulties of old days and was at a loss for words. He said, "We don't have any business secret," and showed us all over the workshop. We felt his confidence that he has cultivated the skills over many years and that they cannot be stolen just by looking. "I'm 73 years old this year, but I'd like to make chests for another 30 years," said Mr. Oikawa. As we talked to him, his inner enthusiasm and incredible vitality for his age made us feel positive.


When we left the workshop at a late windy time in the middle of October, Mr. Oikawa and his sons just in their work clothes saw us off out of sight. We believe that they are devoted to making chests one by one and send each of chests wholeheartedly to their customers.