Interviews & Reports
The Essence of Ancient Capital in Historical Costume of Kamakura Period - Rental Costume Shisouan
Translation: Yoko Hokari
---
Destination: Kamakura City, Kanagawa Prefecture
The day of visit: September 26th, 2012
---
As of 2012, Kamakura, which is an ancient warrior capital, is working toward to be designated as a UNESCO World Heritage site. Eight hundred and twenty years have passed since MINAMOTO Yoritomo put an end to the previous aristocracy and transferred the capital from Kyoto which was the political center in western Japan to Kamakura in the east. Although today Kamakura attracts many tourists as a sightseeing spot, old buildings were rebuilt and we can hardly find ones from the Kamakura period.

Two young people in their twenties, who wanted to add the scene of Kamakura period to this ancient samurai capital, opened a rental warrior costume shop Shisouan, in northern Kamakura, close to the Meigetsuin Temple, which is famous for its hydrangea. Here is an interview of two shop owners, Daisuke Arimoto and Akemi Matayoshi, who are also Yabusame (Japanese traditional horseback archery) archers of the Takeda School.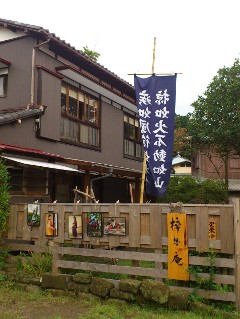 Shisouan, close to the Meigetsuin Temple, famous for its hydrangea (nearest station: JR Kita-Kamakura Station)
―You are both quite young. How did you take an interest in traditional culture?
Mr. Arimoto (hereafter, honorifics omitted): In my first year of my elementary school, I was told to read Sangokushi (Chinese classics in 3rd century) by my brother who is seven years older than me and who had a love of history. Because the contents include very harsh scenes, it was scary for me to read it at that time. After that, however, I realized that I like history. I was learning Kyudo (Japanese art of archery) in my junior and senior high school days. It also had a great influence on me.
Ms. Matayoshi (hereafter, honorifics omitted): When I was a junior high school student, I belonged to a Kyudo club, intending to do something which others wouldn't. Also, "Princess Mononoke" had a great impact on me. I began to take a real interest in traditional culture after becoming an archer of Yabusame, though.
―I heard that Mr. Arimoto is from Yamaguchi prefecture. Why did you move to Kamakura City?
Arimoto: In order to do Yabusame. ( :-D ). From junior high until high school, I learned Kyudo. After graduating from high school, I was attending a horse riding school while working. Then, one of my friends recommended me to try Yabusame. It was autumn, at the age of 20, where I contacted Takeda school and moved to Zushi shortly.
There seems to be many people who don't know Yabusame in western Japan because horse riding culture faded away. However, in the Muromachi era, Takeda school headquarter was originally in Hiroshima. In ten years from now, I would like to revive Yabusame in Hiroshima.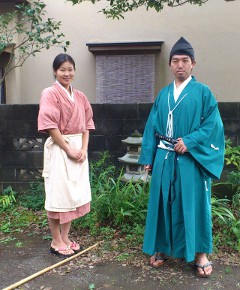 Shisouan

―What made you decide to go independent and start up the business?
Arimoto: I was questioning to work in an organization, and it was a major reason to become independent.
I attended a competitive high school. I was good at math and confident about my academics. Most of the students around me took it for granted to go to college. However, It did not make sense to my life. While thinking about my future, I decided to apply for Japan Overseas Cooperation Volunteer at the age of 20.
But my wish did not come true because I did not have enough academic qualifications. Well, people tend to disrespect those who have less academic background.
When I was working as a temporary staff, one employee working there became unable to work due to an accident. Then, the company fired him. I found that that's the way it goes. So I decided to start my own business someday.

―How did you begin this business?
Arimoto: After I came to Kamakura, I noticed that I did not feel much of "old capital of samurai". Then, I was wondering if I could make visitors feel "ancient Kamakura period". I thought that I might as well start a business to have the visitors wear historical costume just as Maiko in Kyoto.
While we chat with fellows, we decided to make a realistic planning in order to make a dream come true. We made a project proposal and applied for a business plan contest called 'Genki up contest' of Kamakura city. Then, we passed the selection and started this business.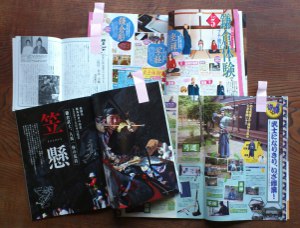 Shisouan introduced by a wide variety of magazines. In an article of Kasagake (another style of horseback archery), Mr Arimoto acts as archer.
―How do you promote your business in the future?
Arimoto: As far as rental costume is concerned, we own 15 sets including the ones for children. I would like to increase the range of items, such as those of armed priests and "Shirabyoushi " (female performers in the Heian and Kamakura period) , etc.
※Note: The rental costume lineup has increased from November 2012.

―Would you tell us what kind of people visit your shop?
Arimoto: Some of them just want to have an experience regardless of history. However, most visitors come to us with the objectives in their mind after looking at the web site of tourist association, watching TV programs, and reading magazines. They visit us with the complimentary ticket for sightseeing experience or recommended by the guides or host family. The guests are really varied in generation, gender, and nationality.
Some come in a group, such as family, couple and friends, and others by themselves.
The other day, an elderly man came and said, "I'd like to take a portrait of myself in advance for my funeral, dressed in a neat historical costume".

―Although visitor can experience Kamakura period in 『Shisouan』, I assume that reproducing the past can be difficult at times.
Arimoto: Well, I have been trying to study what life was like back then reading books. I always pay attention not to disperse false information because I write comments on Facebook.
However, there is something that we cannot reproduce because things are different from the past. For example, our costume is made of cotton cloth. But the clothing in Kamakura period was made of linen. In today's Japan, it is hard to get good linen due to the drug-busting campaign. Linen cloth will inevitably expensive. Also, linen clothing wrinkles easily and is difficult to deal with.
Visitors can experience archery in Shisouan. However, we use fiberglass bows because old-style bamboo bows are expensive and difficult to handle. We purchase the swords made by artisans in Gifu prefecture. Of course, they are also diffrent from the material at that time. We are forced to make adjustments with the times.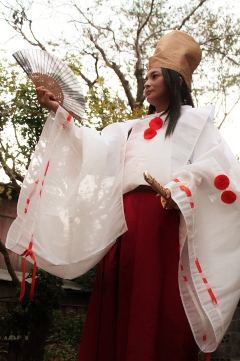 Shirabyoushi: Costume called Suikan; Yoshitsune's lover Shizuka Gozen (who is a music and dance performer from the end of the Heian period to Kamakura period). It is primarily a male costume.
Today, Japanese garb (Hitatare, which was the formalwear of samurai) is away from our everyday life. Also, it is too classy for ordinary people to do martial arts, such as Japanese art of archery. In the past, there were places for archery, called "Yaba", and people had opportunities to touch bows. I wish that people would have an interest in the culture of Kamakura period after the lighthearted experiences of old costume and Japanese archery in Shisouan.
After the interview:
There are many different styles of traditional Japanese culture, depending on the periods. Compared with the elegant aristocratic culture around Kyoto and the merchant culture in Edo (old Tokyo) which appears in period plays quite often, medieval samurai culture around Kamakura is not familiar to most of us. Therefore people might have difficulty in getting the image of it.
For those people, Shisouan will offer the experience of Kamakura period as a distribution center of samurai culture. Please drop in on them when you visit Kamakura.
Related links:
Shisouan Home Page (Japanese)
Shisouan Facebook Page (Japanese)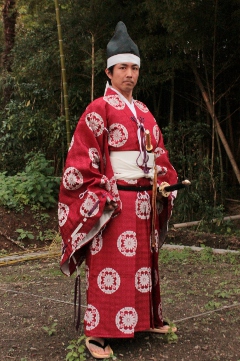 Yoshitsune (a famous worrier in the Kamakura period)-image costume, Hitatare.
Dressed just like Yoshitsune, Iza Kamakura!(Let's go to Kamakura for fight!)