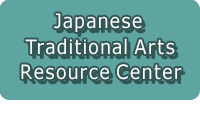 ---
| | |
| --- | --- |
| Art Category | Kabuki |
| Name | Oshika Kabuki |
---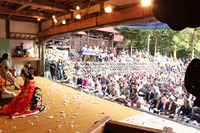 《Feature》
"Oshika Kabuki" is a form of "Ji-shibai" (local play) that has been handed down and performed for more than 300 years since the Edo period (17-19C) by residents of Oshika Village in Nagano Prefecture. Like other vocabulary such as "Ji-beer" (local beer) and "Jiba-sangyo" (local industry) that incorporate the word "Ji", which means local, "Ji-shibai" refers to a play (Kabuki) performed by locals.
Kabuki theatre first appeared in early Edo period (17-19C). By the Genroku era (1688-1704), it had already developed into a form similar to the Kabuki style of the present. Not only was Kabuki widely popular in Edo (present-day Tokyo) and Kyoto, small Kabuki troupes also traveled throughout the country, even to rural areas. Through these performances, residents of Oshika Village learned the art of Kabuki theatre from the troupe actors and eventually started performing Kabuki on their own.
From the Edo period (17-19C) to the Meiji period (19-20C) and up to the Taisho (20C) period, amateur Kabuki performance was prohibited. However, stages were set up at shrines and temples of Oshika Village, where Kabuki was performed as a tribute to the Gods. Kabuki was also performed for generations as an important annual event of the village. At its peak, there were 13 Kabuki stages in Oshika Village. Today, Kabuki stages fitted with revolving stages that were built from the end of Edo period to Meiji period are still preserved at four locations.
Performers who prepare their own costumes, wigs and props, and who are skilled in Kabuki theatre, are one of Oshika Kabuki's distinguishing features. In addition, the legendary Kabuki play --- "Rokusenryou Gojitsu no Bunshou - Shigetada no Dan" - and a distinctive form of Kabuki performance, both of which are unique to Oshika Village, have also been handed down through the ages.
"Oshika Kabuki" has also been featured in movies and dramas that were either filmed at or set in a location modelled after Oshika Village. Primary and junior high school students of Oshika Village learn Kabuki and perform at their annual school recital.
After Oshika Kabuki was designated as an Intangible Folk Cultural Property of Nagano Prefecture in 1977, it has been performed in numerous overseas locations, including Austria, Germany and Italy, as well as at other local theatres such as the Tokyo Shimbashi Yakult Hall and National Bunraku Theatre in Osaka. In 1996, Oshika Kabuki became the first local play to be designated as one of Japan's Intangible Folk Cultural Properties.
Here are some ways to better enjoy and understand "Oshika Kabuki" as well as become one with the rest of the audience:
① Before the play, read about the outline and background of the story found on pamphlets that are distributed at the venue.
② Throw "ohineri" (coins wrapped in papers) onto the stage, at the climax of the play.
③ Join in the fun through "te-uchi" (clapping hands to the beat), at the end of the performance.
[National Intangible Folk Cultural Property]
Credits: Oshika Kabuki Preservation Association
Translation by Naoko Yamashita, reviewed by Mavis.C.
大磧神社
市場神社
City/Town
Oshika Village, Shimoina County, Nagano Prefecture
Location
【Regular performances】
Spring : Every 3 May at Taishaku Shrine
Autumn: Every third Sunday of October, 12:00 pm at Ichiba Shrine

Contact
Oshika Kabuki Preservation Association (Education Committee of Oshika Village)
TEL: 0265-39-2100

Access
Exit Chuo Expressway at Matsukawa IC and take a 40-minute drive along Prefectural Road No. 59
Highlight/POI
You can also taste local cuisine unique to "Oshika Kabuki" while enjoying the performances. For example, bento lunches known as "Roku-ben" and "Kabuki Bento" are sold at the venue (※Note: Reservation is required and may be made at the Oshika Village Office). Don't forget to also try some "Oshika Kabuki candies", which are face shaped candies whose design and taste vary from season to season. Be sure to get some as they will definitely serve as good memories of or souvenirs from your trip to Oshika village.
General Participation
"Oshika Kabuki" performances are open to the public twice a year. Details will be available on the homepage about one month before the performance.

Spring : Every 3 May at Taishaku Shrine
Autumn: Every third Sunday of October, 12:00 pm at Ichiba Shrine

Admission is free (no reservations accepted).
※Please note that the audience will be seated on cushions laid on straw mat flooring. Western style seating with chairs is not available.
URL
http://www.vill.ooshika.nagano.jp/kakukakarano/kyouiku/oosikakabuki/