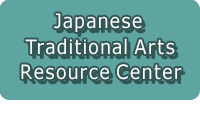 ---
| | |
| --- | --- |
| Art Category | Folk Performing Art |
| Name | Rice Planting festival of Tsutsukowake Shrine |
---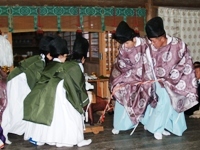 《Feature》
The traditional folk performing art in Tanagura-machi, Fukushima prefecture is composed of Yatsuki Tsutsukowake shirine's Kagura performed by seven groups and Rice planting festival, which is started by friendly greeting with smile, saying " thanks for the fine job for each other " in a dialect.
This performing art, one of the Izumoryu Kagura adopts a dance like a sword dance and is said to be brought by Shugenja or a mountain ascetic. It is uncertain when the Rice Planting festival was introduced to Tanagura-machi, however, as this traditional event may have been continued for about 400 years, judging from its type of performance, it may date way back to before Muromachi-era (14-16c).
The performance is arranged like the Noh play (traditional masked dance-drama) and Kyogen play (traditional short comedic drama) by the Gagaku players (the system of the succession by ten members from ten families- including dancers and music players) and is presented very humorously.
The Gagaku players have been served by Take-family who used to engage in Shinto priest for generations. Usually, their sons take over the role at their age of 60.
Tsursukowake shirine's rice planting festival consists of two parts, "Kagura performed by seven groups"
and "rice planting"
The dances are performed by following seven groups.
◆Kannagi
The dshrine maidens dance with a fan and a bell. It is called Kamioginusamai or a dance inviting a god. Two Gagaku players step at first and start dancing with heisoku or offering of Shinto shrines. Also, another two gagaku players dance with a white branch and a bell.
◆Yumimai - Bow dance
Two gagaku players with bows step at first and throw the bow to four directions while dancing.
◆Ken-mai (Sword dance)
Three gagaku players dance - one with heisoku and bell,and others play the dance with sword and bell.
◆Kamiougi, Sako-mai
Two gagaku players dance with hand-fans and bells, then sow rice while dancing.
◆Shishi-mai (Lion dance)
A Shishi handler dances with Shi-uji, heisoku and a bell.
The other one, "rice planting" is presented like Kyogen-style play in dialect and imitative sound, and Is performed, simulating the process of rice growing in a costume such as Eboshi (black-lacquered headgear), Kariginu(informal clothes worn by the nobility) and white tabi. The performance is followed with 16 steps as below by Matsu-mai, Miko-mai and Nusa-mai:
Sekikenbun →Meoi (Menoi) →Taun→Ibure →Taunai →Kuroba-Otoshi→Mizutori→Shirokaki
→Kuronuri→Ashiotome→Otanekito→Tanemaki→Torioi→Tauebure→Taue→
Mizukuchimatsuri
After the above 16 performances, the gagaku player with a white fox mask plays Tengu-no-mai at the end.
Then, as the final stage of Rice planting festival, all of the gagaku players throw rice cakes to the worshippers and audience, saying "Cyu-han, Cyu-han"of which performance is called "Cyu-han".
Japanese Intangible Cultural Folk Asset
Sourced by Tanakuramachi Tourism Association
Translation: Namiko Murakami, reviewed by Hiroko Okamura
City/Town
Yatsukiaza Omiya 66, Tanaguramachi Oaza
Higashishirakawagun、 Fukushima Prefecture
Location
Tsutsukobetsu Shrine
Tanaguramachi Higashishirakawagun Fukushima
prefecture

Contact
Tanaguramachi Tourist Association
Tel +81-(0)247(33)7886
(Japanese only)

Highlight/POI
Rice planting festival of Tsutsukowake Shrine presents people's strong spirit and pride for being self-sufficient in food by and responsible for their lives, overcoming the confict with nature.
Also, this festival is quite characteristic in the dance expressed with unique phrases and imitative sounds.
General Participation
Everyone can see Rice planting festival of Tsutsukowake Shrine and participants can enjoy drinking Japanese Sake and Amazake after the performance, served by festival organizers.

Venue : Yatsuki Tsutsukowake Shrine
Date : Every January 1st (in the old calender)

Assistance needed? For inquiries in English:
JTCO Contact Form
Your inquiries will be forwarded by JTCO in Japanese to the organization you wish to contact.
URL
http://www.town.tanagura.fukushima.jp/view.rbz?of=1&ik=0&pnp=14&cd=305