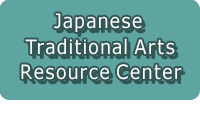 ---
| | |
| --- | --- |
| Art Category | Folk Performing Art |
| Name | Ayado Yonenbutsu and Bon festival dance |
---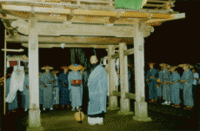 《Feature》
Yonenbutsu is the Bon festival event. Originally, young men (aged under 35) walk through all the house of Shinbutsu (the soul of someone passed away within that year) and offer ekou (memorial service for the dead) to comfort their soul. Bon festival dance is performed by them for entertainment. Once this event have been widely held from Mikawa(current Aichi Pref., Central Japan)mountainous area to Ena city(Yamaoka, Kushihara, Kamiyahagi) in Gifu prefecture, Tsuzurasawa-chou, Kiriyama-chou etc… till 14 districts (17 villages) in Asuke area, nowadays this event is only held in Ayadono-sato.
Yonembutsu chanting sounds quietly with the high or low gong sound in the moonlight, flowing along the gentle wind. When we are absorbed in hearing the voice as we are watching the starlit sky, we attain a mental state of mind in a sense of the evanescence of life and indefinable sadness,
but the feeling is difficult to be expressed in words. It is more suitable to call Ayado Yonembutsu as the prayer of people against the Buddha, rather than a folk performing art.
Once Yonembutsu was the Bon Festival event for young men (aged under 35). This event has been held from 1st to 17th July on the lunar calendar. The practice starting of Jigoku-no-kuchiake was held on 1st. Segaki-kuyou (Buddhist service for the dead) was held on 10th. Walking through all the house of Shinbutsu was held on 13th and 14th. Visiting to any other villages was held on 15th. Kannon-kuyou(memorial service for the kannon) at Heishouji temple was held on 17th.
Owing to the decreasing population of young men, the traditional Yonenbutsu was not able to continue to hold by them. Therefore, the preservation society of Yonenbutsu has established in 1960. Since it has been established, they no longer walk through all the house of Shinbutsu. Nowadays, Yonembutsu is held on 10th and 15th August at the precincts of Heishouji temple.
Some young men gather at the path to Heishouji temple around 7 p.m. They form an array and move forward as they are chanting Michi-ondo. Tsuji-ekou is offered in front of a stone Buddhist image, Mon-biraki (Door opening) is held at the temple gate, Kannonsama-ekou is offered in front of the temple dedicated to the Kannnon, Kami-ekou is offered in front of a tutelary deity of Shinmeigu, at last they chant Hotoke-ekou in front of the main hall of Heishouji temple.
In the Bon festival dance, no musical instruments are used. The Ondotori (chorus leader) sings song with beating sound from wooden clogs. It is a simple dance. Nowadays, Ondotori sings the Bon festival song outside of dancing circle. At the old time, the role of Ondotori was not particularly designated, but the person who has confidence in singing would sing and dance among dancers.
The 10 songs below have been sung from the past to present.
Echigo-jink, Ontake-sensu-odori, Takai-yama, Musume-zukushi,Tokyo-odori, Yosakoi, Jyuroku-odori, Ontake-teodori, Kasa-zukushi, Jinku-odori
Some of them have to dancing with folding fan while some do not. Around the end of 1945, women and children began to participate in Bon festival dance. Nowadays, men and woman of all ages could form a circle and perform the dance.
[National Selected Intangible Cultural Asset]
Provided by: Asuke Tourism Association
Translation by: Hiromi Fujii , reviewed by Chan Yee Ting
City/Town
Ayado-cho, Toyota-city(Old city name is Asuke-cho), Aichi prefecture at the precincts of Heishouji temple
Location
Ayado-cho, Toyota-city (Old city name is Asuke-cho) , Aichi prefecture at the precincts of Heishouji temple
10th August and 15th August of every year

Contact
Asuke Tourism Association (A regular holiday is Thursday)
Tel: +81-565-62-1272/Fax: +81-565-62-0424
(Japanese only)
General Participation
It is only possible to watch Ayado Yonembutsu and Bon festival dance.
Place: The precincts of Heishouji temple
Date and Time: 10th and 15th August, Around 7 p.m.

Assistance needed? For inquiries in English:
JTCO Contact Form
Your inquiries will be forwarded by JTCO in Japanese to the organization you wish to contact.
URL
http://asuke.info/event/aug/entry-700.html