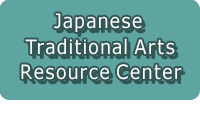 ---
| | |
| --- | --- |
| Art Category | Folk Performing Art |
| Name | Ryugasaki Tsukumai:Ryugasaki Acrobatic Performance |
---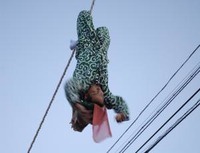 《Feature》
In Ryugasaki Tsukumai or acrobatic performance, a male performer called Maiotoko climbs up a 14-meter pole with festival music of bamboo flutes and drums. On top of the pole, there is a cutout cushion made of 120 layered Sandawara (round straw lids for rice bales) and covered with a white cloth. The performer releases arrows from a bow toward all four points of compass on the cushion. After that, he does a handstand and lies on his back. Then he slides down a rope stretching from the top of the pole toward the ground with his arms spread and performs giant swings. After a series of acrobatics, he climbs up the rope to go back to the pole. All performance ends when he slides down the pole to the ground.
It is thought that "Tuskumai" is originated in Sangaku (performing arts which acrobatics, magic, and comical impression are performed with music). Sangaku was introduced to Japan from China during the Nara period (8c) and came to be performed before shrines. It has been handed down in some regions through the ages and became Tsukumai by closely relating to lives of ordinary people. In case of Ryugasaki Tsukumai, wish for the rain and the productiveness of grain was added as Ryugasaki has been a paddy field area, and Tsukumai became what it is today.
The origin is not certain but there is an old document "Tennosha Sairei Shiki Kicho (Record of Tenno Shrine Ritual Ceremony)" written in 1792 (Kansei 4) which describes costumes of a performer named Kamimachi Hansuke. Also, there are two masks worn by performers which have notes on them. The notes say "performed by Kami-tsuji-naka-shimo-gumi of Tenno-cho in June 1855 (Ansei 2)."
Another feature of this festival is the unique costumes of a performer who plays a major role in the festival. He wears a green arabesque designed Tsutsu sode Juban (a kimono slip with ballooned sleeves), a Tattsuke Bakama (a men's divided skirt in a tapered shape), and a frog mask on his head, hangs a red cloth before his face, and puts a fish scale-liked white cloth with colorful papers on back of his head.
Why frog? The reason is thought to be related to "the legend of a frog Fuku" which has been passed down to this region. It is about a giant frog named Fuku which lived in Ryugasaki long time ago. Fuku swallowed water when there was a flood and spewed it to rain when there was a draught to save farmers lived in Ryugasaki. It is said that Tsukumai represents the scene where a frog climbs up the back of a dragon to pray for the rain.
[A National Important Intangible Folk Cultural Property, Ibaraki Prefecture Designated Intangible Folk Cultural Property]
Source: Ryugasaki City
Translation: Marie Mine, reviewed by Maiko Hayashi
City/Town
3710 Ryugasaki City, Ibaraki Pref.
Location
Tsukumai Dori, Nemachi, Ryugasaki City, Ibaraki Pref.
Contact
Ryugasaki City, Ibaraki Pref.
Tel 0297-60-1536
Access
10 minutes by foot from "Ryugasaki Station" of Kanto Railway
Highlight/POI
"By beautifully stretching my legs while doing a handstand and doing giant swings when sliding down the rope, I provide a highlight for the big audience. Summer in Ryugasaki is at its peak when the night sky is filled with deafening cries of joy from the audience fascinated with performance by cool scaffolding man.

Also, "Ogodo Bayashi" the festival music of bamboo flutes and drums played with Tsukumai is designated as an Intangible Folk Cultural Property by Ryugasaki City. Please enjoy the music with Tsukumai performance.
General Participation
We welcome general audiences for "Ryugasaki Tsukimai".
Location: Tuskumai Dori, Nemachi
Date: Evening of the last day of the Yasaka Shrine Gion Festival (end of July every year).
URL
http://www.city.ryugasaki.ibaraki.jp/procedure/2013081500855/