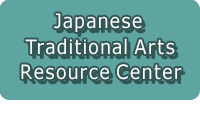 ---
| | |
| --- | --- |
| Art Category | Festival |
| Name | Yama-age Event (Yama-age Festival) |
---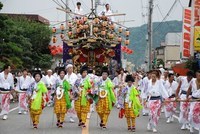 《Feature》
Yama-age Event is a traditional event held since 450 years ago in Karasuyama city located in Tochigi Prefecture, where the largest outdoor Kabuki play in Japan can be seen.
The festival originated in 1560 (Third year of Eiroku era), when Nasu Suketane who was the lord of Karasuyama castle enshrined Gozu Tenno (牛頭天王) as a deity in Yakumo shrine (八雲神社) in order to pray for the land's peace, good harvest and no more plagues.
In the early days of Yama-age Event, entertainments for dedication such as Sumo and Kagurajishi (lion dance) were performed. During Kan-ei era (1661-1672), Kyogen drama were added to the event, and in Horeki era (1771-1763), Kabuki dance was adopted. The adoption of Kabuki dance changed the stage settings and sceneries to large-scale and gorgeous one as seen today. At the end of Edo era (17c), current style of outdoor Kabuki play was established.
Pictures of mountains are used as the background in "Shosa-Kyogen" (pantomime drama). Mountains' background is set on the stage facing the audience, and others background including
"Oyama (a large mountain)", "Nakayama (medium mountain)", "Maeyama (front mountain)" , "Yakata (a house)", "Hashi (a bridge)", "Nami (waves)" and so on, is set as background along the street from the stage for 10 metre
These settings have some tricks, when "Mokuto (a director)" beats wooden clappers, backgrounds would shift and change corresspondingly. It is really enjoyable to see those processes as well as the play itself.
When the performance of "Shosa Kyogen" finish, all the stage settings are packed up swiftly and moved to the next venue. Around 150 young men are necessary for the entire process. Under the blazing sunshine, the amazing teamwork of those young men and the beautiful dance with the music from Shamisen (Musical Instrument) of Tokiwazu are worth seeing
Programs playing in the 6 old towns of Karasuyama city are not the same. Moreover, diverse stage settings and background pictures of mountains have been developed respectively over many years. It is also fun to find the differences in their plays.
[A National Important Intangible Folk Cultural Property]
Information provided by : Nasu Karasuyama City Hall
Translation: Naoko Yamashita, reviewed by Chan Yitin
City/Town
Nasu Karasuyama City, Tochigi Prefecture
Location
Place : In the old city area
Date: The fourth Saturday of July and consecutive Friday and Sunday of every year

Contact
Nasu Karasuyama City Hall
Commerce, industry and sightseeing department
Phone : 0287-89-1115

Highlight/POI
Yama-age festival is a rare event which we can see the entire offstage and onstage event. All the stage settings and changes during the play are handmade by young men in the city.
General Participation
Plays can be seen
Place: In the old city area of Nasu-Karasuyama city
Date: The fourth Saturday of July and consecutive Friday and Sunday of every year

There is a facility of guidance for "Yama-age Festival".
Place : Yama-age Kaikan
2-5-1977, Kanai, Nasu-Karasuyama city
Fee: Adults 250 yen
Child 100 yen
Closed on Tuesdays, Year End and New Year Holiday (12/29~1/3)

For more information,
Phone: 0287-84-1977(Nasu Karasuyama tourism bureau)

URL
http://www.city.nasukarasuyama.lg.jp/9.82.39.html