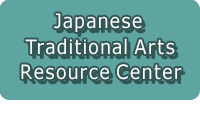 ---
| | |
| --- | --- |
| Art Category | Folk Performing Art |
| Name | Tsurusaki-Odori festival |
---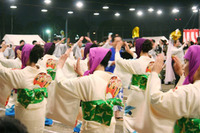 《Feature》
The Tsurusaki-odori (Tsurusaki Dance) has two different versions of dances, a graceful slow-tempo dance, 'Sarumaru-dayu' and a light up-tempo dance, 'Saemon.' Nowadays, Sarumaru-dayu is more popular than Saemon. However, Saemon has a longer history. Saemon is also called by another name, 'Mitsu-byoshi,' since early times in the Tsurusaki area.
Each dancing team is made up of participants from local communities, companies, and groups. They are dressed in brilliant gold and silver costumes and gather near the festival tower followed up by their team flag.
Here are some phrases sung in folk song,
"Please come and see Tsurusaki-Odori, each dancer is beautiful."
"Elegant Toyogo-dancing ladies are famous."
It is a really gorgeous festival with a thousand dancers dancing in sevenfold or eightfold
circles along with folk music with Japanese flute, Chinese fiddle, and song.
This dancing festival completely fascinates every audience with its dazzling spectacle.
[Saemon]
Saemon dance originated in 1560 (3rd year of the Eiroku era.) Otomo Yoshishige (later known as Otomo Sorin), king of Bungo Province was absorbed in pleasure and he did not carry out political duties. His chief vassal, Totsugi Kanren worried about this situation and made a plan to let dancing girls in Kyoto come to Bungo, then hold a dancing festival day-and-night. Yoshishige felt suspicious about Kanren's attitude, because Kanren was quite a straight-laced person. When Yoshishige was in a good mood from watching the Mitsu-byoshi dance, Kanren, in tears, tried to persuade Yoshishige to devote himself to politics. Yoshishige accepted Kanren's advice. It is said that this Mitsu-byoshi dance is the origin of Saemon.
[Sarumaru-dayu]
Nowadays when we speak about Tsurusaki Dance, we usually mean Sarumaru-dayu. However it is said that Sarumaru-dayu originated from Ise-Odori (Ise Dance.) During the Edo Hoei period (1704-1711), the Tsurusaki area was part of one of the largest domains in Kyushu, the Kumamoto Domain or Higo Domain under the Hosokawa clan. This area was a departure and arrival point for sankin-koutai, so more than a hundred ships including "nahano-maru" (a ship's name) were anchored there. Tsurusaki also flourished as the point of contact for trade between Kyoto and Osaka.
With this background, the townspeople were cheerful and performing art was popular among them.
At that time, "Ise-mairi" (visiting Ise Grand Shrine) was popular. Many people in Tsurusaki also visited Ise Grand Shrine.
According to a legend, Sarumaru-dayu is said to have been established by the combination of Ise-Odori brought by the people who visited Ise Grand Shrine and the local culture.
[Designated as a National Intangible Folk Cultural Heritage Property]
Provided by : Oita Tourist Association
Translation: Namiko Murakami, reviewed by Catherine Newman
City/Town
Higashitsurusaki, Oita City, Oita prefecture
Location
Tsurusaki Park sports ground, Higashitsurusaki, Oita City, Oita prefecture
Contact
Honba Tsurusaki-Odori Planning Committee (Oita Tsurusaki Branch Office )
Tel / 097-527-2111

Access
Train-Walk 7 minutes from JR Tsurusaki station (Hitoyo-Line)
Bus-Tsurusaki-shishomae or Tsurusaki Station by Oita bus

Highlight/POI
Tsurusaki-Odori is designated as a National Intangible Folk Cultural Heritage Property, originated 450 years ago and is the representative dance of Oita prefecture.
It is a really gorgeous festival to see with a thousand dancers dancing in sevenfold or eightfold circles along with festival folk music by Japanese flute, Chinese fiddle, and song. It seems like a wonderful Japanese historical painting.
Fireworks warm up the mood at the end of the festival.

General Participation
[Honba Tsurusaki-Odori Festival] General participation is allowed.
Date: Final Saturday and Sunday of August
Place: Tsurusaki Park sports ground

URL
http://www.oishiimati-oita.jp/event/tsurusaki.php