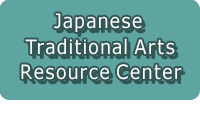 ---
| | |
| --- | --- |
| Art Category | Puppet Play |
| Name | Awaji Ningyo Joruri: Awaji Puppet Play |
---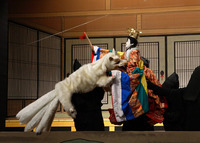 《Feature》
There are several possible origins of Awaji puppet play with a history of 500 years, which is a government-designated significant intangible folk cultural asset.
It is considered that during Kamakura period, the musicians who make a living by shrine ritual, such as court dance and music moved from Osaka Shitennoji to Awajishima Island, and then Ebisukaki which belonged to Ebisu shrine in Nishinomiya started puppet play for shrine ritual because it was very popular.
The ritual took root in as a pray for fishery safety and bounties of the sea, also and a seasonal observance for glorifying God in order to keep home, land, and boat safe.
Until the beginning of Syowa period, Sanbansou which sing from door to door and Ebisumai visited each home and prayed for the good in front of the household altar.
At the first year of Genki period (1570), Hikita Gennojou who offered Sanja Kagura was conferred Jushiige at Shishinden which is a ceremonial hall in court.
During the peak in the beginning of 18th century, more than 40 troupes competed and more than 1000 puppet performers went on a tour not only to Awajishima Island but also to all over Japan and performed in various regions. Uemura Bunrakuken who established Bunraku at Osaka is also from Awaji.
Unlike Bunraku, Awaji Ningyo Joruri was performed outside so that it used big dolls and movements on stage. It excels at period play and its flashy rendition and performance that is peculiar to Awaji, such as Hayagawari (quick change of costume), Dogugaeshi (change of setting)、and Ishoyama (display of costume), were valued. Many stocks have original atmosphere of puppet play and the stages on which female troupers were performing were very glamorous.
Awaji Ningyo Joruri was finally designated as significant intangible folk cultural asset, overcoming numerous difficulties by many people who were willing to preserve local traditional performing arts.
Manipulating Awaji puppets at will need training for years and years.
It is said that it takes seven years for maneuvering legs, seven years for left hand, and a lifetime for head and right hand.
It is reminded that it is not easy to inherit traditional arts.
Nowadays, old things tend to be left behind. Taking a look at them from a new angle and seeking for the perfection in modern age are the proof of its excellence.
[National government of Japan designated significant intangible folk cultural asset]
Information provided by: Awaji Doll Association
Translation: Yoko Hokari, reviewed by Chan Yitin
City/Town
【Performance】
〒656-0501 Jisaki, 1528-1, Fukurakou, Minamiawaji-city, Hyogo Prefecture

【Exhibition】
〒656-0475 880, Ichisanjo, Minamiawaji-city
Location
【Performance】
Awajiningyoza Performance
Time: 10:00, 11:00, 13:00, 14:00, 15:00

【Exhibition】
Awaji Ningyo Joruri Museum
Opening Hours: 10:00~17:00
Closed on Mondays (Except when a national holiday falls on Monday), Next day of national holiday, Year End and New Year Holiday)
Contact
【Performance】
Awajiningyoza
TEL 0799-52-0260 / FAX 0799-52-3072
Fee:
Adult:1,500 yen
Middle and High School Students:1,300 yen
Elementary School Student:1,000 yen
(Offers Group Rate and Disabled Rate)

Performance Contents:
Please refer to our website.

【Exhibition】
Awaji Ningyo Joruri Museum
TEL 0799-43-5037/FAX 0799-43-5137

Admission Fee: Free

Access
【Performance】
Please refer to Awajiningyoza Access for details.

【Exhibition】
Please refer to Awaji Ningyo Joruri Museum.
Access:
Please refer to Awaji Ningyo Joruri Museum "Access" for detail.

Highlight/POI
【Performance】
Ningyo Joruri is hailed as the mainstream of culture of Edo Period. It grievously portrays the subtleties of emotion and
depicts human events with joy and sadness. Then, we are brought to dream world.
Please enjoy the performing arts that people stretched their ingenuity, showing the best of stage art from generation to generation.

【Exhibition】
Awaji Ningyo Joruri was prosperous under the care of Tokushima domain lord, Hachisuka and there were more than 40 puppet theaters in Awajishima Island during Kyoho era and Genbun era in the first half of 18th century.
After that, however, number of puppet theaters gradually decreased. Finally, only Awajiningyoza is in active at present.
Awaji Ningyo Joruri Museum opened at the birthplace of Awaji Doll (Sanjo village in Edo Period) in 1990, getting a set of dolls and tools of Awaji Ningyo Joruri royalist "Ichimura Rokunojouza" which had shut down around 70's.

URL
http://awajiningyoza.com/joruri/other_language/