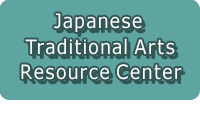 ---
| | |
| --- | --- |
| Art Category | Folk Performing Art |
| Name | Yoshiwa Taiko Odori: Yoshiwa Drum Dance |
---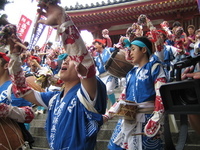 《Feature》
This traditional dance takes place at Joudo-ji Temple on July 18th of Japan's old lunar calendar every even-numbered year of the western calendar. "Taiko Dance" is designated as an Intangible Folk Cultural Property by Hiroshima Prefecture.
There are several theories regarding the origin of this dance. One theory concerns the shogun, Ashikaga Takauji (1305-1358 AD). When Takauji left Onomichi to go to Kyushu, the fishermen who navigated the waters were from Yoshiwa. It is thought that this lively dance originated as a celebration of Takauji's victory. Wooden plaques called ema, depicting the dance in the Edo period are also offered, a tradition that has been handed down through the ages.
The procession parades along Onomichi Suidou (Onomichi Strait), passes before JR Onomichi Station, and parades along Kaigandoori Street. Furthermore, upon passing Sumiyoshi-jinja (Sumiyoshi Shrine) and reaching the front of city hall, the Yoshiwa Taiko Dance is displayed. Afterwards, the procession heads east along Kaigandoori and reaches the foot of Joudo-ji. A portable shrine in the shape of a boat is carried up the flight of stone steps to the temple. Following the portable shrine, a single line of paraders climbs the stone steps backwards, looking to the rear. It is said that this is to prepare for the attack of an enemy.
The Guanyin statue of the portable boat shrine is installed in the main temple building as the paraders chant before it. The paraders chant "ey, ey" as part of a lively sea shanty. After that, as supervisors in white clothing, red demon or blue demon dress overlook, the Yoshiwa Taiko Dance takes place. This spirited dance is presented while beating large and small drums, and ringing bells.
In this way, starting with Joudo-ji, the temple connected to Ashikaga Takauji, the Yoshiwa Taiko Dance celebrates by crossing the port city dotted with Middle Age temple buildings. This is an impressive tradition dating back to the Middle Ages in the historic streets of the harbor.
Source: Onomichi City Hall
Translated by: Catherine Newman
City/Town
Onomichi, Hiroshima prefecture
Location
Joudo-ji Temple
Contact
Onomichi City Hall (0848)25-7111
Access
20-28 Higashikubo-cho, Onomichi-shi, Hiroshima-ken 722-0043

20 minutes by foot from "Ropeway Sanroku Station".
Take the eastbound bus from JR Onomichi Station and alight at Joudo-ji Shita Bus Stop

General Participation
Not allowed
URL
http://www.city.onomichi.hiroshima.jp/www/info/detail.jsp?id=5387