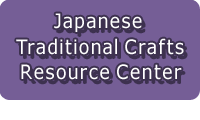 ---

---
| | |
| --- | --- |
| Craft Category | Lacquerware |
| Name | Hidehira Nuri |

Main Production Site:Iwate
---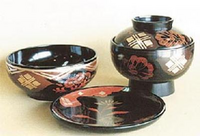 《Characteristics》
Depending on the uses of the final product, wood of suitable material such as that of the Japanese horse-chestnut and Japanese zelkova is dried and processed.
The foundation is made by hardening the dried and processed wood with unprocessed lacquer, covering the weak parts with cloth and further hardening them with raw lacquer.
After the processes of undercoating, second coating and top coating, patterns in the shape of clouds are drawn and gold foil is affixed to these patterns just before they are completely dry. The craft is completed by painting figures on the external surface of the cloud patterns.
[Nationally designated traditional crafts(Designated by the Minister of Economy, Trade and Industry)]
Courtesy of: Iwate Lacquer Ware Cooperative & Iwate Tabi (Iwate Tourism Association)
Translation by Yoshinori Sakamoto, reviewed by Mavis.C.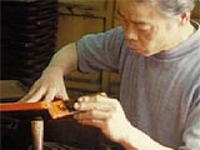 Materials
Japanese horse chestnut,Japanese zelkova,Japanese lacquer
Crafting Processes
【Making of Base】
1.Natsuki (wood from trees in the summer)
2. Immersion in water
3.Unprocessed wood
4.Drying
5.Sawing of unlacquered wood
6.Wood base

【Making of Foundation】
1.Hardening of unlacquered wood
2.Carving of wood
3.Covering with cloth
4.Rubbing of lacquer onto wood surface covered with cloth
5.Application of powdered diatomaceous earth mixed with lacquer
6.Sanding
7.Application of wood powder
8.Application of rust powder over entire surface
9.Polishing

【Top Coating】
1.Undercoating
2.Polishing of undercoat
3.Second coating
4.Polishing of second coating
5.Top coating

【Decoration】
1.Drawing of cloud patterns
2.Affixing gold foil
3.Finishing
History
Hidehira-nuri originated from the Oshu Fujiwara clan. The clan flourished in Hiraizumi and brought Buddhist art such as the Chusonji Golden Hall to this area.

The history of the craft after the fall of the Fujiwara clan is unclear. However, from the latter half of the Edo period up to the Showa era, Kinugawa, which was next to Hiraizumi, became the area where Hidehira-nuri was produced.

Thereafter, along with the construction of the Kinugawa Dam in 1955, the craft of Hidehira-nuri became widely known throughout the southern part of Iwate prefecture and is still in production today.
Related URL
http://www.iwatetabi.jp/product/detail/brand/3.html
◆Exhibition / Showcase
For more information:
◎Specialty Items Plaza - LALA IWATE
Norin Kaikan 1F, Saien 1-3-6, Morioka City, Iwate Prefecture, 020-0024 JAPAN
TEL : +81-19-626-8178 / FAX : +81-19-654-1843
◎Iwate Products Sightseeing Center - Brand i
Malios 3F, Nishidoori 2-9-1, Morioka Station, Iwate Prefecture, 020-0045 JAPAN
TEL : +81-19-621-5444 / FAX : +81-19-621-5447
◎Morioka Tezukurimura
Oirino 64-102, Tunagi, Morioka City, Iwate Prefecture, 020-0055 JAPAN
TEL : +81-19-689-2201 / FAX : +81-19-689-2212
◎Traditional Craft and Design Museum
Zaimokucho 8-26, Morioka City, Iwate Prefecture, 020-0063 JAPAN
TEL : +81-19-651-3342 / FAX : +81-19-651-4424
◎Michinoku Dream Plaza
Sumitomo Life Fukuoka Building 1F, Tenjin 2-8-14, Chuo-ku, Fukuoka City, Fukuoka Prefecture, 810-0001 JAPAN
TEL : +81-92-736-1122 / FAX : +81-92-716-2037
◆Event Information
Assistance needed? For inquiries in English:
JTCO Contact Form
Your inquiries will be forwarded by JTCO in Japanese to the organization you wish to contact.
*Please write the name of craft you wish to ask about.