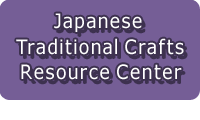 ---

---
| | |
| --- | --- |
| Craft Category | Toys & Entertainment |
| Name | Koga Ningyo: Koga Clay Doll |

Main Production Site:Nagasaki
---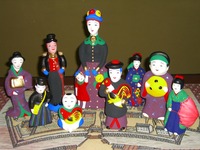 《Characteristics》
Along with the Fushimi doll of Kyoto and Tsutsumi doll of Sendai, the Koga doll is considered one of three finest Japanese clay dolls.
Dolls are designed in several figures reflecting the local color of Nagasaki, the only port open for foreign trade in Edo era. Some of them are portraying foreign residents: Chinese man holding a fighting cock called "Acha-san"(Chinese in Nagasaki dialect), Dutch Chief Factor (kapitan) with a gun for hunting called "Oranda-san"(Mr. Holland) and his wife in Western clothing.
One of their features is a bold use of primary colors (red, white, yellow, black) over their simple, heartwarming and charming figures: It is providing an unique ambience.
[Traditional crafts by Nagasaki prefectural governor]
By courtesy of: Koga Dolls Potter Kenichi Ogawa,Nagasaki Prefectural Goverment Industry&Labor Department Local Food Industry&Products Promotion Office
reviewed by Eri Hara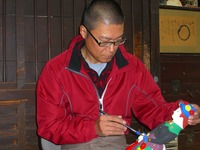 Materials
Clay, Sericite (for underglazing) and colors (for painting)
Crafting Processes
[1] Kneading
Knead the clay with hands and machine.

[2] Molding/demolding
Place conditioned clay in molds to make front and back body parts. Demold and glue them with the clay mixed with water. Parts are assembled without the bottom.
Shape the clay in a size sufficient for an empty space on the bottom of assembled parts: Press lightly to attach as a bottom part.

[3] Shaving
Shave off the excess clay resulted around edges with bamboo spatula.

[4] Polishing
Polish the doll surface with scrubber until smooth. This process removes the starch (which is coated inside the mold to prevent the clay sticking) .

[5] Firing
Fire dolls in a kiln (800 C (1472F)) for 8 hours.

[6] Underglazing
Underglaze the doll surface with Sericite.

[7] Eye drawing
Draw eyes on doll faces.

[8] Painting
For effective coloring, start with light color and dry. Then gradually start painting the dark color.

History
Since Edo era, the Koga doll making technique has been passed down from generation to generation in the Ogawa family, Koga village (currently Nakazato, Nagasaki).

In 1592, a famous clay pottery master Hitachinosuke visited the village (located at former Nagasaki-kaido) during his Nagasaki trip. He stayed at Kosaburo Ogawa (the third) 's residence for a year and instructed the secret techniques of clay pot making to Kosaburo.

Since then, Kosaburo started to make potteries for Shinto and Buddhist rituals as a second job while working as a farmer. In his later years, he started making dolls in small size which is said the origin of Koga dolls.
Related URL
https://www.pref.nagasaki.jp/bunrui/shigoto-sangyo/sangyoshien/furusato_sangyo/dentou_kougeihin/
◆Exhibition / Showcase
Koga doll pottery studio (Potter: Mr. Kenichi Ogawa)
1533 Nakazato cho, Nagasaki City,
Nagasaki Prefecture, 851-0103 Japan
Tel/Fax: 095-838-3869
◆Event Information
Assistance needed? For inquiries in English:
JTCO Contact Form
Your inquiries will be forwarded by JTCO in Japanese to the organization you wish to contact.
*Please write the name of craft you wish to ask about.