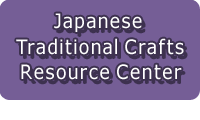 ---

---
| | |
| --- | --- |
| Craft Category | Toys & Entertainment |
| Name | Gunma Kokeshi Doll |

Main Production Site:Gunma
---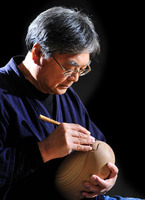 《Characteristics》
Gunma Prefecture in eastern Japan boasts the largest production site of Kokeshi dolls. In contrast to traditional Kokeshi dolls made in the Tohoku region of Northern Japan, ones produced in Gunma are called "modern Kokeshi dolls", due to their creative designs.
Traditional Kokeshi dolls are characterized by specific shapes and patterns which are passed down from generation to generation. In contrast, the modern Kokeshi dolls are offered in new shapes and motifs, are constantly created in an out of the box manner, free of traditional constraints.
While dogwood*1 is the material most generally used for Kokeshi dolls, Gunma Kokeshi dolls are also made of cherry, zelkova and chestnut trees. In particular, chestnut trees are rarely used for Kokeshi dolls in other regions, which give Gunma Kokeshi dolls its characteristicbeautiful grain surface.
*1: Dogwood is widely used for Kokeshi dolls because of its white color and subtle growth rings.
[Designated local traditional handicraft of Gunma]
Source: Usaburo Kokeshi Inc.
Translation by: Naoko Yamashita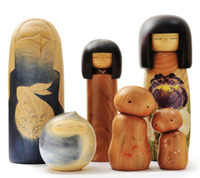 Materials
Dogwood, Cherry, Zelkova, Chesnut trees
Crafting Processes
【1】 Raw wood
Trees are cut down and collected in the mountainous area of Tone and Azuma in Gunma prefecture. After the outer bark is removed, logs are dried for 6-12 months.

【2】 Sawing
The length of the logs are determined according to its intended use. Knots and defects are then removed.

【3】 Initial cut using a punching machine
Logs are cut into specific size blocks using a punching machine or a lathe. This process makes the mechanical shaving process easier.

【4】 Pruning with a turning machine
The Sides of wood blocks are shaved on a lathe, or a turning machine.

【5】 Sanding
Sanding is done in three steps; Rough sanding, base sanding and polishing.

【6】 Decorating
Designs on the dolls are decorated by wood burning, carving and painting.

【7】 Top coating
Top coating is applied on the decorated dolls in three steps : two basic coating processes and the polishing.

【8】 Assembling
All parts are assembled into a complete Kokeshi Doll.
History
The Gunma Kokeshi Doll was born in Soja town in the spring of 1910, when Master Sekiguchi Senji's lathe factory opened its doors. In those days, rotating a pedal lathe needed large amounts of labor and skill.

In 1923, the Introduction of electric power brought motorization, whichen abled mass production in his factory. Gradually more people wished to move into a new industry, the employees left Sekiguchi's factory to start their own. The fame of Soja Toys spread all over Japan and was recognized as an important industry of Japan. In 1934, Master Sekiguchi was honored with imperial inspection and his Kokeshi Doll was purchased by the emperor. In 1939, the founder of the new industry died of illness at the age of sixty.

Soja Toys said to have been passed down from Master Sekiguchi include rattles, tops, cup-and-balls, toys for playing house and other wooden toys. Accessibility to wood materials and early adoption of the lathe technique helped the industry grow in Gunma prefecture.

Unlike the cylindrically shaped traditional Kokeshi Dolls, dolls sold in Gunma prefecture come in a variety of forms, such as a Kokeshi couple, mischievous mythical creature "Kappa" dolls, baby-sitting Kokeshi dolls, and other unique dolls. These unique Kokeshi Dolls began to be sold around 1948 and 1949.

Since then, the Kokeshi Dolls became more and more popular and started to be sold in neighboring towns such as Shibukawa, Gunma, Yoshioka. In Maebashi and Soja towns, manufacturers were merged to establish "Maebashi Wooden Turnery Toys Corporative Association". In 1957, the association changed its name to the present "Gunma Kokeshi Dolls Cooperative".

In 1959, the cooperative held the first Gunma Kokeshi Doll competition and exhibition in Maebashi city, which celebrated its 55th anniversary in 2015. More elaborate dolls started to be made since the 10th anniversary, when the cooperative shifted focus to high-quality dolls. The designs gradually changed from realistic to abstract images. Over the years, craftsmen have added their own touch to their dolls.

Based on skills achieved through various Gunma Kokeshi contests, a number of craftsmen entered the "All Japan Kokeshi Competition" held in Shiroishi city in Miyagi prefecture, and the "National Exhibition" held in Tokyo and successfully won prizes.

Now representative works of Gunma Sosaku, or Creative Kokeshi Dolls are on permanent display in State Guest Palace. Also Kokeshi dolls were sent to foreign exhibitions, Japanese traditional art and craft exhibitions held at notable department stores all over Japan. Kokeshi dolls of Gunma prefecture were recognized as a major art and craft object, and is accepted as a representative souvenir in Japanese sight-seeing spots nationwide. In 1994, Gunma Kokeshi Dolls were designated as Traditional art and crafts of Gunma Prefecture.
Related URL
http://www.usaburo.com/index.html
◆Exhibition / Showcase
Sosaku Kokeshi Crafts Gallery
(The art gallery of the original Gunma Kokeshi Dolls)
1591Nagaoka,Shinto-mura,Kitagunma-gun,
Gunma Prefecture 370-3501
Opening hours : 8:00 - 16:50
Close: Shop and factory are closed from December 29 to January 4.
(Factory is closed every Wednesday)
◆Event Information
We are offering painting workshops. Reservations required.
Click here for more information.
Assistance needed? For inquiries in English:
JTCO Contact Form
Your inquiries will be forwarded by JTCO in Japanese to the organization you wish to contact.
*Please write the name of craft you wish to ask about.