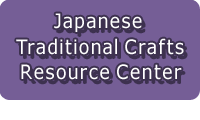 ---

---
| | |
| --- | --- |
| Craft Category | Toys & Entertainment |
| Name | Mishima Oni Yōzu kite (Mishima Demon Kite) |

Main Production Site:Yamaguchi
---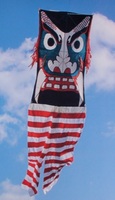 《Characteristics》
Yōzu
, which means a "kite", and
Oni Yōzu
is a type of kite on which a demon face is drawn. It is the size of 6-8 Tatami mats, which is a type of mat used as a flooring material in traditional Japanese-style rooms. 6-8 Tatami mats are around 9-13 m2.
When the first-born son is born in a family, an
Oni Yōzu
kite is made with a wish that the boy will grow big and strong like the kite, which can majestically fly in the sky. The kite became the size of 6-8 tatami mats because many people such as relatives and friends each brought
Kasa Gami
(a type of oiled umbrella paper) to celebrate the boy's birth and make the kite.
There was a custom in which around 20 people gathered to fly a big kite on a beautiful New Year's day. They prayed for the boy's happiness and also his family's success and prosperity.
It is said that the design of a demon would work as a charm to protect people from evil and harm. A small size
Oni Yōzu
kite is popular as a lucky charm for business success and family fortune when it is hung at the entrance of a house or a shop.
-Courtesy of Mishima Tourist Association
Materials
Bamboo, Japanese paper
Crafting Processes
[1]A demon's face is drawn on Japanese paper.

[2]A Heko (a tail with red and white stripes) is made.

[3]The demon's ears are made.

[4]The demon's tears(※1) are made.
※1 Tears are paper tassels which are attached to the demon's eyes.

[5] Spars are glued on the back of the Japanese paper on which the demon face was drawn.

[6] Ears are glued on the upper left and right sides of the demon's face.

[7] The red and white striped tail is glued to the bottom of the demon's face.

[8] The tears are attached to the demon's eyes.

[9] A string is attached to two horizontal spars.

[10] A bridle line is attached to the demon side of the kite.
History
Oni Yōzu kite custom has been handed down in Mishima (Mishima Island, Hagi City, Yamguchi Prefecture) from long ago. Although it is not certain exactly when the custom began, according to one theory, it is said that this kite-making custom began in the Heian period (8-12c).

The custom of flying Oni Yōzu kites on New Year's day has been preserved from long ago. The Oni Yōzu kite flying festival is celebrated every New Year in Mishima.
Related URL
http://mishimakanko.sakura.ne.jp/kankou.htm
◆Exhibition / Showcase
For more information:
Mishima Tourist Association
251-1 Mishima, Hagi-City,
Yamaguchi Prefecture 758-0701
Hagi City Government Office Mishima Branch
TEL: +81-(0)838-23-3311
FAX: +81-(0)838-23-3313
◆Event Information
Oni Yōzu Kite Flying Festival
Period: Every year from January 1 to 3
Location: Hon Village…Haccho Hattan / Uzu…Kan'nonbira
Assistance needed? For inquiries in English:
JTCO Contact Form
Your inquiries will be forwarded by JTCO in Japanese to the organization you wish to contact.
*Please write the name of craft you wish to ask about.