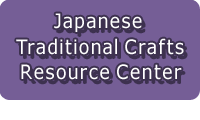 ---

---
| | |
| --- | --- |
| Craft Category | Other crafts |
| Name | Ise netsuke : Ise miniature wooden sculpture |

Main Production Site:Mie
---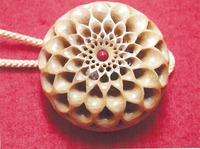 《Characteristics》
Netsuke (literally meaning roots to attach) is a button-like toggle which men in pocketless kimono use. It is in the form of the stopper used for safely fastening hanging belongings such as sash-type purse, pipe, tobacco pouch and inro (pillbox) to prevent dropping. They put them on their robes' sashes to hang belongings by cords.
It is said that netsukes were originated about 400 years ago. In the early era, their designs were simple but as time went by, artisans produced more elaborately designed netsukes that evolved from practical tools to artworks.
While their materials vary from ivory, horn, wood, bamboo and so on, artisans use boxwood collected from Mt. Asama in Mie Pref., West Japan, for Ise netsuke.
Boxwood is called "Jewel wood" because they grow slowly in the cold weather and poor mountain soil. It takes for about 50 to 60 years to have only 6cm in diameter.
Its texture is hard, flexible and can be bent to allow the delicate work without breaking.
Nestukes are made in many shapes and decorated with various subjects from the Chinese zodiac to beauties of nature. Frog or toad might be one of the most favorite carved animals because "frog" in Japanese "kaeru" also means "return/to return" and toad for "hiku" meaning "attract/call". Shop owners in the shrine area appreciate puns such as "buji kaeru (safely return)" or "kyaku o hiku (calls customers)" for the business success.
[Mie prefecture-designated folk craft]
Information provided by: Ise Netsuke Museum (manufacturing and others),
Ise Region Traditional Craft Preservation Society (data)
Translation by: Eri Hara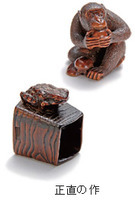 Materials
Materials: 99% of Ise Nestuke are made with Asama boxwood. Only few are made with the ivory, wild boar tusk, deer antler, other wood and bamboo.
Crafting Processes
Artisans use the sun-dried boxwood (which allows 4 to 5 years).

1. Tailoring woods
Dice woods in the size of 3-4 cm that you can grab and hide into your palm with the saw.

2. Sketching
Draw sketch on the cut wood.

3. Carving
Carve woods to the rough-cut, round-off-cut and finishing stages.

4. Polishing
Use several ranges of sand papers for the rough, shallow and finishing polishes.

5. Coloring
Paint the color on netsukes.

6. Soft polish
Use the soft cloth to polish netsukes for the finish.

By designs and shapes, requiring time differs from a day to 2 to 3 months.
History
Ise netsuke was sublimed to a carving art by the local master, SUZUKI Masanao, who created masterpieces from the end of Edo period to early Meiji period (end 19c - early 20c). Today's local netsuke creators are still inheriting his style.

This is why some of Ise netsukes have an inscription of "Masanao", which is a token of the tradition inherited from the school of SUZUKI Masanao.
Related URL
http://www.ise-dentoukougei.com/list/file/netuke/
◆Exhibition / Showcase
Ise-no-okage yokocho Kamijiya (shop)
52, Uji-Nakanokirimachi,
Mie Prefecture
516-0025
Telephone: +81-596-23-8822
(Japanese only)
Ise Netsuke museum
1358-1, Ueji-cho, Ise
Mie Prefecture
516-0051
Tel/Fax: +81-596-25-5988
Experience netsuke making: You can make a pendant with Asama boxwood.
Click here for details
(Japanese only).
Tone Confectionary Store
26-20, Honmachi, Tsu-shi,
Mie-prefecture
524-0842
Tel: 0120-26-4343
(Toll free for Japan-domestic call only)
See netsukes made by young artisans:
Exhibited at: 2nd floor gallery
When: Every August (1 month)
◆Event Information
Assistance needed? For inquiries in English:
JTCO Contact Form
Your inquiries will be forwarded by JTCO in Japanese to the organization you wish to contact.
*Please write the name of craft you wish to ask about.