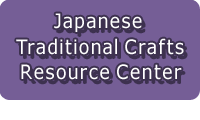 ---

---
| | |
| --- | --- |
| Craft Category | Metal Work |
| Name | Echigo-Sanjo Uchi Hamono: Echigo-Sanjo Blade |

Main Production Site:Niigata
---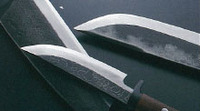 《Characteristics》
In the Sanjo region (central part of Niigata Prefecture, Central Japan), people produced farm tools like "Kama (sickles)" and "Kuwa (hoes)" from the Middle Ages. They built mentoring relationships, improved existing items and worked to brush up their skills through the production of "Wakugi (Japanese nails)" as a side business during agricultural off-season.
Then, they developed their blacksmithing skills to handcraft such tools as "Hocho (knives)", "Nata (hatchets)", "Nomi (chisels)", "Kibasami (gardening shears)", "Kiridashi Kogatana (small blade knives)" and "Masakari (axes)."
Artisans in this region have kept their unique system until now where they even produce tools necessary for the production on their own. This is because they have also produced "Yattoko (Tetsuhashi or pincers)", a tool needed for producing blades, by fully using their skills of free forging.
The group of products which are rarely worn down and made from the user's perspective is famous all over the country. Its one-of-a-kind quality can't possibly be achieved overnight but only by artisans' techniques which have been passed on for generations.
It takes many years to master the techniques of smithery. Facing steel and fire again and again, and hitting the steel to fix distortions at the micro-level. By repeating this seemingly simple process, always with an inquiring mind and tireless passion, they came to be called "artisans" and their techniques have been handed down until today.
The various groups of products made by its modeling techniques were designated as a traditional handicraft by the Minister of Economy, Trade and Industry in 2009.
[National government of Japan designated traditional handicraft (Designated by the Minister of Economy)]
Information provided by: Sanjo Kaji Dojo
Translation by: Shione Furuta, reviewed by Marie Mine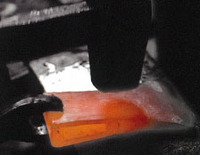 Materials
Iron, steel, etc.
Crafting Processes
The products are manufactured through dozens of processes by manual labor. It takes a lot of time to complete a product to make the best of the beauty of the materials.

[1] Welding
To make a cutlery, iron (for body) and carbon steel (for blade) are heated in a forge and welded with borax (jointing material) by beating with a hammer and pressuring on them. It is very difficult to control temperature throughout this process and the process needs to be done with great speed thus requires a high level of skill.

[2] Forging
The artisan re-heats and re-hammers the blade to shape it (called hizukuri, smith forging), in order to avoid grinding it. It is a process which requires years of experience and sense.

[3] Quenching
In the process of quenching, the cutlery is immediately cooled by coating mud. Quenching is the process used for the Japanese swords and done to increase the toughness of the blade.

[4] Final grinding, Sharpening and Finishing
Final grinding, sharpening and finishing are all done manually. A product is finely finished by using various kinds of grinding stones with lots of time.

[5] Producing a wooden part
In Echigo-Sanjo blade production, all the processes for the main parts, from the preparation of materials to finishing, are consistently done, except for wooden parts. Echigo-Sanjo blade does not employ division of labor, but a product is manufactured by a single artisan to the end. Artisans produce the best products by fully understanding the feature of the materials.

History
The iron industry in Sanjo has a long history, and the traces of the ironwork have been seen in each era since ancient times. It is known that a group of artisans called "Osaki Imonoshi (founders)" worked broadly during Muromachi period (14-16c). It is also proved that they produced pots, gongs for shrines and bells for temples with their high skills. Also, other remains show that they manufactured iron there.

In the peace that followed a war-torn period, the demand for farm tools for the development of new fields and various kinds of tools for people in cities increased instead of the demand for arms.

In the beginning of the Edo period (17-19c), Sanjo invited Japanese nail artisans from Edo (present day Tokyo Metropolis, East Japan) to encourage farmers in Sanjo to produce Japanese nails as a side business to protect them from flood damages which occurred year after year. Later, "The great fire of Meireki (destroyed 60-70% of the Japanese capital city of Edo on March 2, 1657)" occurred, and a huge demand for Japanese nails following the fire made a community in Sanjo, where dedicated blacksmiths worked. This is the origin of the group of Echigo-Sanjo blacksmith.

Then, the production method of tools such as "Nata (hatchets)" was introduced from Aizu (present day Fukushima Prefecture, Northern Japan) and various kinds of knives begun to be produced. These knives were sold through Sanjo merchants who had sales channels across the country. They created and kept a virtuous circle where they find out new needs and make the best of it to develop new products.

In modern times, as the scientific study of knives started, Mr. Kosuke Iwasaki, a leading expert in this field, generously introduced to the Sanjo blacksmith the innovative knife production method by scientific analysis with metal microscopes. It made the Sanjo blacksmith to have both "tradition" and "advanced technology" in its art.

Related URL
http://kajidojo.com/
◆Exhibition / Showcase
Sanjo Kaji Dojo
Address: 11-53, Motomachi, Sanjo City, Niigata Prefecture, 955-0072
Tel: +81-256-34-8080 (Japanese only)
Fax: +81-256-34-8081 (Japanese only)
Opening hours: 9:00-17:00
Closed: Mondays, December 29 - January 3 of the next year (If a Monday falls on a national holiday, we are closed the next day.)
◆Event Information
Blacksmith experience is available at "
Sanjo Kaji Dojo
".
Please contact dojo for details. (Japanese only)
Assistance needed? For inquiries in English:
JTCO Contact Form
Your inquiries will be forwarded by JTCO in Japanese to the organization you wish to contact.
*Please write the name of craft you wish to ask about.