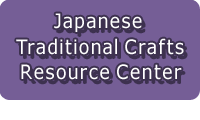 ---

---
| | |
| --- | --- |
| Craft Category | Textile |
| Name | Noto Jofu: Noto-jofu hemp fabric |

Main Production Site:Ishikawa
---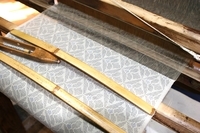 《Characteristics》
Noto-jofu
, a traditional hemp fabric which has been handed down around central Noto area since the age of the gods, is one of the Japan's finest handwoven natural hemp fabrics in terms of both quality and quantity. The superior fabric is mainly produced in Hakui city, Ishikawa Prefecture (Central Japan).
Noto-jofu is generally used for light and thin kimono textile ideal for mid-summer, often likened to "cicada's wings", characterized by hemp's unique crispness, cool feeling, and toughness.
The outstanding durable quality allows the fabric to be said, "
Shiro-gasuri
(white ikat) using Noto-jofu lasts a lifetime."
The simple colors and traditional kasuri patterns that match Noto's climate attract us with its unwearying elegance and beauty beyond ages.
Noto-jofu was originally made with designs limited to
kikkou
(tortoise shell or hexagonal pattern),
juji
(cross pattern) or
ka-gasuri
(kasuri with cross or T-shaped splashed pattern), which were used for men's kimono (men's kimonos commonly use darker colors and simpler designs and forms than women's); however, later employed several techniques, including
Kushioshi-nassen
(technique to dye yarns by comb ("
kushi
")-shaped tool) and
Roll-nassen
(technique to dye yarns by using roller type tool) that have given Noto-jofu more variation in designs such as
kikkou kasuri
,
jumoji
(cross pattern)
kasuri
,
yokosou
(weft ikat) and
chijimi
(Japanese crepe fabric).
The introduction of spun ramie yarn at the beginning of the Showa period (1926-1989) has strengthened Noto-jofu with tinier kasuri patterns. "
Kasuri-awase
", weaving a number of
jumoji-kasuri
within the limited weave width, is unpaperelled in its accuracy.
Every part of the process to produce Noto-jofu is performed by hand as mechanizing the labors requiring high preciseness is impractical.
Production of extremely delicate
Tateyoko-gasuri
(double ikat which requires the highest skill among ikats) cannot be realized without ikat techniques unique to Noto such as
Kushioshi-nassen
and
Roll-nassen
. The artisan skills as typified by Tateyoko-gasuri are designated as an intangible cultural asset by Ishikawa prefecture.
[Designated intangible cultural asset by Ishikawa prefecture]
Provided by Yamazaki Hemp Fabric Studio
Translated by: Asuka Ikenouchi, reviewed by Tomoko Yamamoto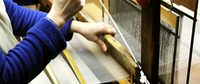 Materials
Hemp
Crafting Processes
Manufacturing of Noto-jofu consists of many complex processes from creation of original yarn to hand weaving.

Noto-jofu created by experienced craftsmanship that has been handed down as a long-cherished tradition is the unparalleled masterpiece in the field of hemp art.
Noto-jofu Manufacturing process in Japanese

History
It is said that the history of Noto-jofu dates back to the times when Imperial Princess of Emperor Sujin (3-4c?) spun wild hemp into yarn and taught local women the weaving technique during her stay in Noto area where hemp has been a part of its culture since old times.
There is also a record that hemp yarn was dedicated to Todai-ji temple, Nara Pref., West Japan, which means that techniques dealing with hemp have been handed down through the ages.

Although hemp has long been deeply rooted in Noto area, the name of "Noto-jofu" was assigned only recently. High-quality hemp yarn produced in this area were once used as original yarn for Omi-jofu, which is fine hemp fabric manufactured in the area called Omi (present day Shiga prefecture, West Japan), until the early Edo period (1603-1868).
In response to the increasing momentum among people in Noto area toward local production of fabric, they invited weavers from Omi to learn weaving techniques. As a result, weaving techniques was dramatically improved.

"Noto-chijimi" was born in 1818 as the first fabric bearing the name of Noto. Relentless efforts to improve the weaving techniques enhanced the quality of the fabric, so Noto-jofu was chosen as a tribute to Imperial Prince in 1907.

Being chosen as a tribute to Imperial Prince helped Noto area's high-quality hemp fabric to be acknowledged across the country, which led the name of "Noto-jofu" to its firm establishment nationwide.

"Jofu" is an honorable title given only to hemp fabric with the highest quality. Noto-jofu is the embodiment of beauty cultivated by the predecessors' efforts throughout the long history of hemp fabric in Noto area.

Noto-jofu Hall was established by Noto-jofu Promotion Council in 1996 in order to preserve and inherit Noto-jofu.
Related URL
http://notojofu.com/
◆Exhibition / Showcase
Yamazaki Hemp Fabric Studio
84 Wonobu Shimosone-machi Hakui-city, Ishikawa Pref. 929-1571
TEL : +81-(0)767-26-0240 (Japanese only)
Please contact in advance when you take the studio tour.
(Studio tours available from 9:00 to 18:00. (Closed on Sundays))
Assistance needed? For inquiries in English:
JTCO Contact Form
Your inquiries will be forwarded by JTCO in Japanese to the organization you wish to contact.
*Please write the name of craft you wish to ask about.