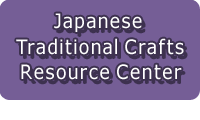 ---

---
| | |
| --- | --- |
| Craft Category | Other crafts |
| Name | Koshigaya-Katchu: Japanese traditional armor |

Main Production Site:Saitama
---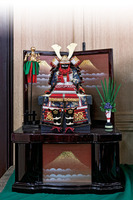 《Characteristics》
From the ancient time to Edo period (17-19c), katchus were originally used as warrior armors from the enemies' attacks.
The word "甲冑 katchu" is composed with two Chinese characters which "甲" means the armor and "冑" for the helmet.
Since Japan ended the samurai governance before the Meiji period (19-20c), katchus' role shifted to ornaments to wish the children health for Boy's day (called Tango no sekku) on May 5.
Thanks to the recent "the age of provincial wars (15-16c)" trend in Japan, reproduced famous feudal warlords' katchus are regaining popularity. Artisans are releasing several models of famous and popular warriors every year including Uesugi Kenshin (1530-1578, a ruler of present day Niigata Pref., central Japan), Naoe Kanetsugu (1559-1620, a famous retainer of Uesugi family) and Date Masamune (1567-1636, a ruler of Tohoku region, northern Japan)
Among them, Koshigaya-katchu is famous for its gorgeous colors and dignified structures which artisans fully use several Edo techniques including metalwork, lacquer work, leather craft and braided cord.
Traditional craft designated by the governor of Saitama Prefecture:
Information provided by: Saitama Prefecture Department of Industry and Labor, Tourism Division
Translated by: Yasuko Takisawa, reviewed by Eri Hara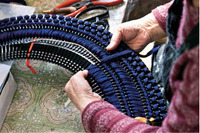 Materials
Leather, iron-sheet metal, lacquer, thread
Crafting Processes
1) Making the kozanes (platelets)
Artisans glue hundreds of plates thoroughly and paint them with the black lacquer.

2) Odoshi (Lacing kozanes with string and macrame codes)
Artisans make holes on kozanes, and slide koyoris (thin paper cords) between them to lace with odoshi-ito (string).

3) Construct the hachi (dome) for the helmet
Rivet spherical sheet metal parts one by one to make hachi (dome).

4) Glue the leather strips
Glue the leather strips inside each katchu parts.

5) Finishing
Attach each part to assemble.
History
It is said that Boy's day (Tango no sekku) was introduced from China to Japan in the Nara period (8th century) and the Imperial court adopted the custom to pray for the health and courage of boys.

Since this custom became popular among warrior class and commons after the Edo period, they started displaying samurai armor and warrior dolls to pray for boys to grow up brave and strong.

Based on that custom, "Koshigaya-katchu" was originated from Koshigaya-juku, one of prosperous and provided post stations on the Nikko-kaido road in the Edo period. The Artisans settled in that road made those katchus by combining gold work, lacquer, leather craft, paper and braided codes and its unique technique has been inherited to the current artisans.

Currently, three Koshigaya manufacturers that were designated as traditional craft makers by Saitama Prefecture are making them with such inherited technique.

Thanks to the popularity of "the age of provincial wars", reproduced famous feudal warlords' katchus are becoming the hot topic.

Though there was the decrease in katchu sale once by the low birth rate, several warriors such as Tokugawa Ieyasu (1543-1616, the founder and the first shogun of Tokugawa Shogunate, based in present day Tokyo) and Date Masamune are regaining popularity thanks to the "rekijo" (female history buffs/history loving girls) and "the age of provincial wars" feudal warlords trends. It resulted the nationwide katchu sale.
◆Exhibition / Showcase
Asahina
1-52, Shinkawa-Town, Koshigaya-City, Saitama-Prefecture, 343-0852
TEL: +81(0)48-987-9144 (Japanese only)
Okoshi Tadayasu Seisakusho
1-39-2, Shinmei-Town, Koshigaya-City, Saitama-Prefecture 343-0805
TEL: +81(0)48-962-1166 (Japanese only)
Kikuchi Kabuto Seisakusho
453-3, Obayashi, Koshigaya-City, Saitama-Prefecture 343-0021
TEL: +81(0)48-974-3299 (Japanese only)
Note: All studios are accepting visitors. Please contact them prior to your visit.
Assistance needed? For inquiries in English:
JTCO Contact Form
Your inquiries will be forwarded by JTCO in Japanese to the organization you wish to contact.
*Please write the name of craft you wish to ask about.
◆Event Information
Nikko Street Koshigaya-juku Spring Festival
Katchu meguri guide tour (visit doll shops along Nikko street)
Dates:
First Saturday and Sunday of May
(By the calendar, schedule may include the last Sat of April.)
Venue:
- Shops/old folk houses on the old Nikko road and neighborhood
- Osawakatori shrine (From the end of April to the beginning of May)
- Koshigaya city hall lobby
For reservation and inquiries, contact Koshigaya city Chamber of Commerce and Industry
TEL : +81(0)48-966-6111 (Japanese only)