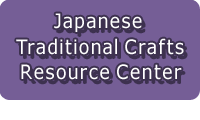 ---

---
| | |
| --- | --- |
| Craft Category | Wood & Bamboo Work |
| Name | Tsuruzaiku: Woven Vine Craft |

Main Production Site:Fukushima
---
《Characteristics》
In Tadami Town of Minami Aizu County, Fukushima Prefecture, woven vine works, which are made out of natural vines (silver vine, chocolate vine or grapevine), have been used as livingware since old times.
In Japan, Tadami is the only place where the whole town is pursuing vine weaving technique and design. A single craftsman deals with all processes, from getting bundle of vines to finishing work with great care. The natural materials well bring us the aroma and the warmth of forests where they have grown. Toughness is another characteristic of this craft.
Nowadays, they are cherished by various people as not only daily needs but also as natural interior goods.
[Traditional Craft Officially Designated by Fukushima Prefecture]
Contents provided by: Meiwa Folk Art Preservation Society
Reviewed by: Miwa Odagiri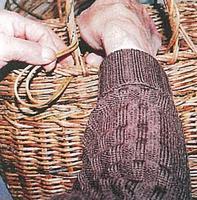 Materials
Vines (silver vine, chocolate vine or grapevine etc.)
Crafting Processes
[1] Preparation
Collect vines and prepare for weaving. When using silver vines, split them into four pieces before they get dry. After removing the core, trim them to the same thickness and width. When chocolate vines are used, their roots and joints are removed before they get dry, then dehydrated in airy shade. After being sorted out by size or length, vines are kept in a dry place, away from direct sunlight.

[2] Weaving
Proper weaving technique is selected to make each product, such as a strainer or a basket. Just like textile weaving, they are woven with Tateshin, which serves as a warp, and Amishin, which serve as a weft. Usually Tateshins are little thicker and stronger than Amishins, or sometimes double Tateshins are used as substitutes. Tateshins should be stronger than Amishins, if not they can not support Amishins and would results in a distorted, loose and fragile product.
History
From old days, daily goods such as baskets and strainers have been made of silver vines, chocolate vines or grapevines collected from the mountains, as a sideline in the intermountain regions in Tohoku, northern Japan, during the snowy season. The tradition has been inherited from parents to children up until the present.

Nowadays, not only daily items such as baskets and strainers but also fashion or interior products such as bags, lampshades and flower baskets are made in a variety of designs.
◆Exhibition / Showcase
Meiwa Folk Art Preservation Society
1300, Kamiteruoka Aza Kobayashi Oaza, Tadami Town, Minami-Aizu County, Fukushima Prefecture, 968-0601
Tel: +81-241-86-2111 (Japanese only)
Assistance needed? For inquiries in English:
JTCO Contact Form
Your inquiries will be forwarded by JTCO in Japanese to the organization you wish to contact.
*Please write the name of craft you wish to ask about.