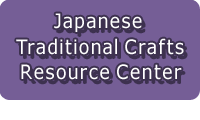 ---

---
| | |
| --- | --- |
| Craft Category | Textile |
| Name | Kyo-nui: Kyoto Embroidery |

Main Production Site:Kyoto
---

《Characteristics》
Embroidery is a type of decorating technique on fabric in which motifs are expressed with a needle and a variety of colorful threads. The technique is one of the most significant in the history of dyeing and textiles in Japan. When added on dyed kimono or fabric, embroidery enriches the luxuriousness of the work.
Kyo-nui is realized with sophisticated design and skilled technique using silk, gold or silver threads on silk or hemp fabric. It is an artistic work made possible through the overall composition, color combination of threads, and techniques of needlework. All of these make a unique expression possible for tasteful works.
A traditional craft designated by the Ministry of Economy, Trade and Industry (METI)
Source:
Kyoto Trade, Labor and Tourism Division, Dyed Products Section (Characteristics, History, Manufacturing Process)
The Association for the Promotion of Traditional Craft Industries (Manufacturing Process)
Reviewed by Yoshiko Nagao
Materials
Silk thread, lacquered thread, gold thread, silver thread, gold or silver flat foil thread

Crafting Processes
Today, there are about 30 types of techniques in Kyo-nui, and 15 among them are designated as traditional craftworks.

[Procedure]
[1] Drafting
Perform a draft work. Draw original motifs either with a pencil or an ink brush.

[2] Rough sketching
Put the original drawing on a tracing table with a lamp under it. Place a fabric on the drawing so that the motifs can be seen through the fabric. Then carefully make an accurate copy of the original.

[3] Coloration
Taking the embroidery techniques into consideration , select threads which match the color of the fabric and its patterns.

[4] Stretching the fabric to an embroidery frame
There are two different methods called 'Daibari' and 'Daiwakuhari' to stretch the fabric to an embroidery frame. Daibari is the method of stretching the fabric vertically, without distortion, to a frame with the help of a pole called Hibo. Then, with a darning thread, the fabric is fixed to the frame with a moderate intensity. Alternately, daiwakuhari is the method used when embroidering a small work such as a crest, using a rectangular frame called daiwakuhari.

[5] Embroidering process
There are more than 10 kinds of needles, all of which are handmade with a flat head and the same length. In the embroidering process, the motifs are created with these needles according to the rough sketch stitch by stitch. Kyo-nui works are created using over 15 types of traditional techniques.

[6] Finishing
On the back side of the needlework, apply glue and finish by drying.

[Various techniques of embroidery]
Matsuri-nui (Stem stitch)
A technique in which you stitch along the design line with stem stitch in the shape of Japanese katakana 'ノ'(pronounced as "no").

Suga-nui (Horizontal satin stitch)
A technique in which you embroider motifs along the fabric grain with no gaps.

Kiri-osae-nui (literally, cut-and-anchor stitch)
A technique in which you anchor the larger stitches with tiny diagonal stitches with a one fifth-thick thread.

Koma-nui (Couching stitch)
A technique in which you couch a thick gold or silver thread unwound from a spool placed along the design line.

Niku-ire-nui (Satin padded stitch)
A technique to have a beautiful raised look by stitching over a cotton filling. It is a mature technique where you turn the needle in the right hand to make a twist on the thread right before going back to the fabric. The movement of the left hand also requires a high technique.

Nui-kiri (Diagonal satin stitch)
A technique in which you stitch small motifs regardless of the grain of the fabric; it gives the work a vigorous and natural impression.

Sagara-nui (similar to French knot)
A technique in which you make a hoop with a thread coming out from the back side of the fabric, then create a knot within the hoop by twisting the thread when you put the needle back on the fabric.

Wari-nui (literally, split stitch)
A technique in which you fill the motifs like leaves or petals with diagonal satin stitches, by bringing the needle symmetrically from the both sides of the design line to the center to form a V-shape.

Sashi-nui (Long and short stitch)
A technique in which you fill the same area with long and short stitches. If color shading is desired, use different colors of thread.

Wari-tsuke-monyou-nui (literally, allocated pattern stitch)
A technique in which you apply different techniques according to motifs and patterns.

Kumi-himo-nui (literally, braided cord stitch)
A technique in which you express a thread in a graphic way within an embroidery motif.

Takeyamachi-nui (Takeya Town stitch)
A technique in which you stitch through the weft of the fabric along the warp, making it as an alternative of the stitching thread; so that it looks like a fine brick work. It was named after an area of Kyoto where this technique was practiced.
History
The history of embroidery in Japan is estimated to have begun from Asuka Period (6-8c). The embroidery in this period is characterized by Shu-butsu, which is the figure of Buddha depicted on a hanging scroll with embroidery. At the same time with the transfer of the capital in Heian Period (8c), Nui-be-no-tukasa, the office employing craftsmen of needlework, was established in Kyoto, which then started clothing decoration. This was the beginning of Kyo-nui.

Since then, Kyo-nui has evolved by being utilized on typical clothing in each period: Juni-hitoe, the female court costume in the Heian Period (8-12c), the outer jacket of Samurai in the Kamakura Period (12-14c), the Noh costume in the Muromachi Period (14-16c), and the kimono called Kosode in the Azuchi Momoyama Period (16-17c), when a lavish culture flourished. It continues up until the Edo Period (17-19c). After the Meiji Period (19-20c), new demands were discovered such as Fukusa (silk wrapping cloth), wall hanging, and needlework art, etc. Today, a variety of products are created, from the Japanese style clothing to ceremonial ornaments and picture frames.
Related URL
http://www.pref.kyoto.jp/senshoku/kyonui.html
◆Exhibition / Showcase
Kyoto Dento Sangyo Fureai-Kan
(Kyoto Traditional Industry Experience Center)
9-1 Miyakomesse BF1, Okazaki Seishoji-Town, Sakyo-Word, Kyoto-City, 606-8343
TEL : +81-(0)75-762-2670 / FAX : +81-(0)75-761-7121 (Japanese only)
Contact Form:
Kyoto Dento Sangyo Fureai-Kan
Open: 9:00AM-5:00PM (Latest entry by 4:30pm)
Close: Summer (Aug.19 and 20), New Year (Dec. 29 to Jan. 3)
Entry Fee: Free
Assistance needed? For inquiries in English:
JTCO Contact Form
Your inquiries will be forwarded by JTCO in Japanese to the organization you wish to contact.
*Please write the name of craft you wish to ask about.