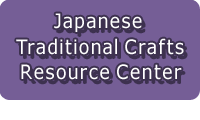 ---

---
| | |
| --- | --- |
| Craft Category | Accessory |
| Name | Nishiki-ishi: Nishiki Brocade Stone |

Main Production Site:Aomori
---

《Characteristics》
Nishiki-ishi are stones produced in numerous locations in Aomori Prefecture in northern Japan. When polished, the stones reveal their beautiful sheen and luster. The term 'Nishiki-ishi' covers a wide variety of stones, such as jasper, chalcedony, agate, rhyolite and petrified wood. Some say Nishiki-ishi derived their name from the rich colors and patterns that are reminiscent of traditional Japanese woven fabrics such as 'aya' twill damask or 'nishiki' brocade. Others say the name came from the local seaside scenery, with stones of different colors on the beach being washed in waves and reflecting sunshine, simulating a beautiful nishiki brocade fabric that has been rolled out.
Since ancient times, stones from this area have been loved for their beauty. In the Jomon Period (B.C.145-B.C.3c) they were used to make 'magatama'; paisley shaped ornamental beads. In the Muromachi Period (14-16c), they were prized as 'shari-ishi' (buddha stones) and were exported to regions as far as Kara (present day China) and Tenjiku (present day India). In the Edo Period (17-19c), people came up with the name 'tsugaru-dama' for these stones (Tsugaru is an old name for the Aomori area). They were also valued as the base material for crafting 'kanzashi' (decorative hairpins), and 'netsuke' (toggles).
Referred to as 'Nishiki-ishi' in modern days and cherished as the local specialty, these stones are appreciated in various ways; in personal accessories and ornaments such as rings, pendants, obi-sash pins, tie pins, cufflinks, and bolo ties, as well as decorative pieces for homes and gardens.
In 1996, Nishiki-ishi was designated as Aomori Prefecture's traditional craft product. This was an official recognition that these stones are more than just a local product. They carry both historical and cultural importance.
[traditional craft designated by, Aomori Prefecture ]
Information provided by: Odagiri Nishiki-ishi Research Center
Translation by: Misa Imanaka-Miller, reviewed by Marina Izumi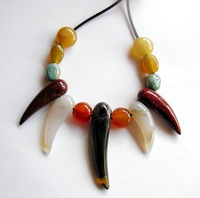 Materials
Jasper, chalcedony, agate, rhyolite, petrified wood, etc.
Crafting Processes
[1] Cutting
Cut the original rock into smaller pieces, marking the most beautiful spots.

[2] Forming
Chip and cut around the marks, and carve into the desired shape.

[3] Polishing
Finish with fine polishing.

Click here for more details (Japanese only)
History
There is evidence that Nishiki-ishi has been in people's lives since ancient times. For example, two large Nishiki-ishii pieces, as big as fists, were found in the ancient ruins of Okamachi in Aomori City. Also, in many other local ruins, various Nishiki-ishi items made for practical or ornamental purposes have been excavated, including arrowheads, drill-like tools, spoons, and paisley-shaped beads.

In the Edo Period, TAMAYA Kihei, a member of Wakasa Domain, (roughly modern day Fukui Prefecture, Central Japan) fled to Tsugaru. When he saw Nishiki-ishi, he remembered the agate in his hometown of Wakasa, and decided to learn Nishiki-ishi production techniques in Hirosaki. When he eventually returned to Wakasa, he reportedly spread what he had learned and elevated Wakasa agate stone craft production to new levels of prosperity. Later, one of his successors, TAMAYA Yasuke, is believed to have contributed in building a foundation for the famous Yamanashi Crystal Quartz craft in the Kai area (Yamanashi Prefecture in Central Japan). Though Nishiki-ishi's stone crafting techniques were spreading out, the tradition died out in its original birthplace, Tsugaru.

The production of Nishiki-ishi, however, was revived in the early Showa Period (20c). There was a countrywide boom in the popularity of stones, and in the mid Showa Period, the 'Nishiki-ishi Club' was founded. Modern polishing techniques helped to increase production, benefiting manufacturers, retailers and stone collectors alike.
Related URL
http://hwm8.gyao.ne.jp/corinsei/
◆Exhibition / Showcase
Odagiri Nishiki-ishi Research Center
(Japanese only)
3-19-27, Nishitaki, Aomori City, Aomori Prefecture, 038-0014, Japan
TEL : +81-(0)17-781-2347 (Japanese only)
Assistance needed? For inquiries in English:
JTCO Contact Form
Your inquiries will be forwarded by JTCO in Japanese to the organization you wish to contact.
*Please write the name of craft you wish to ask about.