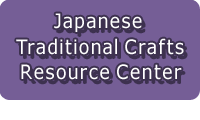 ---

---
| | |
| --- | --- |
| Craft Category | Toys & Entertainment |
| Name | Tsugaru Tako: Tsugaru Kite |

Main Production Site:Aomori
---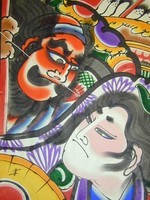 《Characteristics》
The Tsugaru tako is a traditional handcrafted kite made of thinly chopped Hiba trees (Thujopsis tree) adorned with traditional Tsugaru style paintings. The kites are large in size, just under two single size mattresses put together.
On the wrong side of the Tsugaru tako is a thick paper attached, called the "bumbu". When the kite is flown the bumbu vibrates, making a buzzing noise as it soars through the skies.
The paintings on the kites (or tako-e) are heavily influenced by the ukiyo-e painters of Edo (present day Tokyo), and subjects depicted are often heroes of legendary tales such as the Sanguo Zhi (Records of the Three Kingdoms), Shui Hu Zhuan (The Water Margin), and great Japanese warriors from history. Use of wide, powerful brush strokes in equally strong colors such as red, black, and green are predominant in the Tako-e paintings.
[Designated traditional crafts of Aomori Prefecture]
Provided by: Tsugaru-han Neputa Village
Translation by: Monica Shingaki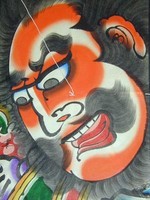 Materials
Paper, wood (Thujopsis aka Hiba tree)
Crafting Processes
[1] Drafting the tako-e design
First, designs are sketched on to kite paper.

[2] Base color
Color is added on to the completed tako-e designs with paint.

[3] Backing
The kite is backed with a thick piece of paper called the "bumbu".

[4] Finishing color
The tako-e gets its finishing touches.

[5] Framework
The wood material is processed to build the kite's structural frame.

[6] Finishing, joining
The kite is assembled and completed after final finishes.
History
It is said that during the Edo period (17-19c), the poverty stricken samurais of Hirosaki (Aomori Pref., northern Japan) took up kite making to make ends meet. Records indicate that during the Tempo era (1830-1844) of the Edo period, many kites were observed flying through the skies of Hirosaki, Tsugaru Domain's castle town (present day Aomori Pref.).

It is not until the Meiji period (19-20c) that samurais became depicted in the kites' designs. The painting style, heavily influenced by Katsushika Hokusai, was established by one Shibata and later perfected by Odagiri Iwakura.

In addition, the depiction of warriors on the kites serves as a symbol to express parents' wishes for their children to grow up strong and tenacious. The Tsugaru tako is a regional hand crafted toy familiar to many, with a great history.
◆Exhibition / Showcase
Tsugaru-han Neputa Village
61 Kamenokou-machi Hirosaki-shi Aomori 036-8332
TEL : +81-(0)0172-39-151 / FAX : 0172-39-1212 (Japanese only)
◆Event Information
Tsugaru-han Neputa Village
*Make your own kite!
TEL : +81-(0)172-39-151 / FAX : 0172-39-1212 (Japanese only)
Assistance needed? For inquiries in English:
JTCO Contact Form
Your inquiries will be forwarded by JTCO in Japanese to the organization you wish to contact.
*Please write the name of craft you wish to ask about.