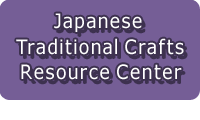 ---

---
| | |
| --- | --- |
| Craft Category | Toys & Entertainment |
| Name | Iwatsuki Ningyo: Iwatsuki Doll |

Main Production Site:Saitama
---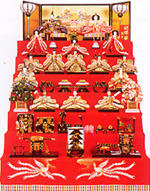 《Characteristics》
In the Edo period (17-19c), dolls were made actively nationwide along with the development of commerce and industry. Clay dolls and wooden dolls were crafted as local souvenirs. People entrusted success in life, better fortune and prosperity to dolls and prayed to them. Such practices to pray with dolls became popular.
At that time, people also began to decorate their rooms with dolls at seasonal festivals in March and May while marionettes and windup dolls for show business appeared. In addition, toy dolls for children, costume dolls for appreciation and ukiyoe dolls which imitating real dolls were crafted.
Since the Edo period until today, making dolls in Iwatsuki has developed the Japanese original tradition even under the influence of Western culture. As the time goes by, people have adopted new techniques for making dolls little by little. However, their wishes on dolls do not change at all throughout the periods.
Iwatsuki dolls, made mainly by hand using natural materials, give us a warm feel. Such a warm feel will make our daily life comfortable and peaceful. Doll craftsmen continue to elaborately create Iwatshuki dolls one by one with their hands.
Nationally designated traditional craftwork (designated by the Ministry of Economy, Trade and Industry)
Information provided by Iwatsuki Dolls Cooperative Society
Translation by Yoshinori Sakamoto, reviewed by Tomoko Yamamoto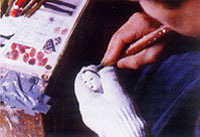 Materials
Powder of paulownia, shobunori (paste made from wheat starch), gofun (white pigment made of scallop shell powder), traditional Japanese washi paper, etc.
Crafting Processes
Iwatuski dolls are all made by hands in the traditional manual method. A doll is finished after careful handwork consisting of hundreds of manufacturing processes.


[1] Making a head
It is said that whether a doll is well-made or not depends on its head. A process of making the head requires great skills. First, mold a head called toso out of kneaded paste of paulownia powder and shobunori (paste made from wheat starch). Next dry the head, inlay eyes in it, and then give it several times of coating with gofun (white pigment). Cut out eyes and a nose with a knife, give the final coating and polish up the head for glossy-skin appearance. With a thin brush, pencil eyebrows and eyelashes, rouge the cheeks and small mouth, and draw a tongue and teeth in it. Finally, transplant hair and do its hair up to complete the head.

[2] Making hands and feet
First, mold hands and feet out of paste of paulownia powder and shobunori (wheat-starch paste) and then coat hands and feet with gofun (white pigment) repeatedly. After drying them, give them the final coating for finishing.

[3] Making the costume
First paste traditional Japanese washi paper around a tightened straw bundle and stick hands and feet in it to create a main body. Then proceed to the costume-making process. The costume consists of gorgeous textiles such as Nishijin brocade (brocade from Kyoto). Line the textiles with washi paper for extra crispness, cut them out into each costume part and tailor by part. Start from putting together the collars, which are a very important factor to determine the doll's bony framework. Finally dress the body with overcoat and give it posing.

[4] Making props
For example, a tiered hina-doll stand has more than twenty props. They require elaborate and successive manual labors by craftsmen as represented by motifs on folding fans all hand-painted.

[5] Assembly
A manufacturing wholesaler collects finished heads, bodies and props and assembly them together.
History
The history of doll-making in Iwatsuki has been strongly related with building of Nikko Toshogu Shrine.

About 370 years ago, in the Kan'ei era (1634 - 1647), Shogun Tokugawa Iemitsu called skillful carpenters all over the country in order to build Nikko Toshogu Shrine. At that time, Iwatsuki was the first-station town of Nikko-onari-kaido Road from Edo, current Tokyo. That's why not a few carpenters who built and repaired Nikko Toshogu Shrine settled in and around Iwatsuki. It is said that those people made products such as chests of drawers using paulownias abundantly planted around there. Some made dolls with the plants and taught their techniques.

According to the newly-published Fudoki (records of the culture and geography of a province), Eshin who was a sculptor of Buddhist images living in Horikawa in Kyoto was struck down by illness in Iwatsuki in 1697. Fortunately, a doctor who served Ogasawara Nagashige, the lord of the domain of Iwatsuki at that time, treated the sculptor. After recovering from the illness, Eshin reportedly stayed in Iwatsuki, saw the usefulness of paulownia powder, and began to make doll heads by using paste of paulownia powder and shobunori (paste made from wheat starch).

Iwatsuki and its outskirts were a paulownia-growing district abundant in paulownia powder, the material for doll making. In addition, the area was rich in water which was very important for dissolving and developing spark white pigment to paint doll heads.

Samurais and farmers of the Iwatsuki domain inherited the technique of tosokashira (molding heads out from paste of paulownia powder and shobunori (paste made from wheat starch)) devised by Eshin as side work, hobby and sideline. In the last days of the Tokugawa shougunate, Iwatsuki-doll making became such an important industry in the area that it was designated as monopoly goods of the domain, which has been inherited with care until today.
Related URL
http://www.doll.or.jp/
◆Exhibition / Showcase
Iwatsuki Dolls Cooperative Society
5-6-44, Honmachi, Iwatuski city, Saitama prefecture 339-0057
For inquiries, please call us at:
+81-(0)48-757-8881 [fax: +81-(0)48-757-8891] (Japanese only)
◆Event Information
Iwatsuki city, which has long cherished a tradition of making dolls as well as good old things with great care, holds various events which are well suited to its history.
Event Information
(Japanese only)
Assistance needed? For inquiries in English:
JTCO Contact Form
Your inquiries will be forwarded by JTCO in Japanese to the organization you wish to contact.
Please specify the name of the craft/art you wish to inquire about.