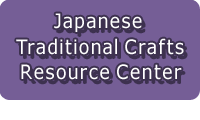 ---

---
| | |
| --- | --- |
| Craft Category | Textile |
| Name | Saga Nishiki: Saga Brocade |

Main Production Site:Saga
---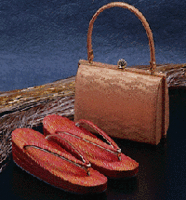 《Characteristics》
Saga Nishiki is a hand-loomed traditional fabric which is elaborately woven from shredded Japanese paper coated with gold, silver and lacquer as warp and dyed silk thread as weft.
As sophisticated techniques and much time are required, only a little amount can be produced each day. For this reason, these fabrics are mostly manufactured into practical small items like bags. It is hard to find large items such as Kimono belts.
Saga Nishiki was certified as a traditional local product by Saga prefecture in 1993. Also, Saga Nishiki Shinko Kyogikai (Association for Promotion of Saga Nishiki) was established in the same year. Every year, the association holds "Workshops for Beginners" for the development of successors. The association is working on succession and promotion of the traditional arts not only by preserving the tradition, but also by arranging it in contemporary styles.
Certified Traditional Local Product of Saga Prefecture
Sponsored by Saga Nishiki Shinko Kyogikai (Association for Promotion of Saga Nishiki)
Translation by: Konoe Kamei, reviewed by Marina Izumi
Materials
Haku-Ito (Thread made from shredded Japanese paper coated with Gold, Silver and laquer) / Silk Thread
Crafting Processes
The distinctive feature of Saga Nishiki is that it is woven from Haku-Ito (thread made from shredded Japanese paper coated with gold, silver glued by lacquer) as warp and silk thread as weft.
A small stand called "Oridai" is used instead of a weaving loom. First, warp called "Keishi" is placed on "Oridai" and next, silk thread as weft is woven into fabric by using a needle named "Abari", bamboo spatula. "Abari" is a simplified tool of "Hi", a shuttle which is used to produce Japanese traditional fabrics.
History
When the wife of the 9th feudal lord of Kashima Nabeshima Family was ill in bed, she was impressed by the beauty of "Ajiro-Gumi (basket pattern)", the design applied for the ceiling. Later, she considered how to apply these techniques for items used in daily lives. This has been thought to be the origin of Saga Nishiki.
Over many generations, the arts of Saga Nishiki have been inherited and improved by the wives of feudal lords. The graceful technique combination of Japanese paper and silk was established in this way.

Related URL
http://www.saga-cci.or.jp/company/nishiki/index.html
◆Exhibition / Showcase
The Old Fukuda Residence, Saga City Cultural Museum
(Saga Nishiki Shinko Kyogi Kai - Association for Promotion of Saga Nishiki)
4-3-15 Matsubara, Saga City, Saga, 840-0113
TEL/FAX: +81-(0)952-22-4477
(Japanese only)
Opening hours: 9:00am-5:00pm (Demonstrations: 9:30am-4:30pm)
Entrance Fee: Free
Closed days:
Mondays (If a national holiday falls on Monday, it is closed on Tuesday.)
Closed on the next day of a national holiday (Excluding the case when it is Saturday or Sunday.)
December 29 to January 3
Closed days may differ depending on year.
Assistance needed? For inquiries in English:
JTCO Contact Form
Your inquiries will be forwarded by JTCO in Japanese to the organization you wish to contact.