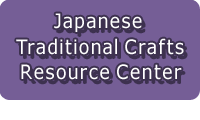 ---

---
| | |
| --- | --- |
| Craft Category | Other crafts |
| Name | Hyuga Kendo Armor |

Main Production Site:Miyazaki
---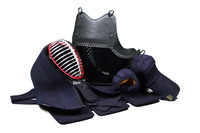 《Characteristics》
Kendo armor is comprised of a stylized helmet (men), a breastplate (do), gauntlets (kote) and a loin guard (tare).
The armor started to be produced in the mid-Edo period (18c). It changed kendo matches and training methods dramatically. Up to that time, practitioners trained by following the fixed patterns (kata); kendo armor allowed them to practice mock combats with bamboo swords.
Kendo armor manufacturing is a complex process. Especially men and kote are said to require high skills.
It is impossible to acquire the craftsmen's traditional expertise in a few years. Becoming an artisan takes an exceedingly long time - a decade, or even 20~40 years - before a craftsman can be called a real "artisan".
Thus carefully crafted, "Hyuga Kendo armor" is very popular among martial arts enthusiasts not only in Japan but also overseas.
[Traditional craft of Miyazaki Prefecture]
Source: Kendogu Workshop of Japan Co.,Ltd.
Translation by: Satomi Hirasawa Yamashita, reviewed by Marie Mine
Materials
Indigo fabric and natural leather, interlining
Crafting Processes
[1] Cutting
The fabric and the leather are cut in a press machine or by hand.

[2] Preparation
The interlining is sandwiched between the cut materials. This becomes the basis of later steps.
(A special machine is used to adjust the thickness.)

[3] Sewing
Sewing with a variety of sewing machines, width and pitch of seams are adjusted in order to meet customers' requests.

[4] Hand-sewing
Craftsmen sew detailed parts and decorations by hand.

[5] Assembly
The parts are hand-assembled by craftsmen, finally resulting in a completed product.

History
Kendo armor started to be produced in the mid-Edo period (18c). Manufacturing of kendo armors is a very complex process. It requires rare materials, such as indigo fabric and natural leather. In addition, manufacture of men and kote is said to require especially high skills.
In the early Showa period (20c), Kazuman Tada developed the machine-sewn kendo armor as a substitute for the expensive hand-sewn kendo armor in order to revive Kendo, which declined after World War II.
Tada made this machine-sewn kendo armor known all over Japan to establish demand. In order to meet customers' demands, he taught craftsmen his know-how and built more factories.

With decades of original development using advanced skills and domestic materials, the carefully manufactured "Hyuga Kendo armor" is highly regarded by many martial arts enthusiasts for its perfection.

Related URL
http://www.budougusenmon.com/
◆Exhibition / Showcase
Kendogu Workshop of Japan Co.,Ltd
3436 Shimosanzai, Saito City
Miyazaki, 881-0113
TEL: +81-(0)96-288-5502
FAX: +81-(0)96-288-4948
(Japanese Only)
Assistance needed? For inquiries in English:
JTCO Contact Form
Your inquiries will be forwarded by JTCO in Japanese to the organization you wish to contact.