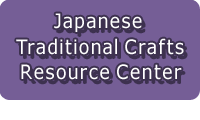 ---

---
| | |
| --- | --- |
| Craft Category | Papermaking |
| Name | Nishinouchi Washi : Nishinouchi Japanese paper |

Main Production Site:Ibaraki
---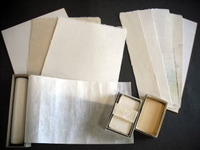 《Characteristics》
Nishinouchi Japanese paper is the local products of Oku-Kuji, East Japan, which is made from high-quality Kozo (paper mulberry, a common material of Japanese paper) in clear water in this area.
The strong and stiff paper with flexibility and elegance made from Nasu Kozo (paper mulberry from Tochigi prefecture), is commonly used in all occasions. Because of its insect-proof effect and strong stability that hardly torn by water, it is suitable for storing things. It is said that the Nishinouchi Japanese paper has been used to make Kimono instead of cloth since many years ago.
The short and glossy fiber of Nasu Kozo is likened to silk, while Tosa Kozo is liken to cotton. This is why Nasu Kozo is in great demand in wide area, from local area in Ibaragi and Tochigi prefecture, to Echizen Housho washi in Nigata prefecture and Mino washi in Gifu prefecture. Nowadays, it is popularly used as a material of folkcraft and interior article.
[An Intangible Cultural Property of Country and Ibaragi prefecture]
Information provided by : Kamino-Sato Washi museum
Translation by: Hiromi Fujii, reviewed by Naoko Yamashita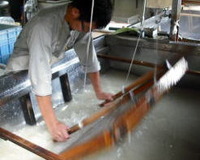 Materials
Nasu Kozo (Nasu Paper Mulberry)
Crafting Processes
1. Reaping
Nasu Kozo is reaped to make Japanese paper.

2. Peeling off the bark
The outer bark of Nasu Kozo is steamed, and peeled off, while it is hot.

3. Removing scars
Defect on the inner bark is removed with a small knife, and the fine white part is left.

4. Boiling
The material taken from the inner bark is boiled with lye and soda ash.

5. Removing lye
The boiled material is rinsed in a clear stream to remove lye and dust, and perfect pure fiber is made.

6.Bleaching
Sun bleaching - the fiber material is thinly spread and exposed in the river or on the snow for about 5 days for sun bleaching. Chemical bleaching -, bleaching powder and chlorine water are put into a vessel, where the fiber material is bleached whole day and night.

7. Dust removing
Impurities is carefully and patiently removed by hand in the flowing water, so that the fiber is not damaged.

8. Koukai (Beating)
The fiber material is beaten to loosen its fiber density.

9.Kamisuki (Papermaking)
Sugeta (Wooden frame for papermaking) is soaked into the water. Tororoaoi (hibiscus manihot, a plant used as mucilaginous agent) is beaten to extract, "Neri" (mucilage) .
In papermaking process by hand, Neri is essential substance to disperse paper fiber in the water. The dispersed paper fibers are poured onto "Sukifune" (a large tray) with clear water and Neri (mucilage), and shaken enough for mixing. Finally, those materials are spread evenly on the tray to form Japanese paper.

10.Drying
Paper is piled up one by one onto "Shito" (paper bed) by hand, after being formed. When all the work for the day finished, thick board is placed on top of the pile as a heavy weight, and leave them one night. The next day, the pilled paper is held between two thick boards and squeezed by compressor to dewater.

11. Desiccation
Dewatered paper is sun dried or heat dried by machine.

12. Selecting
Dried paper is carefully inspected one by one on the both sides. And defected paper is sorted out. Then the paper is cut into pieces.

History
Nasu Kozo, a plant used for Nishinouchi Japanese paper is produced around Daigo town located on the northern part of Ibaragi prefecture. But it is said that a merchant from Nasu area in Tochigi prefecture extended the market of Nishinouchi paper to all over Japan.
The more important factor of Nishinouchi paper is the habitat of Kozo which grows in warm area, and the northern limit of Japan is Oku-Kuji area which has no snowfall. This is why Oku-Kuji area was suitable place for planting Kozo.

'There is a master where Nishinouchi paper is made'. Making Nishinouchi Japanese paper requires skillful artisan who can make the most of the natural flavor of Nasu-Kozo in the rich paper. It is said that it takes more than 10 years to acquire papermaking technique.

Nishinouchi Japanese paper used to be a monopoly of Mito-Han (A feudal clan) which was a fund-raising method in the Edo period. Also,the paper was used for a history book 'Dainihonshi (history of great Japan)' , which was compiled by Mitsukuni Tokugawa. Furthermore, from 1902(Meiji period) to 1926(Taisho period), Nishinouchi Japanese paper was designated as election ballots by the government. Today, the Japanese paper is made into other products, such as wallets and handbags.
Related URL
http://www14.ocn.ne.jp/~kamiya3/
◆Exhibition / Showcase
Kamino-Sato Washi museum
Openning Hours: 9:00 pm - 6:00 pm
Closed: Wednesday
90 Funyu, Hitachiomiya city,
Ibaragi prefecture, 319-3107
Telephone: +81(0)295-57-2252 (Japanese Only)
There are papermaking workshop and gallery.
Assistance needed? For inquiries in English:
JTCO Contact Form
Your inquiries will be forwarded by JTCO in Japanese to the organization you wish to contact.