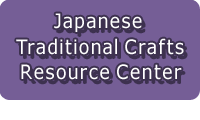 ---

---
| | |
| --- | --- |
| Craft Category | Toys & Entertainment |
| Name | Kurashiki Hariko: Kurashiki Papier-mache |

Main Production Site:Okayama
---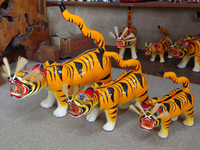 《Characteristics》
"Kurashiki Hariko" is papier mache which all parts of works are handmade by craftsmen. Espeically, one of their famous figures is a tiger. There are various kinds of hariko masks and dolls including Chinese zodiac animal other than tiger.
Wooden molds for hariko are also made by craftmen.
For making one type of hariko, several molds with different size are prepared..
It is said that hariko made with .such a highly skilled and time-consuming handworks are now under threat of extinction. Kurashiki hariko, which are still handmade in the traditional style, attract more craft lovers more and more as the years go by..
However, its skills can produce limited numbers of works since each hariko work is handmade. Popular tiger dolls are always out of stock. Some people come all the way from their places to just to buy hariko works.
[Okayama Prefecture designated traditional craft ]
Source:Kurashiki Local Resources Promotion Office, Commerce and Industry Division, Kurashiki City
Translation by: Yoko Hokari, reviewed by Eri Hara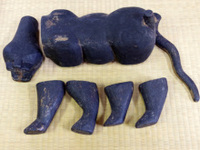 Materials
Wooden molds, paper(Japanese and Western)
Crafting Processes
First, craftsmen paste layers of soft and tear resistant washi (Japanese paper) and Western paper on wooden molds. This process shapes the figure.

After removing molds, they do the detailed work: glue slits (made for removal) together and paste paper slips over them, Then, they coat the assembled parts completely with gofun (whitewash made with shell powder) mixed with nikawa (glue). This coating brings the smooth surface that makes further coating easy.
Hair or whiskers are attached if needed. As the final touch, craftsmen varnish assembled parts. Including the drying time, making hariko requires considerable time to complete.
And since the temperature more than 20C melts glue, the period of gofun coating time is extremely limited. In addition, it is becoming shorter because of global warming.
History
"Kurashiki Hariko" was originated by Mr. Tajuro Omizu in 1869.
Since then, the skills and secrets of hariko have been handed down over five generations from father to just one child (through a traditional inheritance custom called "isshisoden"). In 1987 Kurashiki hariko dragon doll was used for New Year's stamp design.
Related URL
http://www.kurashiki-shigen.com/web/index.cgi?c=product-2&pk=89
◆Exhibition / Showcase
Okayama Prefectural Local Products Center
(Japanese Only)
Kurashiki hariko works can be purchased in the Center.
1-1-22, Omote-Cho, Kita-ku, Okayama city, Okayama Prefecture, 700-0822
TEL: 086-234-2270
Assistance needed? For inquiries in English:
JTCO Contact Form
Your inquiries will be forwarded by JTCO in Japanese to the organization you wish to contact.