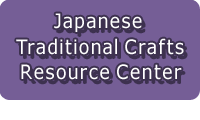 ---

---
| | |
| --- | --- |
| Craft Category | Textile |
| Name | Tamba Momen: Tamba Cotton |

Main Production Site:Hyogo
---
《Characteristics》
"Tamba Momen (cotton)" was a popular working clothes fabric that farmers weaved during farm work. While spinning, they used to sing a folk song "Shinoyama Spinning Song", which is famous for its unique sound.
From around 1973, 8 weavers of Kurikara District, Shinoyama City started the reproduction project with weaving machines to resume the traditional hand-woven cotton method.
In 1976, a retired farmer welfare facility called "Sousakukan" was established in Kurikara district for promoting Tamba cotton reproduction.
In 1996, Tamba momen (cotton) was designated as "Traditional Craftwork of Hyogo Prefecture" and awarded as a "Rare Traditional Craft" in March, 2004.
[Designated Traditional Craft of Hyogo Pref.]
Sponsored by: Agricultural Creation Dept., Commerce and Tourist Section of Shinoyama Civil Office
Translation by: Eri Hara, reviewed by Aya Matsui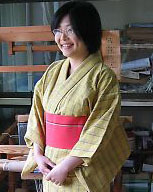 Materials
Picked and dried flowering fern cotton
Crafting Processes
1) Reel the cotton yarn around a specific bamboo spool to make cotton swabs.
Note: Weavers use fabrics made with the cotton cultivated from Kurikara district. It is one of main farm products that has been traditionally maintained in this area.. They dye the cotton with plants including onion skins, chestnut and marigold.

2) Mould the cotton thread.

3) Wind off the cotton yarn onto the spinning wheel.

4) Spin yarn balls with machine.

5) Rewind dyed yarn onto the spinning wheel.

6) Weave yarns through "mojiri" (a specific metal tool to bind the warp and the threads).

*Click this link for details (Photos with Japanese descriptions).

History
From 1710 to 1740, cultivation of good-quality cotton was very popular in Tamba region. Farmers handspun and weaved the cotton into fabrics to make clothing for their families.

Few remaining woven pattern fabrics and clothing show that it was a great painstaking work for housewives to weave them beautifully in those days. However, this traditional skill rapidly died out after the mechanization and mass-production were introduced after 1868.

Related URL
http://www.city.sasayama.hyogo.jp/momen/index.html
◆Exhibition / Showcase
Sosaku-kan
Offers craft center tour. Gift shop has Tamba cotton gifts.
Address: Kurikara, Shinoyma-shi, 669-2711
Tel: +81-(0)79-593-0922 (Japanese Only)
Assistance needed? For inquiries in English:
JTCO Contact Form
Your inquiries will be forwarded by JTCO in Japanese to the organization you wish to contact.