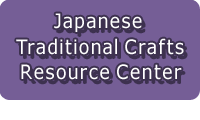 ---

---
| | |
| --- | --- |
| Craft Category | Wood & Bamboo Work |
| Name | Yokohama Classic Furniture |

Main Production Site:Kanagawa
---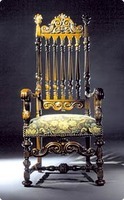 《Characteristics》
At the end of Edo era (late 19th century, when Japan's feudal system was about to be demolished), many Western people came to Japan and built houses to settle in. They required Western style furniture that suited their lifestyle to live in the Eastern island nation of Japan. In 1863, Goleman from the Great Britain asked Hara Yasuzo, who was a furniture upholsterer, to fix a chair. This triggered the development of Western furniture making techniques in Yokohama, then the Japanese original Yokohama furniture, or Yokohama Classic Furniture, was born.
Kisuke Shimizu, who moved to Yokohama at the end of Edo era was engaged in building works related with the Japan's feudal government, built a Western style hotel named "Tsukiji Hotel" with a help of American architect Bridgens. Except for the installed properties, the furniture equipped in the hotel was all made in Yokohama, which means the Western furniture making in Japan made a huge progress in a short period of time. The establishment of furniture making techniques in Yokohama was going to play an important role for the later development of Western furniture making in Japan.
In fact, upholsterers who obtained the skill in Yokohama spread all over the country including Tokyo, and they got chair upholstery entrenched in Japan.
Today, taking the tradition and the history into account, upholsterers in Japan are making persistent challenges to create the new Yokohama Classic Furniture in order to hand down the techniques to the next generation, while going ahead of the living culture of the time.
In dealing with the needs of contemporary people,
the furniture design brand
has been established, which creates a universal design that suits both classical and contemporary space. It makes the most of the simplicity without gorgeous decoration, the particular texture and the taste of aging only available from the solid wood, as well as the healing effect and warmth from the wood grain and knots.
[A traditional craft specified by Kanagawa Prefecture]
Source: Yokohama classic furniture group
Translation by: Morito Kawaoku, reviewed by Marina Izumi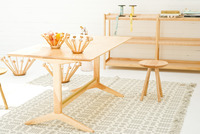 Materials
Japanese oak timbers, Keyaki timbers, walnut timbers, Japanese ash, elm and teak.
Crafting Processes
1. Lumbering
Lumbering sounds like trimming trees away in mountains or forests, but the main materials are taken from the timbers out of forest thinning to revive the mountains and forests. Seasoned craftsmen carefully select the precious wood suitable for Yokohama classic furniture by examining the nature and the individual characteristic of the wood.

2. Sawing
After checking the grain and the condition of the log, craftsmen saw it. This process requires a professional experience and hunch as craftsmen who know everything about the quality of wood.

3. Drying
After sawing, lumbers are piled up with "San-Ita (lumber boards)" in between to let the air through and left naturally and slowly dried in the workshop for a year.
After that, they get artificially dried up so that they can deal with the indoor condition changes. Then again they are piled up with "San-Ita" in between in a special room and stored there for half a year under the full control. This is to stabilize the amount of water they contain, in order to adjust to any living environment. This process is called "Seasoning", by which the finished products can endure for 100 years.

4. Conversion of timber
After the drying process, timbers are allocated to each part of furniture by their flow of grain and by the condition of knots. A timber with the most beautiful grain is used for a top board of table or surface timber on furniture. Then suitable timbers for table or furniture leg as well as for other structure are carefully selected and all timbers are thoroughly converted into parts. After all these processes, the furniture making finally starts.

History
After the "Kurofune" incident (literally, "The Black Ships", indicating the Perry Expedition; the American fleet led by Commodore Perry called at Uraga Port in 1853 to conclude the Treaty of Kanagawa), Yokohama port was opened in 1859, then the primary export item at that time, raw silk, was exported from there. Yokohama, which soon became the main international trading base, even saw the shortage of raw silk for the domestic market due to the enormous buying demand for Japanese silk by the Western countries.

Since then, many Western people visited Japan and built houses to settle in. This led to the demand of Western furniture which matches their lifestyle in the Oriental island of Japan. It was then the Western furniture making started, and the Japanese original Yokohama furniture, or Yokohama Classic Furniture was born.

The products were loved by the expats who lived in Japan, and were taken out of Japan with the people returning to their homeland who appreciated the techniques and high quality. This led to Yokohama furniture's worldwide reputation.

Then Yokohama Classic Furniture followed a course of decline due to the deterioration in its quality and the lack of successors by the aftermath of the war and a large earthquake. Yet Tomizawa Ichigoro (a professor of Tokyo Kogei(Craft) School and a designer of Sanko furniture) reestablished the Yokohama Classic Furniture. He raised its level from an imitation of Western furniture to the unique creation.

Related URL
http://www.classic-kagu.jp/index.html