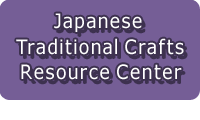 ---

---
| | |
| --- | --- |
| Craft Category | Wood & Bamboo Work |
| Name | Itaya Zaiku: Itaya Bark Craft |

Main Production Site:Akita
---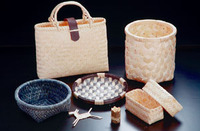 《Characteristics》
Itaya craft is one of Akita prefecture designated traditional crafts, which is made in Kumoshikari District, Kakunodate Town, Semboku City.
Their characteristics are lightness, strength, and their color, which will gradually change to beautiful amber over time.
In the making process, Itaya Kaede (mono maple) is used in the shape of strip and is woven into products by hand. Applying the technique of basket making, products like trays, Tsuzura (box for clothes) and screens are also made and further development of new products are expected.
At this moment, they have developed products made of other materials such as walnut, wild vine, and soil dyed mono maple, which are gaining good reputations.
[Akita Prefecture Designated Traditional Handicraft]
Source: Industrial Development Promotion Division (Akita Prefectural Government)
Translation by: Aki Tobayama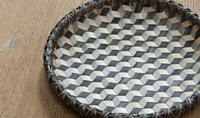 Materials
Young mono maple, bark of walnut and wild vine, etc.
Crafting Processes
The process can be divided into 2 parts. One is making narrow strips from raw wood and the other is weaving.

First, they slit the material into narrow strips. Their thickness will be less than a millimeter. The careful work of experienced craftsmen will make them into pliant strips with the same width and thickness suitable to each product.

Finally, the strips will be woven into products by hand.
Mi (an agricultural implement used for threshing) and baskets have been the common products of Itaya craft and they have been commonly used from old times as daily necessities.

History
There are several opinions about its origin, but it seems to have developed from farmers' side job in the winter agricultural off-season.
The district has abounded with materials and been close to consumers in the city. This environment helped Itaya craft flourish.

Related URL
http://common3.pref.akita.lg.jp/tesigoto/craft/detail.php?id=1390350571625
◆Exhibition / Showcase
Kakunodate-machi Itaya Zaiku Kumiai
(Itaya Craft Union in Kakunodate, located in the building of Mingei Itaya Koubou, Itaya Folk Craft Workshop)
231-1 Arayashiki, Kumoshikari, Kakunodate-machi, Semboku-shi, Akita 014-0341
TEL: +81-(0)187-53-2609 (Japanese Only)
Kakunodate Itaya Kougei
(Itaya Craft in Kakunodate)
182-7 Arayashiki, Kumoshikari, Kakunodate-machi, Semboku-shi, Akita 014-0341
Tel: +81-(0)187-55-4367 (Japanese Only)
Assistance needed? For inquiries in English:
JTCO Contact Form
Your inquiries will be forwarded by JTCO in Japanese to the organization you wish to contact.