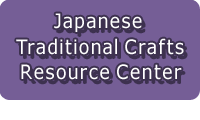 ---

---
| | |
| --- | --- |
| Craft Category | Wood & Bamboo Work |
| Name | Kawatsura Kokeshi Doll |

Main Production Site:Akita
---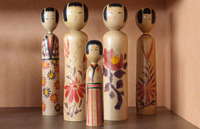 《Characteristics》
Kawatsura Kokeshi is produced in the area around Kijiyama, Minase village (present Yuzawa City, Akita Pref., Northern Japan) and it belongs to Kijiyama Kokeshi group.
This Kokeshi is made of a single piece of wood and has unique Tegara (hair accessories) painted on its head. They are made in many different sizes. In addition to 6 main styles of design, you can enjoy the difference of Kokeshis made by each craftsman.
It has been popular from old times as a toy for children and as a souvenir of a hot spring area. Still in present, it is loved for its simple and pretty looking, and often bought as a gift and enjoyed as an artwork.
[Akita Prefecture Designated Traditional Handicraft]
Source: Industrial Development Promotion Division (Akita Prefectural Government)
Translation by: Aki Tobayama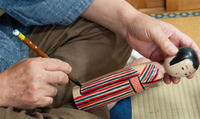 Materials
Itaya Kaede (Mono Maple)
Crafting Processes
In most cases, they are made of Mono Maple.
First, the wood will be dried for about a year. After that, it will be cut into the size of each Kokeshi, and made into octagonal pillar shapes.
After that, they will be cut into the shape of Kokeshi by turning, then painted, and finished by wax.

History
In early 19c, Kijishi (wood turners) moved to Kijiyama district in search for fine wood. While making bowls and trays by woodturning, these Kijishis started making Kokeshis as a toy for children with the same wood. This is said to be the origin of Kawatsura Kokeshi.
Related URL
http://common3.pref.akita.lg.jp/tesigoto/craft/detail.php?id=139035852286
◆Exhibition / Showcase
Kawatsura Kokeshi Koujinkai
(Association of Kokeshi Craftsmen in Kawatsura, within the center of supporting industry in Yuzawa)
19 Odatenakano, Kawatsura-cho, Yuzawa-shi, Akita-ken 012-0105
TEL: +81-(0)183-78-5100 (Japanese Only)
◆Event Information
Every year on the second Saturday and Sunday of February, along with Inukko-matsuri Festival, they hold "Akita-Ken Kokeshi Ten (Akita Kokeshi exhibition)". In this exhibition, visitors can enjoy shopping Kokeshis and can also try painting them. Not just local people, but many tourists from all around Japan will come to this event.
In addition, they hold Kokeshi competition in the exhibition, which contributes to the improvement of techniques and the development fresh new design.
Assistance needed? For inquiries in English:
JTCO Contact Form
Your inquiries will be forwarded by JTCO in Japanese to the organization you wish to contact.