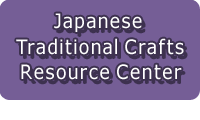 ---

---
| | |
| --- | --- |
| Craft Category | Papermaking |
| Name | Najio-shi: Najio paper |

Main Production Site:Hyogo
---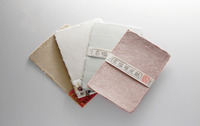 《Characteristics》
Najio-shi is made from Gampi (Diplomorpha sikokiana), which is known as one of the main washi materials as well as Kozo (mulberry) and Mitsumata (Oriental paperbush). Wild gampi belonging to a deciduous shrubs, members of thymelaeaceae, which grows in the southwestern intermountain region from Izu, Shizuoka Pref. (eastern limit) to Kaga, Ishikawa Pref. (northern limit). Due to their slow growth, it is difficult to cultivate them for profitable concern so that paper-makers still depend on wild Gampi.
Papers made with only smooth, translucent, and viscous fibers of Gampi barks are distinguished for their sheen and smooth surface.
While Kouzo papers were introduced from China, Gampi papers were originated in Japan. Moreover, Najio-shi draws attention for its unexceptional, unique and oldest papermaking method called tamesuki, which was not introduced in other parts of Japan.
There are only few regions where craftsmen make paper with Gampi only: Nowadays, mixing other materials with Gampi is more popular. Najio, Nishinomiya city, is one of those few which preserve the traditional style to make pure Gampi papers, since the beginning of 17th century.
Papermaking starts from scooping up fibers into fune (a huge stream bed made with pine woods) with the method called tamesuki. Craftsman mixes the local soil with Gampi fibers. Combination of Gampi fiber features and soil resulted the strong heat and insect-resistant Najiro-shis. They have been used for particular objects, maniai-shi for byobus (folding screens), and fusumas (sliding doors) and hakuuchi-genishi for applying gold and silver leaves
For those reasons, Najiro-shi was designated as an important intangible cultural property for preserving the traditional making process with Gampi.
[Officially designated important intangible cultural property]
Information provided by: Nishinomiya Tourism Association/ Nishinomiya City Museum
Translation by: Aki Tobayama, reviewed by Eri Hara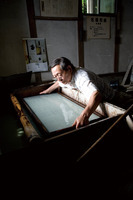 Materials
Gampi barks, local soil
Crafting Processes
1. Prepare Gampi bark
Remove all dart parts carefully from the peeled inner Gampi bark until its surface becomes white. Then strip remaining pieces into thin and short pieces.

2. Boil in the mixture of water and lye
Boil the cleaned and stripped Gampi bark in the mixture of water and lye (or sodium carbonate) for 6 hours until it becomes soft sufficiently that you can strip by hand.

3. Bleach
Wash the boiled bark to remove impurities with clean water.

4. Crush fibers
Place and beat the bark on the board to crush fibers.

5. Prepare the soil
Pour the finely grained Najio-mountain soil into a hole in the ground and grind with the stick until it becomes grainless and liquidized. Soil is classified into four types and each is used for making papers for different purpose.

6. Prepare Shana
Shana is one of neris (thick and sticky glues mixed with washi materials) made from fermented and squeezed Noriutsugi (Hydrangea paniculata) liquid. It is used to help bind the fibers together on water so that better-formed sheets of paper result.

7. Shikake
Pour the softened fibers, water, and dissolved soil into a wooden sukibune (a large vat) and mix them thoroughly with a bamboo stick called kaikai.

8. Kamisuki (paper making by spreading pulpy materials thin to dry)
After mixing all above-mentioned ingredients, scoop the mixture on suketa (a square bamboo weaved screen) framed with su (a flexible removable screen) which other craftsman holds with his both hands. Then shake slowly to even out the mixture and drain the water. Repeat this process for 5 or 6 times.

9. Drain the water
Set the mixture aside to drain the water for a short period and pile each on a paper bed. Repeat this process and when numbers of sheets reach approximately 100, place 2 stones on them every 2 hours, totally 8 to press out the remaining water completely. This process drains the water from papers without causing damage.

10. Dry papers
After draining, put each sheet onto an Icho (ginkgo) drying boards and brush to smooth. Dry papers in the sun. The side that touches the board is considered the front of paper.

11. Finish
Remove dried papers from boards and trim their edges.

History
In ancient time, Gampi paper was called "Hishi" and later "Torinokoshi" or "Gampishi".
While papers made with other materials including Kouzo were used for many purposes, the usage of Gampi papers was limited and mostly they were appreciated as high-grade papers.

It is said that Gampi paper making technique was introduced from Echizen, the original place of Torinokoshi to Najio village (current Najio, Shiosecho, Nishinomiya) in the beginning of 17th century. Since then, Najio craftsmen originated the unique technique by mixing colorful and finely grained local soils with Gampi fibers.

Najiro-shi was mostly used for hansatsu (bills issued by feudal clan) material from 17th to 19th centuries. Currently, it is used for following purposes: Najio-torinokoshi for calligraphy and painting, Haku-uchishi for applying gold leaf, and Maniaishi for fusumas.

◆Exhibition / Showcase
Najio Japanese Paper Making Learning Center
2-10-8 Najio, Nishinomiya-shi, Hyogo Prefecture 699-1147
Tel: +81-797-61-0880 (Japanese Only)
Fax: +81-797-61-0891
Open: 9:00-17:00 (last entry at 16:00)
Closed: Monday, The year-end and New Year holidays (December 29 to January 4), extra holidays
◆Event Information
Papermaking workshop for groups
For more information, please visit:
Najio Japanese Paper Making Learning Center
(Japanese only)
Assistance needed? For inquiries in English:
JTCO Contact Form
Your inquiries will be forwarded by JTCO in Japanese to the organization you wish to contact.