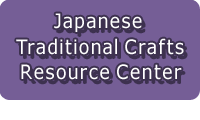 ---

---
| | |
| --- | --- |
| Craft Category | Wood & Bamboo Work |
| Name | Atami Kusu Zaiku: Atami Camphor wood crafts |

Main Production Site:Shizuoka
---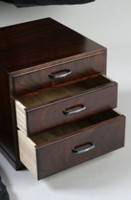 《Characteristics》
Atami, one of the main Japanese hot spring areas, is also famed with Atami kusu zaiku, the local traditional wood craft. Kusu zaiku is made of camphor tree that grows proliferously in Izu area of Shizuoka prefecture. Crafts completed with urushi (natural Japanese lacquer) are well known for their beautiful wood grain, insect repellent and scent.
Craftsmen must select the woods with perfect wood grain that appears clearly on the finished surface. It is one of the most essential kusu zaiku features.
They use tenbin hozo (or sankaku hozo, triangle-shaped inverted dovetails), an unique Atami kusu zaiku joinery technique originated by their enormous effort to control the camphor wood that easily warps as dried: With this traditional technique, they join woods perfectly to prevent the distortion which solid wood tends to have.
When craftsmen sand camphor wood's surface strongly, it gives scratch on surface cells that results rough and sheenless wood-grain, and ruins its beauty. Moreover, knotty camphor wood has the interlocked grain that disables regular two-blade plane to make smooth wood surfaces. Knowing that, craftsmen use hand-made single-blade plane that has a hairbreadth wide gap between the mouth opening and blade.
They use nikawa, (animal glue) which is robust to adhere woods. It is strong and easily blended with urushi, and also reversible for overhauling when heated.
Craftsmen coat the woods with natural urushi to let it soak enough to highlight the wood grain pattern. Since urushi matches well with camphor wood, it is important to use considerable amount. By this process, luxurious and valuable kusu-zaiku products are made.
Because of its insect-repelling and antibacterial properties, kusu zaiku is used as the perfect storage or cabinetry for precious paper documents and clothes. Moreover, its sweet and refreshing camphor wood scent makes you feel relaxed.
[Shizuoka prefecture-designated folk craft]
Information provided by: Atami Kusu Kagu Kougei Kumiai (Atami Camphor wood Furniture and Craft maker Union)
Translation by: Aki Tobayama, reviewed by Eri Hara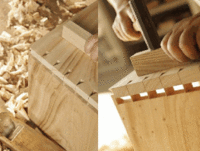 Materials
Camphor wood
Crafting Processes
Cut lumber from logs and dry
Dry logs for more than 3 years.

Saw and dry lumbers
Saw lumbers into boards, pile and dry them for 1 to 3 years.

Season artificially
After drying woods in the electric drying kiln for approximately 4 days, set them aside for approximately 2 months.

Object-oriented cutting
Determine all parts to be used from woods and cut.

Prepare parts
Prepare all those parts for jointing by slot making, shaping blind dovetail tennon joint, inverted dovetails and others parts and marking line. All these works are necessary for kusu zaiku making process since it does not use nail and screw for jointing.

Shape shelf boards and other parts
Shape shelf boards into Z (kumo kakou ) as well as other parts into appropriate shape.

Joint
Join all parts.

Finish
Make drawers and front boards and joint with other parts.

History
Camphor tree is a large evergreen tree that grows up to 30m tall. And its wood ranges from light and soft to medium in hardness. Because of its durable and insect repelling properties, the wood is mainly used for ceilings, floors, temple and shrine buildings, furniture, fixtures, musical instruments and sculptures.

Once, camphor trees were growing proliferously in Izu area. However in 1837, huge typhoon hit Atami Fudousawa and many huge trees fell. Villagers started to make commodities with those fallen trees during the agricultural and fishery off-season: It is said that since then, camphor wood has been commonly used as the material.

As the tourism started to flourish from 19th to 20th century, many craft studios made camphor woodcrafts to meet high demands for exports. Their proven skills inherited from Edo-period (17th to 19th centuries) woodworks and beautiful urushi art became internationally famous.

Related URL
http://kusuzaiku.com/work
◆Exhibition / Showcase
Atami Camphor wood Furniture and Craft Maker Union
(Japanese only)
1300-269, Kuwahara,
Kannami-chou, Tagata-gun
Shizuoka Prefecture
419-0101
Telephone: +81-295-57-2252 (Japanese only)
Fax: +81-55-974-3731
Open: 9.00-18.00
Closed: Sunday, holiday, New Year holidays, Bon vacation (Buddhist memorial break)
(Holiday visit is available with reservation)
Assistance needed? For inquiries in English:
JTCO Contact Form
Your inquiries will be forwarded by JTCO in Japanese to the organization you wish to contact.