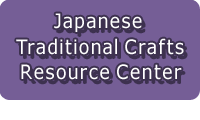 ---

---
| | |
| --- | --- |
| Craft Category | Wood & Bamboo Work |
| Name | Yodoegasa: Yodoe umbrella |

Main Production Site:Tottori
---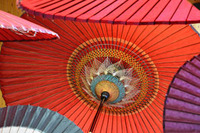 《Characteristics》
"Yodoegasa", Japanese traditional umbrella, has been handmade since Edo Period (17-19c.).
Not only its durability against wind and snow, its unique beautiful yarn decoration is outstanding enough that it was designated as an intangible cultural asset of Yonago city (Tottori Pref., West Japan) by the Japanese government.
Through no less than 70 processes, loads of time and work are required until an umbrella is finished.
Sanin District, in West Japan, is famous for its harsh weather ? heavy rain and wind in summer, and snow in winter. To use in such conditions, Yodoegasa is durable with its heavy-duty parts compared to other Japanese umbrellas made in other regions in Japan.
Another distinctive feature of Yodoegasa can be seen on the spreaders connecting the pole and the ribs are finely ornamented with colorful yarns. Ordinary Japanese traditional umbrellas only have simple round shaped decoration made with knitted yarn, But the decoration on Yodoegasa is made by special technique called "Kikyo-kazari (Decoration of Kikyo flower: Platycodon grandifloras or balloon flower; a lavender colored flower with five pointed and curled petals) " which is a Kikyo-petal-shaped decoration made with knitted yarn on the ribs .
The skillful technique and the beauty of Yodoegasa are being revalued by people all over the world , and now it became popular as an interior purpose as well as primary use.
[Local Handcrafts of Tottori Pref.]
Information provided by: Yodoegasa Densho-no-Kai (The society of Preserving Yodoegasa)
Reviewed by Naoko Yamashita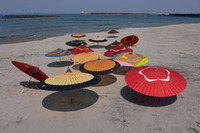 Materials
Madake (Japanese Timber Bamboo)
Crafting Processes
There are more than 70 processes to make Yodoegasa. Here are the main steps

1) Spreaders and ribs
Cut a piece ofbamboo into proper length → peel off bamboo sheath → mark the body with India ink for splitting → split a bamboo into two (one is for spreaders and another is for ribs)→ roughly split the bamboo into thinner pieces → make holes on the pieces → cut half of the pieces into shorter size (for ribs).

2) Shank
Cut a piece of bamboo → remove bamboo oil → remove the knots → attach a tab on the shank.

3) Rings
Cut a piece of wood → shave the piece of wood into a ring with a machine → make ridges on the ring where spreaders are placed → put the ring and the shank together.

4) Place the ribs and the spreaders on the shank with rings together.

5) Fix the position of the ribs with a string before sticking Japanese paper separately on the upper and the lower part of the umbrella.

6) Fold the paper canopy for crease-process, and fix the shape of the top of the umbrella. Afterwards, color the surface of the paper canopy.

After applying oil on the surface of the canopy, and sun-the umbrellas twice, apply lacquer on the surface. Finally, wrap the top of the umbrella with a piece of Japanese paper.

History
Yodoe has been a highly suitable region for producing Japanese traditional umbrellas for the following three conditions: first, its richness in high quality Madake(Japanese timber bamboo) which is the main material ; second,the long beach which has enough space for sun-drying10,000 umbrellas at a time; and finally, Inshu-Japanese-Paper which was used for Yodoegasa was available in the nearby area.

The history of Yodoegasa started in 1824, the 4th year of Bunsei era at the end of Edo period (17-19c), when Kurayoshiya, Shuzo, who had moved to Yodoe from Kurayoshi city (also in present Tottori Pref.), opened an umbrella shop. After that, the craftwork of Japanese umbrella started to develop in 1871 (Meiji 14) when Nishi, Kinzo was invited from Tsuyama as a master of Yodoegasa.

Now, Torrori Pref. is one of the five major regions of producing Japanese umbrellas with Kyoto, Kanazawa, Gifu, and Kyushu regions.

◆Exhibition / Showcase
Wagasa-Densho-Kan (Workshop for crafting Yodoegasa)
tour and craft experience.
Please contact below for detail.
Opening Hours: 9:00-18:00
Closed: Mon. / Sun. / and Japanese National Holidays
Address: 797, Yodoe-cho, Yodoe, Yonago-city, Tottori-Pref. 689-3402
Tel. & Fax.: +81-(0)859-56-6176(Japanese only)
◆Event Information
Assistance needed? For inquiries in English:
JTCO Contact Form
Your inquiries will be forwarded by JTCO in Japanese to the organization you wish to contact.