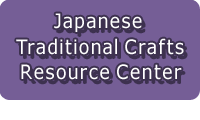 ---

---
| | |
| --- | --- |
| Craft Category | Textile |
| Name | Yanai-jima: Yanai Stripes |

Main Production Site:Yamaguchi
---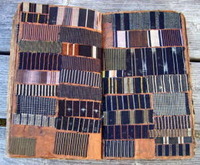 《Characteristics》
The term "classical Japanese woven textiles" may remind you of Kiryu-ori or Nishijin-ori silk fabrics. However, there is also a woven textile called "Yanai-jima", or Yanai stripes, in Setouchi area (the area around Seto Inland Sea). Originally, it was a rustic textile dyed with indigo for workwear. At present, it has a variety of colors and is made into stylish Japanese clothes, bags, and so on.
Yanai-jima textile keeps the tradition of handmade and using vegetable dyes (chemical dyes are used for few kinds of strings). Its delicate color, softness, and smoothness attract many people. It has been known as a rustic cotton cloth since old times. Generally, they use two-ply yarns for both warp and weft, which compose the beautiful stripe patterns with delicate colors.
In the early Edo period (17-19c), people used to produce plain white cotton cloth in Suou (current Yamaguchi Pref., Western Japan) for the domain's needs, which changed to Kasuri (a kind of cloth with a pattern made by weaving) production afterward. The striped cotton cloth production started when they began weaving hand-spun cotton dyed with Shouaizome technique (dyeing with lye-fermented indigo plant) in 1860.
Later on, it took the place of white cotton cloth industry and flourished thanks to the introduction of floor loom in the Meiji period (1868-1912) as it is sung in a piece of Songs of Railways:
"Yanaizu, a town with wind
that twists the strings,
has a port famous for
Kanro soy sauce, Yanai-jima,
and the taste of salt
that reminds us of the bitters of life".
[A Traditional Craft of Yamaguchi Prefecture]
Source and Data provided by YANAIJIMANOKAI
Translation: Aki Tobayama, reviewed by Tomoko Yamamoto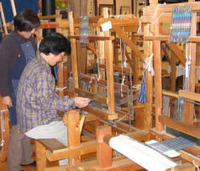 Materials
Cotton threads
Crafting Processes
Winding Thread
Wind yarn onto a small reel.

Warping
Reel the warp on a warper to form designed stripe pattern.

Hata-kake (Preparation on loom)
Put the warp on a loom

Weaving
Weave with weft yarn
History
In Edo period (17-19c), when Yanai area flourished as a commercial city, Yanai-jima stripe production developed with Watagae business (a business system in which cotton merchants have artisans make products, and get them in exchange for the labor's charge). It was the middle of Edo period when Yanai cotton cloth became famous all over Japan. The fame reportedly owes to a seal stamping system of official approval introduced in the Iwakuni domain in order to guarantee the cloths' quality.

However, the decline of textile industry in the neighboring areas also affected the production of Yanai-jima. It decreased sharply in the late Meiji period (1868-1912), and, in Taisho period (1812-1926), the cloths became very rare. To revive the traditional art, people reproduce them as "New Yanai-jima" recently with new taste added, while keeping the hand-woven texture. You can enjoy the rustic hand-woven texture unique to Yanai-jima. With local citizens' enthusiasm, the tradition has been passed on and on.
Related URL
http://yanaijima.web.fc2.com/
◆Exhibition / Showcase
Yanai-nishigura
3700-8 Huruichi, Yanai city, Yamaguchi Prefecture 742-0021
Opening hours: 9 a.m.-5 p.m.
Closed on Tuesdays
TEL/FAX: +81-(0)-820-23-2490
(Japanese only)
You can experience the making of Yanai-jima at Yanai-nishigura.
Please visit the following website for the details:
http://yanaijima.web.fc2.com/taikenkoubou.html
Assistance needed? For inquiries in English:
JTCO Contact Form
Your inquiries will be forwarded by JTCO in Japanese to the organization you wish to contact.