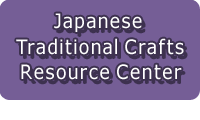 ---

---
| | |
| --- | --- |
| Craft Category | Other crafts |
| Name | Kyo-Hanga: Kyoto woodblock print |

Main Production Site:Kyoto
---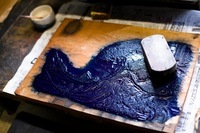 《Characteristics》
Ukiyo-e (pictures of everyday life in the Edo period (17-19c)) woodblock print which made excellent use of materials and techniques unique to Japan was very popular among ordinary people in the Edo period. Although the Ukiyo-e woodblock print is also known as Edo block print, it doesn't mean that the woodblock print originated in Edo.
For most artists including great painters who produced numerous art works, Kyoto was the area for their work.
Japan's feudal government was relocated to Edo by Tokugawa Ieyasu in the early 17th century and Edo became a base for many people. However, Kyoto is said to have remained as the roots for Japanese culture and art.
The renowned publications of Kyoto woodblock print contain Saga Books (Saga-bon) by Hon'ami Koetsu, printed with Kyo-Hanga techniques. Kyo-Hanga has left great art works including design books.
Techniques unique to Kyo-Hanga such as whiting print and mica print have developed matched with climate of Kyoto along with other local traditional crafts and arts.
With these techniques, woodblock print using Iwa-Enogu (paints made of minerals) has developed recently.
Traditional woodblock print is produced by collaborative work of a painter, a carver and a printer. Each of them thoroughly masters his art and the unification of their art produces excellent works.
[Traditional Craft of Kyoto]
Source: Kyoto Block Print Publication Cooperative Association, Kyoto Traditional Craft Council
Translation: Marie Mine, reviewed by Tomoko Yamamoto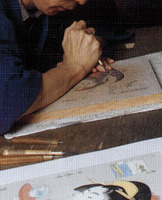 Materials
Woodblock
Crafting Processes
Manufacturing process of Kyo-Hanga

【1】Making a template drawing (original drawing)

【2】Copying the drawing to the woodblock

【3】Carving the outline block

【4】Printing the outline

【5】Assorting color blocks

【6】Carving color blocks

【7】Proof printing

【8】Final printing

Click here to see details with photoes
History
When Buddhism was introduced to Japan from Baekje (Korea) during the Asuka period (in the mid 6th century), woodblock for sutra was brought into Japan as well. Japanese woodblock print originates in this woodblock.

A woodblock to print brief outline of Buddha statue attached to the woodblock inspired production of the basic woodblock print.

Kyo-hanga is a woodblock print which has been developed and handed down in Kyoto since that time. Woodblock print has been used for nearly all purposes such as religion, non-artistic use and art.

Later, woodblock print was developed to Ukiyo-e woodblock print which amazed Western people and was inducted into the World Art Hall of Fame.
Related URL
http://www.kougei-kyoto.jp/kougei/hanga.html
◆Event Information
We hold craft exhibitions.
Click here to see craft exhibitions
Assistance needed? For inquiries in English:
JTCO Contact Form
Your inquiries will be forwarded by JTCO in Japanese to the organization you wish to contact.