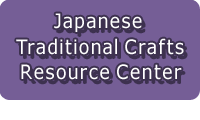 ---

---
| | |
| --- | --- |
| Craft Category | Other crafts |
| Name | Osaka Shamisen (Japanese three-stringed guitar) |

Main Production Site:Osaka
---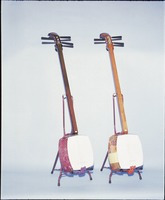 《Characteristics》
"Osaka Shamisen" was introduced from Ryukyu (current Okinawa Pref., Southern Japan) into Sakai (current Osaka Pref., West Japan) in 1562 (Eiroku 5). It is said that snake skin was applied to the body of Shamisen at that time but skins of dog and cat have been used since then. The Shamisen has been improved in a way which is deeply connected with Japanese performing arts, such as Gidayu (type of reciting used in the puppet theater) or Jiuta (country songs of Kyoto and Osaka regions) and inherited to date.
Originally, performing arts were flourished in Osaka. As Shamisen was used near at hand, such as enrichment courses of merchants, in addition to acting and Kabuki, division of labor was introduced very early and area of production was formed.
Now, Shamisen is made by hand in a traditional way using rosewood, quince, and ruby wood.
[Traditional Craft designated by Osaka Prefectural Governor]
Provided by: Small and Medium-sized Companies Support Office, Manufacturing Support Division, Commerce, Industry, and Labor Department, Osaka Prefectural Government
Translation by: Yoko Hokari, reviewed by Marie Mine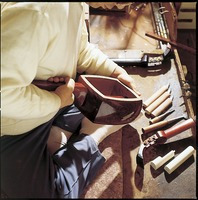 Materials
rough wood, animal skin
Crafting Processes
【Manufacturing process (body)】
1:Preparing quince wood

2:Cutting the wood (Cut out foursome rough wood for the body from the wood)

3:Assembling (Whittle the rough wood and assemble them with glue to complete the body. Some are done Ayagisu curving)

4:Finishing (Polish the body with Ise urushi or lacquer)

【Manufacturing process (neck)】
1:Preparing rosewood, quince, ruby wood

2:Cutting the wood (Cut out rough wood for head, neck, and core from the wood)

3:Assembling (Make a head, a neck and a core. Assemble the neck and the core with glue)

4:Finishing (Polish the head, the neck and the core with Ise urushi or lacquer)

5:Setting up (Attach metallic materials for peg to the head and set up the head to the neck with glue. Make gains called Sawarimizo. Polish the joint part with a grind stone and lacquer. Attach the peg to the head)

6:Leathering

Assistance needed? For inquiries in English:
JTCO Contact Form
Your inquiries will be forwarded by JTCO in Japanese to the organization you wish to contact.
Related URL
http://www.pref.osaka.lg.jp/mono/seizo/dento-06.html