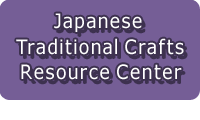 ---

---
| | |
| --- | --- |
| Craft Category | Papermaking |
| Name | Tegaki Koinobori (Hand-drawn Carp Streamer) |

Main Production Site:Kagawa
---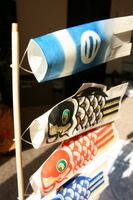 《Characteristics》
Nowadays, printed nylon carp streamer has become mainstream and demand for hand-drawn carp streamer made with Japanese paper is not so high. In addition, it is impossible to produce the hand-drawn carp streamer in large volume.
Also, the hand-drawn carp streamer is not accepted by people who want carp streamer to be perfect like a printed one. However, the hand-drawn carp streamer is supported by people who can accept a value of hand drawing which produces one-of-a-kind carp streamer and sense its distinctive warmth.
[Traditional Craft Designated by Kagawa Prefecture]
Provided by: Miike Corporation (Hand-drawn Carp Streamer Manufacturer)
Translation by: Hiromi Fujii , reviewed by Marie Mine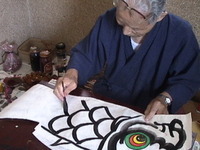 Materials
Washi (Japanese paper)
Crafting Processes
1. Bonding Japanese paper together
Bond two sheets of Japanese paper together end to end to make a bigger piece of paper. Place the bonded paper on the other one taking account of the front and back side of the paper. After that, put a pattern paper on the Japanese paper to model on a carp streamer.

2. Cutting out the paper
Cut out the paper along the pattern paper with knife. The paper is also cut by hand.

3. Pasting the paper to make a carp body
Put a paper string between the cut papers along the edge (only for carp streamers in a big size) and paste the ends of the papers together to make a carp body. The paper string is put to strengthen the seam joint.

4. Making eyes
Next procedure is to make eyes of carp streamer. For big-size carp streamers, print the eyes with several sizes of printing blocks. After that, edge the printed eyes in black and color around black eyes with blue and pink. For small-size carp streamers, put eye-shaped paper stickers.

5. Painting Kintaro (hero boy of Japanese folklore)
This procedure to paint a Kintaro (also known as Kintoki) on the carp's body is called "Kintaro-ire." After making an outline of Kintaro by putting a pattern paper on the center of the carp body, Kintaro is painted with red and black. Kintaro is painted only on black carps. In some cases, however, Kintaro is not painted depending on the size of the carp and the region where the carp streamer is made.

6. Rough painting
Paint carp scales, gills and fins by hand. Extremely mature technique is required for this work to paint precisely and quickly as if it is painted by machine.

7. Making gradation
Edge the lines drawn by the rough painting with shading. There are two pots filled with dye, one with dark color and the other with light color. For the big carp, soak one end of a brush in the dark color and the other end in the light color to make a gradation.
The work called "coloring" is to color blanks between the "rough painting" and the "gradation", color the Kintaro and color the gills, the fins and a tail with yellow.

8. Impressing gold foil
Pattern the scales with gold foil. Silk-screen printing is used for the big carp and a special tool like a seal is used to impress gold foil on the small carp.

9. Muzzling
A carp streamer is finally competed by fixing a ring to the carp mouth. Bamboo and wire are used for the muzzle.
History
Hand-drawn carp streamer which is characterized by powerful brushwork and unique gradation had been actively manufactured between 1955 and 1965 (Showa period.) After that, printed nylon carp streamer has been mainstream. Hand-drawn carp streamer was mainly shipped to all parts of western Japan and exported to foreign countries at its peak. It was designated as a traditional craft by Kagawa prefecture in1986.

Related URL
http://www.shikoku.ne.jp/miike/index.html
◆Exhibition / Showcase
JR Sakaide station
Sakaide-city, Kagawa prefecture
The first station after the train crosses Seto Ohashi Bridge.
1-1-1 Motomachi, Sakaide-city, Kagawa prefecture, 762-0045
Assistance needed? For inquiries in English:
JTCO Contact Form
Your inquiries will be forwarded by JTCO in Japanese to the organization you wish to contact.