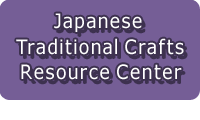 ---

---
| | |
| --- | --- |
| Craft Category | Wood & Bamboo Work |
| Name | Shimoda Yanimatsu Zaiku (Shimoda Joinery of Oily Pine) |

Main Production Site:Shizuoka
---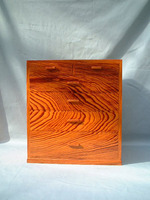 《Characteristics》
Shimoda Yanimatsu Zaiku is the only joinery that uses just Japanese Black Pine. Japanese Black Pine has beautiful grain. However, it is difficult to be processed since its hardness is uneven, the grain complicated, and for its oiliness. Therefore, it requires special techniques to make it into products. Even so, craftsmen of Shimoda Yanimatsu Zaiku take advantage of the wood's oiliness and select especially oily Japanese Black Pine to make products, for it makes the grain more beautiful and gives clear feeling to the surface. Nowadays, these works are becoming rarer as high quality wood that can bear the process is getting scarce.
[Shizuoka Prefecture's Local Handicrafts which is Certified by Governor of Shizuoka Prefecture]
Contents is provided by Shigeaki SHIMAZAKI (craftsman of Shimoda Yanimatsu Zaiku)
Translation: Aki Tobayama, reviewed by Yoshiko Nagao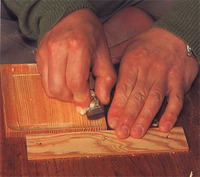 Materials
Japanese Black Pine
Crafting Processes
1. Drying
Pile the wood and dry it in the shade for three years.

2. Measuring
Cut the wood into the required size.

3. Drying
Glue a sheet of paper on each end-grain surfaces of the board and dry them for 3 to 4 months.

4. Planing
Plane the board into the required thickness.

5. Rough Curving
Curve the inside of the board with a chisel.

6. Finishing the Bottom
Make the bottom of the dish flat by using a chisel.

7. Shaping the Edge
Curve around the bottom with chisel.

8. Polishing
Polish the inside of the dish with scouring rush.

9. Finishing the Outer Part
Round off the corners with a small plane.

10. Polishing
Polish the outer part of the dish.

11. Coating
Saturate Tampon (a ball of cloth containing cotton inside) with paint and coat the dish. Repeat 6 to 7 times and dry thoroughly after each time.
History
Shimoda, located in the south of Izu Peninsula, is a city known for hot springs and historical famous events which occurred at the dawn of Japanese internationalization in the 19th century. As sailors used to sing "Make your stay in Shimoda short or you'll have your purse light.", port of Shimoda has been flourishing as a relay point between west part of Japan and Edo (present-day Tokyo) before Kurofune (black ships from U.S.A.) triggered internationalization.

Besides the business around the port, Shimoda was also active in forestry. In fact, high-quality wood from Amagi mountain range has been preferred as the material of building, fittings, and furniture. Together with other woods like Shimaguwa (mulberry which grows in Miyakejima Island and Mikurajima Island) and empress tree from Aizu (present-day Fukushima), wood from Shimoda has been used by cabinetmakers in Izu peninsula. It is said that many of those cabinetmakers were those who became independent of the workshop "Kagaya" in Shimoda during 1830 to 1843. Kagaya is said to have produced furniture and fittings with many workers, who grew to become skilled cabinetmakers. Some of those men went to Edo for more training and gained traditional techniques of Edo Sashimono (Edo joinery).

With the techniques handed down from Kagaya's skilled cabinetmakers and the fine quality of Japanese Black Pine from Izu area, craftsmen of Shimoda Yanimatsu Zaiku have been making products like cases for inkstone (stone to grind inkstick with water) and small plates. They have once made a small drawer which was presented to Emperor and Empress by Shizuoka Prefecture. Thus, Shimoda Yanimatsu Zaiku has been carried on from generation to generation as an elegant joinery work. Use of the art is continued even today, the traditional aesthetic is handed down as part of the history of industry in both Shimoda and south part of Izu Peninsula.
◆Exhibition / Showcase
Shimazaki
1057-2 Ogamo,
Shimoda-shi,
Shizuoka Pref.
415-0038
Japan
Telephone: +81(0)558-22-6689
Fax: +81(0)0558-22-7489
Open everyday, 9.00-17.00
Parking space: available
Access: Izukyu-Shimoda Sta.---( Tokai Bus: To Ogamo-Horikiri/15 min)---Horikiri---(on foot/3 min)---Shimazaki
Assistance needed? For inquiries in English:
JTCO Contact Form
Your inquiries will be forwarded by JTCO in Japanese to the organization you wish to contact.