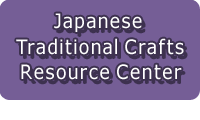 ---

---
| | |
| --- | --- |
| Craft Category | Accessory |
| Name | Kyo-kumihimo: Kyoto Braided Cords |

Main Production Site:Kyoto
---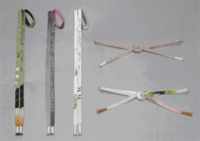 《Characteristics》
Since Heian Period (8-12c), Kyo-kumihimo has been applied to various decorations from Shinto and Buddhist altar fittings and furnishings to personal armaments such as helmets and sword straps. Today, it is mainly used for small items for Japanese Kimono such as "obijime (sash band)" and "haori-himo(braided cord for coat)". And Kumihimo is also used for the latest Japanese accessories.
[A traditional handicraft designated by the Ministry of Economy, Trade and Industry]
Information and source : provided by Department of Commerce. Labor and Tourism, Textiles and Craft Division of Kyoto Prefecture (Feature, History and Process)
The Association for the Promotion of Traditional Craft Industries (Manufacturing processes)
Reviewed by Naoko Yamashita
Materials
Raw silk, doupion silk or silk yarn of high quality, gold thread and silver thread
Crafting Processes
Manufacturing Process
It is said Kyo-kumihimo originated in Heian Period (8-12c), and its producing area was formed in Edo period (17-19c).
Silk, gold and silver threads are braid into elegant kumihimo on various kinds of braiding stands - maru-dai (round stand), kaku-dai(square stand), taka-dai (high stand), ayatake-dai (basket beating stand) which have been employed since Edo Period. Beautifully dyed silk yarn is interlaced to create a distinctive texture of kumihimo. The production technique has been inherited since many years ago and the elegant taste was developed in the traditional culture of Kyoto. Now kumihimo can be seen in many places like temples and shrines, and is used as accessories of clothing and kimono as well as samurai outfits and sword straps. And there are 3,500 varieties of braiding pattern which is specific to the usage.


◇Process
Step 1) Skeining to hanks
Skeining is a process of dividing silk thread. Silk thread is weighed on a scale to make a proper quantity of hank which is needed for a braided cord a weaver is making. Thread used for Kyo-kumihimo is raw silk and doupion silk, or silk yarn equivalent to those silk quality. Cotton yarn, gold and silver thread are also used.

Step 2) Dyeing
In this step, hanks of thread must be dyed evenly and faithfully to the sample colors to reproduce the design of kumihimo. Thread is dyed after adjusting mixture of the colors. Dyeing process must be repeated in order to provide shades and deep colors. Gradation is applied as one of the dyeing techniques.
Since those techniques require skill and experience, this process is usually outsourced to professional dyers.


Step 3) Reeling
After skeining and dyeing, threads are reeled on a wooden spool by hands or by machine.

Step 4) Measuring
In this process, thread reeled on the spool is winded again on a skein holder. Required numbers of required length of thread is prepared while the skein holder is rotating. The outer circumference of the skein holder used for Kyo kumihimo is 4 尺(shaku)(120.12 centimeter), which is half the length of ordinary obijime (sash band) (240.24 centimeter).

Step 5) Twisting
When the threads are ready, they are twisted together on a machine called "Haccho nenshiki". Click on the picture to see the video.

Step 6) Braiding
The twisted threads are braided into beautiful kumihimo on a braiding stand or a machine. Kumihimo is roughly classified into three types: maru-kumihimo (round), kaku-kumihimo (square) and hira-kumihimo(flat). And four kinds of brading stands, maru-dai (round stand), kaku-dai(square stand), ayatake-dai (basket beating stand) and taka-dai (high stand) are used to make different types of kumihimo according to their respective characteristics.

Step 7) Finishing
In the last part of the process, tassels are made at both ends.
After the ends of kumihimo are disentangled with hands, root of the tassels are processed not to come loose by making knots and both ends are steamed to be in shape. Finally a beautiful flat sash band is finished after its texture is fixed with a roller.
History
In ancient Jomon Period (B.C.145c-B.C.10c), simple Kumihimo were used in people's daily lives.
In Aska and Nara Period (6-8c), Kumihimo were made as craft works with sophisticated and complicated skill brought from Korea and China. Relics in those periods are housed in Horyuji temple and Shosoin Repository. In Heian and Kamakura Period (8-14c), braiding design was changed from Chinese style to elegant Japanese style which was used for things of wide variety, such as accessories on clothes or crowns, ornaments on scrolls, boxes, instruments and furnishings

Japanese sense of beauty of Wabi and Sabi derived from Sado (the tea cult) flourished in Muromachi Period (14-16c) influenced on sober designs of Kumihimo which can be seen in handles of silk pouch and straps of scrolls.
In Momoyama and Edo Period(16-19c), as Kumihimo became popular to common people, blaiding method became full of variety with higher skills which is used for haori cords and kimono sashes. And fascinating products that Japanese kimono can take advantage of have been made through Meiji, Taisho and Showa periods (19-20c).
Related URL
http://www.pref.kyoto.jp/senshoku/kumihimo.html
◆Exhibition / Showcase
Kyoto Traditional Industry Foundation
Kyoto Museum of Traditional Crafts
Tel : 075-762-2670 Fax : 075-761-7121
(Japanese only)
Address : B1F Miyakomesse, 9-1, Okazaki
Seishoji-cho, Sakyo-ku, Kyoto-shi, 606-8343, Japan
Email : fureaika@miyakomesse.jp
Open daily : 9:00 to 17:00 (Last admission 16:30)
Closed : 29 December - 3 January, 19 August - 20 August
Admission free
Assistance needed? For inquiries in English:
JTCO Contact Form
Your inquiries will be forwarded by JTCO in Japanese to the organization you wish to contact.