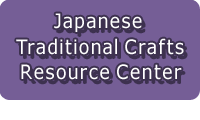 ---

---
| | |
| --- | --- |
| Craft Category | Dyeing products |
| Name | Kamogawa Maiwai Zome : Kamogawa Maiwai Dyeing |

Main Production Site:Chiba
---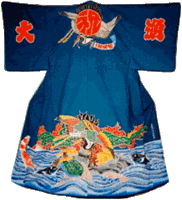 《Characteristics》
The original meaning of Maiwai is a bumper catch. Gradually its meaning changed to a costume to wear together to celebrate. To distinguish the celebration between a normal bumper catch and an extraordinary bumper catch, a hand towel is used when a normal bumper catch whereas Maiwai is tailored when an extraordinary bumper catch. The design has more than 200 types including crane and tortoise,Takasago (Noh play), Ryugu castle (the undersea palace), Ushiwakamaru Benkei(a Japanese warrior and a monk in the 12th century), Sanbasou (a character in Noh play), Kiyomasa Kato (Japanese daimyo in Edo period), Japanese amberjack bumper, Daikoku (one of seven lucky gods) riding on the seabream, Daikoku with fishing, "Nen-nen Shimemasu" (a combination of Shinto straw festoon and wooden liquor measure, a lucky motif to pray for a good catch every year), seven gods, pine, bamboo and plum, whale, bonito bumper, saury bumper, fish net, dragon, Kashima dance, and so on.
Traditional Craft Officially Designated by Chiba prefecture
Articles by: Suzuzome /Kamogawa Miwai Zome
Translation: Hanae Sano, reviewed by Yoshiko Nagao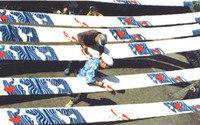 Materials
Cotton, silk, and hemp
Crafting Processes
[Material]
Pattern.... Putting 2-3 Japanese papers (Washi) together with the dragon fruit juice as an adhesive
Fabric …Cotton, silk, and hemp
Pigment …Ultramarine, orpiment, Prussian blue pigment, burnt ocher , vermilion, ink, and Indigo
Glue… Sticky rice, rice bran, limestone, soy beans, and salt

[Tools]
Shinshi… a device that adds a needle on a bamboo skewer (temple weaving)
Spatula … a knife shaped tool that is made from Japanese cypress
Brush… Size around 0.15 cm - 21.21 cm
Harite... a tool to stretch the textile. Made from nailed wood

[Process]
1. Ordered pattern making ... Sketching the design on the pattern paper and carving the pattern with a small knife
2. Coordinating fabrics..... Cleaning the fabric to be easily dyed
3. Measuring and marking ... Measuring the dimensions of the fabric and marking using black ink
4. Adjusting paste..... Making the paste together with kneading sticky rice, rice bran, salt, and lime in hot water
5. Styling... Putting the pattern on the fabric and glue with a spatula
6. Adding colour.... Adding colour pigments in soy broth and colouring it.
7. Fixing...Adjusting colours with adding soy bean juice and settling down the colour
8. Glueing ... Sealing the coloured fabric with glue
9. Base dyeing... Dying the entire cloth with the base colour by putting in an indigo vat
10. Washing... Soaking in water to take out the glue
11. Acidifing ... Soaking in acid
12. Finish.... Drawing the eyes or mouth of the doll with a brush

History
The Maiwai dye technique has continued from the Edo period (17-19c) in the Kamogawa area. The founder is Kokichi Suzuki who was taught by Katsutaro Yamada. The technique was then inherited by second generation Eiji followed by third generation Kosuke. The Maiwai design is divided into dorsal and lumbar types; Dorsal types are often designed such that homes, ships, or ship names are drawn with a crane printed in the background. On the other hand, lumbar types have drawings such as fishing scenery, figures relating to the sea such as Urashima Taro, and treasure boats or objects that symbolizes good luck such as Takasago and Sambaso (Noh play). It is originally from Boso peninsula area and thereafter spread to the Pacific coast from Aomori Prefecture to Shizuoka Prefecture.
Related URL
http://www.awa.or.jp/home/suzusen/
◆Exhibition / Showcase
Nagisa Museum)
(Tateyama City Museum annex
351-2 shiroyama Park ,Tateyama, Tateyama-Shi, Chiba, 294-0036
Phone: +81-(0)470-23-5212 / Japanese Only
FAX: +81-(0)470-23-5213
Opening hours: 9:00-4:45
Holidays: last Monday of each month, year-end and new year holidays
Shirahama Ocean Museum
628-1 Shirahama-Cho, Awa-gun, Chiba, 295-0102
Phone/Fax: +81-(0)470-38-4551 / Japanese Only
Opening hours: 9:00 -17 :00
Closed: every Thursday (Except during spring, summer, winter holiday and public holidays )
Chiba Prefecture Tourism & Center
Chiba Prefecture tourism & Center 2 floor,Fujimi1-12-7, Chuo-ku, Chiba-shi, Ciba, 260-0015
Phone: +81-(0)43-225-9170 / Japanese Only
Opening hours: 9:30 -19 :00
Closed: N/A
Assistance needed? For inquiries in English:
JTCO Contact Form
Your inquiries will be forwarded by JTCO in Japanese to the organization you wish to contact.