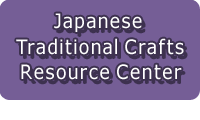 ---

---
| | |
| --- | --- |
| Craft Category | Pottery & Porcelain |
| Name | Onta-yaki: Onta Pottery |

Main Production Site:Oita
---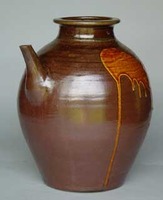 《Characteristics》
"小鹿田" is read as "Onta". The way of reading is not normal but the word sounds so beautiful. Among lots of pottery product in Kyushu, you can hardly find any other pottery with such a mysterious name. About the pottery with such unforgettable name, people must have been questioned how it was produced and what "Onta" means.
Nationally-designated Important Intangible Cultural Property
Information by: Gallery Keiseikan
Translation by: Chan Yitin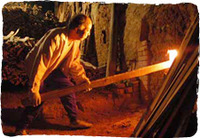 Materials
Potter's clay
Crafting Processes
1. Collecting - Smashing
Transport the clay from collection site to village, dry the clay for 10 days, and then smash it into powder by mortar.

2. Elutriation
Put the grinded clay to the long and narrow water tank to defecate the fully dissolved slurry, and then move the clay to another water tank. Repeat this step until the water tank is full of slurry sediment.

3. Water removal
Remove the water from the clay on the water removal stage, until the clay is able to be scooped by hand.

4. Drying
The water removed clay is put inside the clay pot or dried in the kiln. All these processes take around 1 month.

5. Kneading - Moulding
The raw clay turns to the potter's clay after long processing. After that, the potter's clay is kneaded and shaped by worker's hand.

History
Onta-yaki started during the Kyoho Period (1716-1735). Though the year cannot be specified, Onta-yaki is started by Mr. Sanemon Yanase of Koishiwara-yaki (Koishiwara-pottery) at Nakano-kiln and Mr. Jubei Kuroki lived in Yanase, Ohtsuru Village, Hita County. In addition, a village administrator, the Sakamoto family in Onta district joined them as the land provider, then the base of Onta-yaki was built.

From those verified antique potteries in the late Edo period and the Meiji Period, Onta-yaki products was classified as big pot, sake pot, pot with lid, storage crock, tea pot, sake bottle, bowl, plate, etc. Decoration technique includes "Uchikake", "Nagashikake", "Ameyu", etc. Most of them have no difference when comparing with the modern Onta-yaki.

A new breakthrough appeared from the late Taisho period to the early Showa Period (around 1920's), because of the adoption of techniques named "Tobikanna" or "Uchihakeme" and Mr. Muneyoshi Yanagi (who promoted the folk craft movement)'s visit of Sarayama in 1931. Since then, Onta-yaki was introduced to the world, becoming famous gradually and officially recognized as "Onta-yaki", while Onta-yaki was generally just called "Hita's thing" before.

Related URL
http://www.keiseikan.net/gallery/index.html
◆Exhibition / Showcase
Gallery Keiseikan
〒877-1242 Tonomachi 3070, Hitashi, Oita Prefecture
◆Event Information
Onta Yaki Festival
Every Autumn October's 2nd Saturday and Sunday, 2 days.