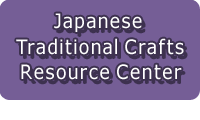 ---

---
| | |
| --- | --- |
| Craft Category | Textile |
| Name | Nanbu Sakiori |

Main Production Site:Aomori
---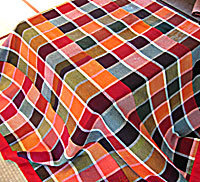 《Characteristics》
Sakiori is a type of woven textile, which originated from the wisdom of women to make the most of the materials at hand. This textile has been made using worn-out kimonos, old cloths and fragments of fabric.
Sakiori is woven with cotton threads as the warp and finely torn fabric as the weft. One of the typical products is a colourful quilt for kotatsu (a low table with a heat source underneath) with a red ornamental rim. The red rim was believed to have a power to prevent fires and it also reflected the hope among women in the farming villages to brighten up their otherwise dark rooms.
[Traditional craft of Aomori Prefecture]
Photos by Society for Preserving Nanbu Sakiori (Nanbu Sakiori Hozonkai)
Translation by Moe Shoji, reviewed by Maiko Hayashi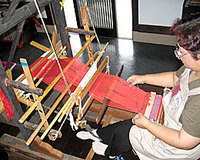 Materials
Old cloths, cotton strings, etc.
Crafting Processes
There are two techniques for Nanbu Sakiori, using a ground loom or a floor loom. Here we introduce the technique with a ground loom.

The weaver firstly sits in front of the ground loom on which the warp beam is fixed, and ties the string for controlling the heddle to her leg. Then, she fixes her body to the cloth beam with a back strap, which helps her to stretch the warp tight and to integrate her body with the loom. Now the weaver is ready to start weaving, moving her leg back and forth.

The whole process is:
1. Preparing the weft
2. Warping (Arranging the warp in order)
3. Sleying the reed
4. Beaming (Winding the warp)
5. Moving 'aya' (cross of the warp) over the reed
6. Preparing the string heddle
7. Fixing the heddle on to the loom and start weaving

More detailed explanation with photos is available from the link below.
http://www.sakiori.jp/how.html

History
Because of its cold climate, cotton could not be produced in the northern part of Japan where they had deep snow in winter. Traditionally, people in those areas wore clothes made out of hand-woven fabric of linen, Japanese wisteria, and Japanese linden.

In Edo period, cotton, which is good at keeping warmth, was very precious; if any cotton fabric was available to people in Aomori, those tended to be cottons and second-hand cottons transported from Osaka through Japan Sea, by shipping barges called Kitamae-bune.

These cottons were used carefully and they made the most out of every small piece of fabric by applying embroidery on layered fabrics (Sashiko). When fabric was exploited enough and too old to use on its own, they tore the fabric into strips to use it as weft. With linen threads as warp, these strips are woven into night wear, work clothes, obi (belt for kimono) and aprons.

Related URL
http://www.sakiori.jp/index.html
◆Exhibition / Showcase
Sakiori Workshop
Venue: Takumi Kobo 'Nanbu Sakiori no Sato'
37-21, Tairakubo, Denpo-ji, Towada-shi, Aomori Pref, 034-0051 
(within Michi no Eki, Towadapia)
Opening hours: 10am-4pm
Closed on Mondays (Open on national holiday Mondays. Closed on Tuesdays instead after the national holiday Mondays)
Tel/Fax: +81(0)176-20-8700 (Japanese only)
Fee: 1,600yen
Workshop w/o reservation is available by 2:45 pm
Reservation is required for a group of 5 or more people.
For further information, please visit:.
Sakiori Workshop
(Japanese only)
Assistance needed? For inquiries in English:
JTCO Contact Form
Your inquiries will be forwarded by JTCO in Japanese to the organization you wish to contact.
Please specify the name of the craft/art you wish to inquire about.