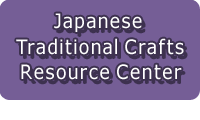 ---

---
| | |
| --- | --- |
| Craft Category | Pottery & Porcelain |
| Name | Otani Yaki: Otani Pottery |

Main Production Site:Tokushima
---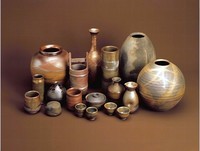 《Characteristics》
Otani-yaki is one of the representative ceramics in Shikoku (Western Japan), originating in Oasa Town of Naruto City in Tokushima Prefecture 230 years ago.
In producing large-size ceramics, such as body hight-tall jars or water lily pots, "Ne-rokuro (literally, lying wheel)" method is used at forming, which is especially famous for its unique pair work - one forms the clay, while the other lying on the floor kicks the pottery wheel to rotate it. The Nobori-gama, (literally, climbing kiln) for firing them is said to be the largest kiln in Japan.
In recent years, from folk crafts to characteristic artworks, many ambitious works are created, which cherishes the warmth of rustic lifestyle kept from old times.
[National government of Japan designated traditional handicraft(Designated by the Minister of Economy) ]
Information provided by : Oasa-cho Commerce and Industry Association
Translation: Chan Yitin, reviewed by Naoko Yamashita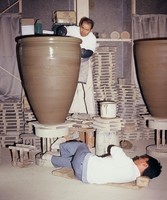 Materials
Main raw materials are clay of Hagiwara, Sanuki and Himeda, and glaze made with Himeda clay, lime, wood ash, feldspar, silica and iron is used.
Crafting Processes
[1] Crushing
Porcelain clay is crushed after drying. It usually takes one week for drying, but some types of product need more time.

[2] Filtering (Sifting)
Roughly crushed porcelain clay is sifted with sieve, and sort out to make large and small-sized pottery.

[3] Mixing
Water is added into the sifted fine clay.

[4] Wedging
Sifted clay is put into the wedging machine and mixed well with water.Then, required amount of clay is taken from the lump to make potteries of desired size. Forlarge ones, "Shino (string-shaped clay)" is made to form the products out of it

[5] Forming
Large products are formed using Keri-rokuro (literally,kicking wheel) or formed by a pair work called Ne-rokuro (literally, lying wheel) One of the craftsmen shapes the clay, while the other lies on the floor and kicks pottery wheel to rotate it.
Small products are formed using electric wheel.

[6] Drying
Products are dried in the shade for about 20 days, and then sundried.

[7] Glazing
Glazing is applied on half-dried products with a dipper. Products are uniformly soaked with ash glaze made from wood ash, bone ash, iron and manganese.

[8] Loading
Large products are put on shelf board one by one and all layers are stacked horizontally in the kiln.
Small products are put in spaces between large products or piled up on the shelf to optimize the productivity of the kiln.
Until all large and small products are loaded in Nobori-gama (literally, climbing kiln), it takes 1-2 weeks by 10 craftsmen.

[9] Firing
Products are fired at about 1,250℃ using firewood as a fuel. Firing process in Nobori-gama takes about 5-6 days and nights until complete baking, and in electric furnace or gas furnace, it takes about a whole day and night.


History
In 1780 (late Edo period), a craftsman, whose name was Bun-emon, came to Bungo (now Oita Prefecture, Southern Japan) to make a pilgrimage to 88 temples in Shikoku. He made potteries with red clay of Kanigaya in Otani village. It is said that this was the start of Otani-yaki.

In Meiji period (19-20c), ceramic jars were mainly produced for indigo dyeing

In Taisho period (20c), the wartime boom and many changes of people's lifestyle affected the style of Otani-yaki.

And now, various products ranging from large ceramic jar to plate wares of daily use are being produced.

Related URL
http://www.tsci.or.jp/ooasa/ootaniyaki.html
◆Exhibition / Showcase
Naruto City Uzushio Tourist Association Naruto product building
1/F Whirlpools hall, 165-10 Higashi-hama, Minami-hama, Muya Town, Naruto City, Tokushima Prefecture 772-0003
TEL: +81-88-685-2992 FAX: +81-88-685-2803 (Japanese only)
Opening Hours: 9:00 am - 5:00 pm
Closed: The beginning and the end of year
Roadside station The 9th Village Road Station ninth-ri
(Michinoeki carpenter No Sato)
TEL: +81-88-689-1119 FAX: +81-88-689-1119 (Japanese only)
Opening Hours: 9:00am - 5:00 pm
Closed: Forth Monday (if a national holiday fall on fourth Monday, it is closed the next day), 28th - 31th December
Arudeyo Tokushima
1/F Awaodori Assembly Hall, 2-20 Shinmachibashi, Tokushima City, Tokushima Prefecture 770-0904
TEL: +81-88-622-8231 FAX:+81-88-623-9779 (Japanese only)
Opening Hours: 9:00am - 9:00 pm
Closed: The beginning and the end of year (28th December - 1st January)
◆Event Information
Otani-yaki Village Spring Festival
All ceramics are sold at 20% discount. Painting experience and pottery making experience (hand-forming) are available at 10% discount price.
You can try electric potter's wheel for free and you can also enjoy stamp rally.
Venue: Every pottery in Otani, Oasa Town, Naruto City
Date: Late April every year
Otani-yaki Kiln Festival
The main event of the festival is pottery fair, where all ceramic wares are available at 20% to 30% discount price.
You can enjoy and join other events, such as pottery exhibition, potter's wheel experience, painting class, etc.
Venue: Tourin-in Temple (59 Yamada, Otani, Oasa Town, Naruto City)
TEL: 088-689-0053 (Japanese only)
Date: Second Saturday and Sunday of November, every year
Assistance needed? For inquiries in English:
JTCO Contact Form
Your inquiries will be forwarded by JTCO in Japanese to the organization you wish to contact.
Please specify the name of the craft/art you wish to inquire about.