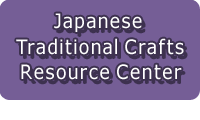 ---

---
| | |
| --- | --- |
| Craft Category | Pottery & Porcelain |
| Name | Hasami Yaki: Hasami Porcelain |

Main Production Site:Nagasaki
---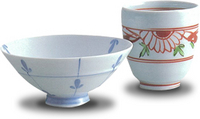 《Characteristics》
Hasami porcelain is characterized by its beauty of pure white porcelain and the delicately painted decoration glazed with a blue pigment. The grace of openwork in a wickerwork design and mesh design is unique to Hasami porcelain. Originally it was produced for common people, and has cultivated a long tradition of beauty.
Both the traditional skills to produce the porcelain and the craftworker's motivation to hand down the tradition are surely found today. Various daily dishes were produced in the past, for example, a china bowl called Kuwaranka-wan and a kind of liquor bottle called Mitsumata-Tokkuri, and they were sold in Edo and Osaka area by the merchant dealing with Imari porcelain. The manufacturer have improved and changed the shapes of Hasami porcelain so that they catered more to people's needs at that time. Hasami porcelain has a history of 400 years, which also tells us a history of food culture in Japan.
Traditional Craft Officially Designated by Minister of Economy, Trade and Industry.
Articles by: Association of Hasami Porcelain Production
Translation by: Yurika Tateishi, reviewed by Hiroko Okamura
Materials
Amakusa porcelain stone, Mitsumata porcelain stone
Crafting Processes
1. Porcelain stone:
Main material is Amakusa porcelain stone. This porcelain stone is good for Hasami porcelain in that it has a right stickiness. Also it does not shrink when fired, and the refined white appears after fired. This is the secret of beautiful white porcelain typically found in Hasami porcelain.

2. Grinding:
Porcelain stones are grinded until they become powder.

Shaping:
In order to shape the porcelain stone, electric potter's wheel, roller machine, or casting mold are used. So at first casting mold is to be made by calcium sulfate. Generally porcelain can be shaped by manufacturer's hand, called Tebineri, but most of Hasami porcelain is produced by using a mold.

3. Electric Potter's Wheel
Porcelain stone is made into the shape by using electric potter's wheel with a pallet made of metal. A dish with curved line such as rice dish and liquor bottle is made like this.

4. Roller Machine
When using roller machine, molds are used. The porcelain stone is rolled out by the machine to make the shape.

5. Hand Wheel
By using the potter's wheel, pallet and a manufacture's hand shapes the porcelain stone.

6. Casting Mold
The porcelain stone is diluted with water, and poured into the mold.

7. Biscuit Firing:
After shaping, the edge of the material is trimmed. Then, after dried for a while under the sun, it is fired in the kiln at about 900 degrees. This process is necessary, for it makes the material easy to do the under glazed decoration and glazing.

8. Under Glazed Decoration:
It is a glazed decoration with the pigment which produces a color at the high temperature. Most typical decoration is the one with Gosu, which mainly contains cobalt oxide.

9. Glazing:
Glazing is done to make its surface smooth.

10. Burning:
The material is fired at 1,300 degrees. The glaze is melted by the heat and makes a glassy coat. It smooths the surface, making it watertight and stiff.

11. Overglazing:
Painting with the pigment which produces a color at lower temperature on the graze. After overglazing the material is fired at about 800 degrees. Usually red and gold are used for overglazing.

12. Inspecting:
When all processes are done, strict inspection is carried out. The product cleared the inspection is carefully wrapped and delivered to all over the country.

13. Completion:
Finally Hasami porcelain is finished.

History
In 1599, manufacturers in Hatanohara, Furusaraya, Yamanita in Hasami town started to build climbing kiln and make potteries. It is the origin of Hasami porcelain.

Typical Hasami porcelain is the one with underglaze cobalt blue and celadon, but at first they produced the potteries. Later the materials for porcelain were found、 so gradually they started to make porcelain. They eventually became a specialty product in Omura Domain, where they produced the biggest quantity of porcelain in the country in the latter Edo period. Thus Hasami porcelain has developed to its large producing area with underglaze cobalt blue and celadon.

Omura Domain established a Sarayama public office to manage and put more effort to manufacturing Hasami porcelain. Most of their products are for the daily usage such as Kurawanka-wan. It is one of the most well-known Hasami porcelain, which is a strong, heavy and simple bowl of arabesque design for common people. Hasami porcelain gave a strong influence on food culture at that time. They enriched people's life and became a necessary part of it.

Hasami porcelains are produced in the huge climbing kiln and because of its economical prices, spread around the country and eventually all over the world. The remains of kilns found around the town tell us the historic aspects of Hasami porcelain.

The manufacturers today are trying to develop new techniques to produce quality daily dishes while keeping on its tradition cultivated with "stone and fire".

Related URL
http://www.hasamiyaki.or.jp/index.shtml
◆Exhibition / Showcase
Ceramic Park Hasami
Ishseki-Go, Hasami-Cho, Higashi-Sonogi-gun、Nagasaki
Opening Hours: 8:30am-17:00pm
open 365 days a year
Tel: 81-956-85-2290
Tourism Exchange Center at Pottery Museum
2255-2, Ishseki-Go, Hasami-Cho, Higashi-Sonogi-gun、Nagasaki
Tel: 81-956-85-2290
Closed: Tuesdays
No admission fee
Opening Hours: 9:00am-17:00pm
Nakaoyama Communication Center
157 Nakaogo, Hasami-Cho, Higashi-Sonogi-gun、Nagasaki
Tel: 81-956-85-2273
Old Pottery and China Museum "Rokusyo"
1053 Yumutago, Hasami-Cho, Higashi-Sonogi-gun、Nagasaki
Tel: 81-956-85-7890