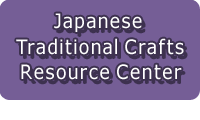 ---

---
| | |
| --- | --- |
| Craft Category | Wood & Bamboo Work |
| Name | Boshu Uchiwa: Boshu Fans |

Main Production Site:Chiba
---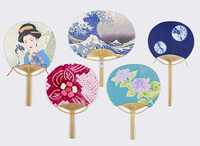 《Characteristics》
Awa county in Chiba, alternatively called Boshu, was famous for growing good quality bamboos during Edo period(17-19c). In 1885, IWAKI Sogoroh hired fan craftsmen from Tokyo, and started the production of fans, which later became one of the major specialties in Awa county.
Boshu fan has two distinctive features: firstly, "Maru-e" or round-shaped handle, which makes the best use of the original shape of bamboo; secondly, the beautiful "Mado", or semicircle-shaped lattice window, which are created by weaving 48-64 equally split bamboo ribs with a thread.
[A Traditional Craft Officially Designated by Minister of Economy, Trade and Industry]
Contents Provided: Committee of Boshu Fan Revival
(Tourism department at City of Tateyama, and Tourism department at City of Minami-boso)
Translation: Yurika Tateishi, reviewed by Chan Yee Ting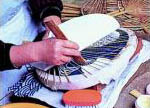 Materials
Medake (simon bamboo), Madake (giant timber bamboo), cotton thread, silk thread, Japanese paper, silk cloth, cotton cloth, pigment, dye, willow, whiting, glue, Japanese lacquer
Crafting Processes
Boshu fan making starts from selecting proper bamboos, followed by cutting, shaving, pasting and so on. There are 21 crafting processes in total.

1) Selecting proper bamboos
2) Peeling bamboos
3) Polishing bamboos
4) Soaking bamboos in water
5) Splitting bamboos
6) Rubbing bamboos
7) Drilling a hole on handle
8) Weaving bamboo ribs
9) Finishing the handle
10) Whittling the brace called "Yumi", or a bow
11) Tying the both ends of "Yumi" with a thread
12) Making a semicircle shape with "Yumi" by drawing the thread
13) Spreading the ribs into a fan shape
14) Tailoring the ribs into a fan shape
15) Roasting the ribs to straighten up
16) Pasting Japanese paper or cloth onto the ribs
17) Cutting out to a final shape
18) Edging with Japanese paper
19) Undercoating the handle end with glue
20) Topcoating the handle end with Japanese lacquer
21) Finishing by roller-pressing the surface

Only Medake, or simon bamboos, in good quality are used for materials. They have to be free from insects, as well as firm and solid. Such bamboos are only available during the cold season, from October to January. Since certain thickness is necessary to make a fan, as few as 2-3 fans can only be made out of one whole bamboo tree.

First, the bamboo is peeled, washed and polished. Then it is split into so many thin ribs. A hole is drilled on the handle, and ribs are woven with a thread. After the handle is cut into a certain length, the hollow is filled with a willow wand. Finally, the "Yumi", or a bow-shaped brace is inserted into the hole on the handle, and the ends of the thread are tied to it. It forms the "Mado", or semicircle-shaped lattice window. Here, fan-shaped structure is completed.

In order to remove the twist, unnecessary parts of the fan-ribs are cut and tailored. After that, it is roasted with a stove to be straightened up. Then paper or cloth is pasted onto the fan-ribs on both sides, and extra parts of fan-ribs are cut off. The outer edge is rimmed by paper, and the end of the handle is filled with whiting to make it round. Finally the fan is finished by being tightly pressed by a roller.

It is said that only 4-5 fans can be made a day at maximum if all processes are done by only one craftsman. Each process is taken care by specialized craftsmen to elaborate Boshu fan one by one.
History
Fan production in Kanto Region (East Japan) started in Edo period (Tencho era, from 1781 to 1788 AD). At that time, Boshu was a place of production of bamboo material. According to the book "Chiho Siryo Syokan", or The Overview of Reginal Information (published in 1911 by Chiba prefecture), Boshu fan production started since 1877 around Nago town (present day Nago in Tateyama city), which later spread around neighbor towns. "Boso Chouson to Jinbutsu" or Towns, Villages and Figures in Boso (published in 1918 by Chiba prefecture) says in 1884, IWAKI Sogoroh hired craftsmen from Tokyo and started fan production, which later became one of the major specialties in Awa county.

In 1923, when a big earthquake hit Tokyo, most of fan wholesellers around the riverside of Nihonbashi were destroyed in fire. After the earthquake, they moved to Funakatamachi, which was next to Nago port, where the sea transportation to Tokyo was available, as well as close to the bamboo production site. This made the scale of fan production larger and larger. Since then, Boshu become a famous place for producing Boshu fan, one of the three great fans in Japan.

Nago, Funakata, and Tomiura (currently known as Tomiuracho in Minami-boso city, Chiba Pref. East Japan) have been fishing towns since old times. The production of fans was welcomed as a sideline of wives staying at home while their husbands were away for fishing. The technique of fan making was handed down from mothers to daughters, and around 1920s, about 7 to 8 million Boshu fans were produced a year. It is said that almost a thousand people were engaged in fan-making as a sideline at that time.

Since there are less and less people using fans, only 2 to 3 hundred thousand fans are produced per year today. In the meantime, in 2003, Boshu fan became Chiba's first and only traditional craft officially designated by the Minister of Economy, Trade and Industry of Japan. Now, the value of Boshu fan is to be rediscovered in the modern lifestyle.
Related URL
http://www.bosyu-uchiwa.com/index.html
◆Exhibition / Showcase
Let's experience the making of Boshu fan, its tradition and culture.
Content
The last half part of production procedure: pasting paper, cutting off the unwanted parts and edging with paper
Time
Around 2 hours
Fee
JPY 1500 up per person
Note: The fee may vary according to the number of person and workshop content. Please feel free to contact us.
Tourism department at Tateyama city
(Japanese only)
1564-1 Tateyama, Tateyama City, Chiba 294-0036
Tel: +81-470-22-3362
Tourism department at Minami-boso city
(Japanese only)
28, Aoki, Tomiura, Minami-boso, Chiba
Tel: +81-470-33-1092
Assistance needed? For inquiries in English:
JTCO Contact Form
Your inquiries will be forwarded by JTCO in Japanese to the organization you wish to contact.
*Please write the name of craft you wish to ask about.